Commentary
NFL's most flamboyant figures, 30-21
Originally Published:
August 3, 2011
By
Patrick Dorsey
| Special to Page 2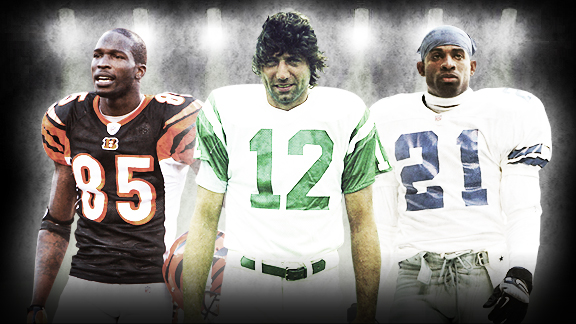 ESPN.com Illustration
Page 2's Top 50 flamboyant NFL figures:
We're just days away from the Pro Football Hall of Fame induction ceremony celebration of garish yellow blazers and, we hope, wild speeches.
With Deion "Prime Time" Sanders set to be enshrined in Canton this weekend, Page 2 celebrates the NFL's Flamboyant 50. Without further ado, we present numbers 30-21:
30. O.J. Simpson
We know. You can't mention The Juice without mentioning The Trial. But before O.J. became infamous (and ultimately imprisoned), he was one of the most recognizable athletes of his era -- and not just because he was a terrific athlete. His face was everywhere. On TV shows such as "Saturday Night Live" and "Dragnet." In movie dramas such as "Roots" and the Best Picture-nominated "The Towering Inferno." In commercials, most notably for Hertz, which saw the elusive running back dashing through airports. Finally, in perhaps the greatest movie role for a former athlete, as the flamboyantly dopey Nordberg in the "Naked Gun" series.
29. William "Refrigerator" Perry
The flamboyantly overweight could be its own subset of this list (hello, Gilbert Brown!), mostly featuring linemen whose girth equals worth (and also high comedy, whenever one accidentally ends up with the football in an open field). But, amazingly, the bulging Bear was sometimes handed the ball in goal-line situations. That simply got him off and running. After that: WWE (he's a Hall of Famer!), the Lingerie Bowl (you read that right), competitive eating (he wasn't as good as you'd think); and perhaps the most noteworthy turn in the history of celebrity boxing (vs. the late, great Manute Bol). Sadly, he's hit hard times lately. Get well, Fridge.
28. The Manning Brothers
It takes a special kind of flamboyant to seem so calculated, yet always find yourself on TV. But that's exactly what the QB brothers do, proving they're more than a robotic pair with laser-rocket arms. Peyton Manning is in so many commercials, it's a shock he doesn't do live spots from the huddle. Eli, meanwhile, is catching up on the endorsement front. They're both surprisingly funny (or at least good at selecting scripts), showing solid comedy chops either solo (in Peyton's amazing "SNL" sketch) or as a team (Football Cops!).
27. Tom Brady
For years, Brady fooled us by playing the part of a football-mad quarterback out to prove that his sixth-round draft selection was an egregious mistake. He did that, and he still manages to play Mr. Serious sometimes. But let's not forget what happens when he leaves the team facility. There was his relationship with actress Bridget Moynahan. Now it's advanced to another level, with Brady going all Mr. Gisele Bundchen on us with an A-list lifestyle, that amazing hair (drawing Justin Bieber comparisons) and Uggs. Yes, Uggs. So listen up, Mark Sanchez: You can do whatever you want if you're a touchdown-tossing winner.
26. John Riggins
One of the most famous early holdout men, the running back missed the entire 1980 season while waiting for Washington to meet his contract demands. His declaration upon returning: "I'm bored, I'm broke, and I'm back." Riggins did his share of acting, starting at his small-town Kansas high school and landing on shows like "Guiding Light." He also rocked some killer hair, including this impressive 'fro and a legendary mohawk that pretty much defies description. But his most memorable moment? A request to Supreme Court Justice Sandra Day O'Connor: "C'mon, Sandy, baby. Loosen up. You're too tight."
25. Jerry Jones
Art Modell displayed his dubious dance moves just years after absconding to Baltimore with the Browns. Bud Adams rocks some incredible outfits (and occasionally double-barrelled middle fingers). Daniel Snyder flashes cash like nobody's business. But only one owner uses surgery-on-flying-insects metaphors and just built a stadium the size of a large universe: Mr. Jones and me. Minus the me.
24. Troy Polamalu
Sorry,
Clay Matthews
. Same to you, Brady. Among NFL stars, Polamalu wins the award for best hair, with those curly locks
flying all over the field
just like he does. He's not shy about it, either, lampooning his 'do in
this amusing commercial
. Procter & Gamble even
insured it for $1 million
. That's a bit of a departure for a guy who's otherwise soft-spoken, but it also speaks to his culture, as many American Samoans or Samoan Americans (Troy was born in the States) let their hair hang low (
Domata Peko
, anyone?).
23. Carl Weathers
Weathers was a Raider. But no ordinary Raider. (Actually, he wasn't much of one, suiting up for just eight games during his NFL career.) But one sign of a flamboyant football player is how little you remember his gridiron exploits. That 1970-71 Oakland stint? All but forgotten. But Apollo Creed, the CIA dude in Predator, Chubbs Peterson and his as-himself turn in "Arrested Development?" That mix of tough-guy swagger and/or smarmy hilarity will last forever. Thanks, Carl, for not being all that great at football.
22. The Steelers' Loud Linebacker Trio
There's just something about playing that certain position in Pittsburgh, and nobody exemplifies it more than the loudmouth trio of Greg Lloyd, Joey Porter (who didn't stop talking after he left Steel City) and James Harrison. Harrison made big headlines with some notable thoughts on Roger Goodell. Page 2 recently offered a Lloyd-Harrison quotes quiz, and in 2007 the Pittsburgh Post-Gazette sampled Porter's work. Here are some of our favorites:
Lloyd: "Who is Joe Namath? This is a guy who, if he played in the league today, I'd probably just go hit him late and see what he did, just for the hell of it. Joe Namath can go to hell."
Porter: "He's running around there, running his mouth, doing all that, but if you watch him on film and really look, where was Ray Lewis? He was nowhere to be found. I could have tackled the water boy and had as many tackles as him. He didn't do nothing today. He's all mouth. When you talk like that, that's what happens: You get hit in the mouth. He's over there crying now, thinking about what went wrong. You got your [rear end] whipped, that's what."
Harrison: "If a guy has a choice of hitting me high or low, hit me in the head and I'll pay your fine. Just don't hit me in the knee, 'cause that's life-threatening. How'm I going to feed my family if I can't run?"
21. Reggie Bush & Matt Leinart
The Heisman-winning (sort of) Trojans backfield tandem hasn't lived up professionally to the hype it generated in college. But these guys know how to make gossip headlines off the field. With Leinart, it's been forays into ballroom dancing, a fling with Paris Hilton, a friendship with Nick Lachey and an infamous dip in the hot tub. With Bush ... do we really need to say anything beyond "Kim Kardashian?" OK, maybe that Leinart introduced the two. (And for those who have been living under Bush's missing Heisman trophy replica these past few years, that couple has since broken up.)
Check back Thursday for Nos. 20-11.
Patrick Dorsey is a writer based in South Florida and a regular contributor to Page 2. He can be reached at bypatrickdorsey@gmail.com.