Commentary
Fantasy football team names made easy
Originally Published:
August 4, 2011
By
DJ Gallo
| Page 2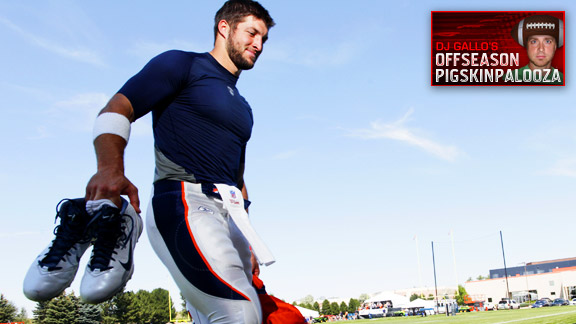 AP ImagesTim Tebow isn't a top fantasy option, but he definitely inspires memorable fantasy team names.
Every year around this time, I get a bunch of emails and tweets from readers asking for help coming up with a fantasy football team name.
So instead of responding to each person, this year I thought I'd do a sort of "Reply All" via column.
Employing classic fantasy team naming methods -- pop culture reference, word play and (extremely) forced pun -- here are three fantasy team name ideas for each NFL team.
Note: If you win your league with any of these names, I expect a cut of the winnings. And you'd better pay up or I'll use even more puns.
Have a good fantasy name idea of your own? Share it in the comments section.

AFC EAST

Buffalo Bills
4changailey
Shawne Merriman's Tainted Supplements
Steve Johnson's God-Forsaken Hands

Miami Dolphins
will.all.en
Matt Moore Is Less
Davone Bess Is Yet To Come

New England Patriots
My Fair Brady
Taking You to the Woodhead
Ocho Is Enough

New York Jets
Rex Ryan's Beautiful Bunions
Plaxico BOOM!
Cromartie No Pants Party
AFC NORTH

Baltimore Ravens
God's Fantasy Team
The Unibrow Bombers
Ed Reed's LaterAl-Stars

Cincinnati Bengals
Andy Dalton's Red Zone
The N.Ocho Show
Marvin Lewis' "Crime and Punting"

Cleveland Browns
Gocong Or Go Home
Colthamed McMassacoy
The Dawg Shurmurers

Pittsburgh Steelers
James and the Giant Concussions
Rashard Mendenhall's Fantasy Theories
Just Say Ben
AFC SOUTH

Houston Texans
The Overtraining Syndrome
Corn on the Schaub
Hairy Kubiak

Indianapolis Colts
Fivehead Redemption
iCaldwell 3.0
Tamme Or Not Tamme

Jacksonville Jaguars
Home Tarp Advantage
Yo Gabba Gabbert
Garrard Knocks

Tennessee Titans
Hasselbeck That Thang Up
The Ghost of Jeff Fisher's Mullet
Kenny Britt's Arrested Development
AFC WEST

Denver Broncos
Mile High Messiahs
Horseface Killahs
Thar Tebows

Kansas City Chiefs
To Haley and Back
Kings of the Cassel
Jamaal Charles In Charge

Oakland Raiders
The Breaking Wind Is a Raider
Campbell's Cream of Quarterback Soup
Darrius, Hey -- Word Play!

San Diego Chargers
A Rivers Throws Through It
Return to Norval
The Qualcommunists
NFC EAST

Dallas Cowboys
Real America's Team
No Romo
Dez Bryant's Mall Cops

New York Giants
Dropping Eli
Super Mario Manningham Bros.
Osi's Huge Menorahs

Philadelphia Eagles
DeSean, LeSean, EtCeterean
Wicked Asomugha
Andy Reid's Wasted Timeouts

Washington Redskins
Gano Means Gano
Dan Snyder's Frivolous Lawsuits
Washington Orangeskins
NFC NORTH

Chicago Bears
Forte-Yard Dash
Lovie Makes The World Go Round
Jay-C's "The Sack Album"

Detroit Lions
A Fantasy Team Named Suh
Simply Jahvid Best
The Calvinists

Green Bay Packers
Football Cheesus
Mister Rodgers' Neighborhood
The Golden-Haired Linebackers

Minnesota Vikings
Unmarked Donovan
Shiancoe Very Much
Anything You Can Do Aromashodu
NFC SOUTH

Atlanta Falcons
The Arthur Blank Dance Studio
Adam Froman's Sausage Kings of Atlanta
Lodi Dodi We Like To Roddy

Carolina Panthers
Cam Newton and the Checkdown Receivers
Steve Smith's Punchables
Many Things Could be Finer

New Orleans Saints
Breesus Saves
Wham, Bam, Thank You, Ingram
Devery Little Thing He Does Is Magic

Tampa Bay Buccaneers
I Had a Raheem
Lt. Winslow's Fantasy Army
LeifGarrette Blount
NFC WEST

Arizona Cardinals
Darnell Dockett's Inappropriate Tweets
The Kolb Molb
LaRod Stephen Hawking

San Francisco 49ers
Harbaugh Humbug
What'chu Talkin' 'Bout, Patrick Willis?
Alex Smith Happens

Seattle Seahawks
Fantasy Forever
Seattle 7-and-9ers
The Beast Mode

St. Louis Rams
C.J. Ah You Again
Amendola Classic
Built Bradford Tough
DJ Gallo is the founder of SportsPickle.com. His first book, "The View from the Upper Deck," is available from only the finest bargain-book retailers. His next book project will be released soon. You can follow him on Twitter at @DJGalloESPN.