Commentary
Statue of the week: Randy Moss
Originally Published:
August 5, 2011
By
Kurt Snibbe
| Page 2
Page 2's Fictional Statue of the Week now turns to you, dear readers, to help us decide which sports newsmaker deserves to be immortalized. This week's suggested subject, retiring superstar wide receiver Randy Moss, comes from user scootnix.
Page 2's Fictional Sports Statues of the Week:
Week 1: Jim Tressel | Week 2: Charles Barkley (golf) | Week 3: Zach Randolph
Week 4: Kareem Abdul-Jabbar | Week 5: Chad Ochocinco | Week 6: Miami Heat
Week 7: Mavericks forward Brian Cardinal | Week 8: Canucks goalie Roberto Luongo
Week 9: New York Yankees | Week 10: Bye | Week 11: Deron Williams
Week 12: Legendary caddie Steve Williams | Week 13: The invocation of pastor Joe Nelms
Week 14: Randy Moss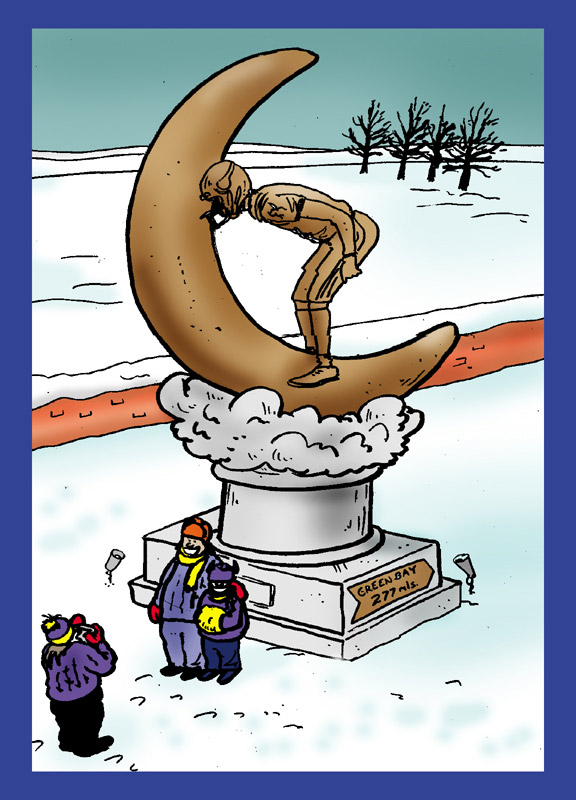 Randy Moss
Location: Minneapolis.
Plaque Inscription: This statue commemorates the talents of one of the finest wide receivers in NFL history, Randy Moss, who spent the majority of his outstanding career here in Minnesota with the Vikings.
Career statistics: 954 receptions, 14,858 receiving yards, 153 touchdown receptions.
Words of wisdom: "What the [expletive]? Who ordered this crap? I wouldn't feed this to my dog!"