Commentary
Could Grossman's hunch come true?
Originally Published:
August 11, 2011
By
Patrick Dorsey
| Special to Page 2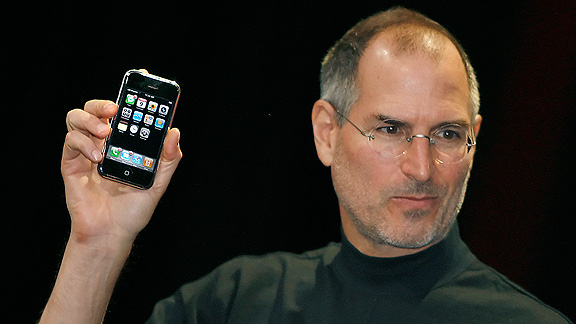 Tony Avelar/AFP/Getty ImagesSteve Jobs introduced Apple's new phone in 2007 to much skepticism, and that worked out OK.
Rex Grossman is crazy ...
... or is he?
Yes, the much-mocked quarterback is getting lampooned once again, this time for saying his by-all-accounts-iffy Washington team will win the NFC East.
But what if he's right? What if Rex is really Gross-tradamus?
It won't be the first time an underdog made an outlandish prediction -- and it came true.
Here's the Top 10 (for now...):
10. Chad Johnson vs. Houston Texans
Would you really want credit for this one? With his Bengals winless through seven 2002 games, the outspoken wide receiver declared his group would avert further embarrassment ... by beating the expansion Houston Texans. They did, 38-3. Still...
9. Getafe vs. Relegation
One point to the good but staring at a difficult road match, Spanish first-division club Getafe seemed doomed to be relegated at the end of the 2008-09 season. But forward Roberto Soldado said he was "convinced that we will stay in La Primera." Getafe remained, and this is important -- after all, if the club had gone down, it might not now be serenaded by a sad koala.
8. The "GuaranSheed"
In the 2004 playoffs, after an ugly loss to the Pacers in Game 1 of Eastern Conference finals, the on-the-road Pistons seemed destined for an ouster. But that always-quotable Rasheed Wallace delivered a guarantee ("put it on the front page, back page, middle page, wherever"), and the New Bad Boys backed him up, beating the Pacers in six games. The Pistons eventually knocked off the Lakers for their first title in 14 years.
7. Reggie Miller vs. New York Knicks
Game 2? Try a Game 7, which is what this Pacer swore his team would win back in the 1995 Eastern Conference semis after his team dropped the previous game at home. Miller qualified his statement ("We will win [Game 7], because there is no way we can play any worse than we did tonight") but also helped Indiana make good on it in a 97-95 road win against its biggest rival at the time.
6. Curt Schilling vs. New York Yankees
The Yankees were all but a team of destiny in 2001, but the talkative Diamondbacks pitcher stayed confident in his club. After Arizona took Game 6, Schilling declared: "I believed it before the game, and I still believe it. If we got by [Game 6], we will win the World Series. ... I believe that." Who knows if that assurance remained when Arizona trailed entering the bottom of the ninth, but the D-backs pulled it off nonetheless.
5. Plaxico Burress vs. Perfection
With the undefeated Patriots ready to move into Perfectville, the soon-to-be-infamous Giants wide receiver announced his team would win (by the score of 23-17, no less). Tom Brady scoffed, the world mocked and/or yawned ... and we all know what happened in the game.
4. Alf Ramsey vs. the World (Cup)
It might be the sport's effective homeland, but England hadn't fared well on soccer's biggest stage before Alf Ramsey took over as manager in 1963. In fact, the team was bumped from the first round of the knockout stage in 1962 and didn't even get that far four years earlier. Still, perhaps emboldened by the Three Lions' status as Cup host in 1966, Ramsey said, "We will win the World Cup" -- and wasn't wrong.
3. Apple vs. the mobile phone industry
In 2007, Apple CEO Steve Jobs introduced a new device, using a hockey icon as an inspiration. "We've been so lucky at Apple, we've had some real revolutionary products. The Mac in '84, the iPod in 2001, and we're gonna do it again with the iPhone in 2007 -- we're very excited about this. There's an old Wayne Gretzky quote I love -- 'I skate to where the puck is going to be, not to where it's been.' That's what we try to do at Apple." And if If you didn't think this new phone was an underdog, here was Microsoft CEO Steve Ballmer's response: "There's no chance that the iPhone is going to get any significant market share. No chance. It's a $500 subsidized item. ... If you actually take a look at the 1.3 billion phones that get sold, I'd prefer to have our software in 60% or 70% or 80% of them, than I would to have 2% or 3%, which is what Apple might get." Apple announced in March that it has passed the 100 million mark in iPhone sales. And on Wednesday, Apple, now the world's largest smartphone manufacturer, also became the most valuable company in the world .
2. Joe Namath
Needs no explanation. Simply, it's "The Guarantee."
1. The Declaration of Independence
Only a loon would have predicted the colonists' win over the British in the American Revolution. But then, a year into the war, Thomas Jefferson and the Continental Congress threw down. No, T.J. didn't exactly say, "We will win the Battle of Saratoga." But he did say the colonies were "absolved from all allegiance to the British Crown, and that all political connection between them and the state of Great Britain, is and ought to be totally dissolved." And "we hold these truths to be self-evident"? That itself is self-evident of the greatest guarantee ever.
Thanks to Thomas Neumann and Dave Wilson for assistance in compiling this list.
Patrick Dorsey is a writer based in South Florida and a regular contributor to Page 2. He can be reached at bypatrickdorsey@gmail.com.