Commentary
Sports' most hip-hop figures, 20-16
Originally Published:
August 16, 2011
By
Vincent Thomas
| Special to Page 2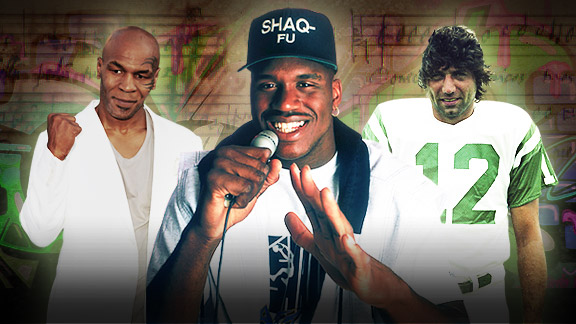 ESPN.com IllustrationThe term hip-hop may be fairly new in the scheme of things, but the attitude has been around forever.
Welcome back to Page 2's Most Hip Hop Figures In Sports as we continue our countdown to the No. 1 spot.
Monday: Nos. 25-21
20. Rickey Henderson
He had the coldest home run trot of all-time. The man popped his collar every time he went yard. He caught routine fly balls with a little extra flair, just because he was Rickey. When he broke the stolen base record, he declared he was the greatest of all time. He meant player, period, not just base stealer. He mastered referring to himself in third person before it became typical athlete-speak. He made it an art. Young Rickey's hair was like a melange of an afro and jheri curl -- perfect for Oakland. This video tribute is set to disco music, but based on some of his outfield dance moves and how impossibly tight his pants were, he conjures Kurtis Blow.
19. Howard Cossell
He was like sports' Red Alert, its Funk Flex, its Ed Lover. Hip hop DJs and radio personalities gave the emcees a stage and audience and narrated the culture (especially in the '80s and '90s). Over the course of four decades, Cossell played that role in sports.
18. Andre Agassi
There was nothing aesthetically hip hop about that mullet wig he rocked, but within the context of the staid world of tennis, it was extra hip hop. At his peak, Agassi was one of the most fashionable athletes on earth. His kicks shut the streets down. Remember his "Image is everything" Cannon ads (they named the camera Rebel)? He didn't play at Wimbeldon for three years because of its stricter dress code. He couldn't rock as much color as he wanted. An extreme, irrational fixation with style is very hip hop.
17. Michael Vick
Vick took the video-game theatrics of Bo Jackson and combined it with a personality that exuded the hip hop ethos. For the first half of the previous decade, he was hip hop's favorite athlete with Allen Iverson. Then he went to jail for fighting dogs (I'll just say this -- those rabid, frightening looking pit bulls that were '90s rap video staples tells you something about where hip hop culture probably falls on the dog fighting issue) and fell off the map. Then he went H.A.M. last season with the Eagles. He's back. So, of course Soulja Boy had to drop the single "Mike Vick." Why name a song after Vick? Well Soulja says that's what they yell at him when he hits the club, because he's "swagged up." Mike Vick is synonymous with swag. That's saying a lot.
16. Jim Brown
He was bedding Raquel Welch in "100 Rifles" back when interracial love was still taboo on the silver screen. Hip hop. His Amer-I-Can program has been reforming gang-bangers since 1988. Hip hop. So we'll give the OG a pass for retiring in his prime, which, if you ask Chuck D, KRS-One or any other 80s icon still releasing music, ain't hip hop, at all.
Vincent Thomas is a SLAM magazine columnist and a frequent contributing columnist and commentator for ESPN. He can be reached at vincethomas79@gmail.com or @vincecathomas on Twitter.