Commentary
Sports' most hip-hop figures, 15-11
Originally Published:
August 17, 2011
By
Vincent Thomas
| Special to Page 2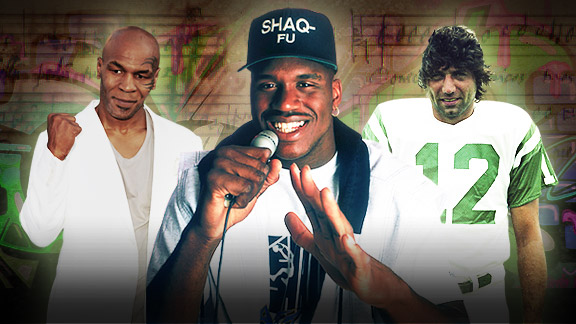 ESPN.com IllustrationThe term hip-hop may be fairly new in the scheme of things, but the attitude has been around forever.
Welcome back to Page 2's Most Hip-Hop Figures In Sports as we continue our countdown to the No. 1 spot.
Monday: Nos. 25-21
Tuesday: Nos. 20-16
15. Joe Namath
Joe Namath did this. It actually happened. One would think this would disqualify any athlete from a hip-hop list, but it was so cavalier, it actually becomes a hip-hop moment. His sex-symbol status had reached unimpeachable levels. Hip-hop is full of Lotharios, and Namath, somehow, seduced the woman in pantyhose. His nickname was Broadway Joe, which is one of the most hip-hop monikers in sports history. The man rocked a fur coat on the sideline. And, of course, few things are more hip-hop than brash, delusional boasts. When Broadway Joe guaranteed his AFL Jets would beat the dynastic, Johnny Unitas-led Colts (favored by 22) in Super Bowl III and then made good on it, his swag was immortalized.
14. Wilt Chamberlain
When talking with a friend about the generational handicap for this list, he told me that he wouldn't even think about a pre-1970s athlete unless they were all about "fur coats and women." That was Wilt (and Namath) in a nutshell. He was a fly dude. We all know he didn't actually sleep with 20,000 women, but if the stories (as told in the oral tradition) are true, then he approached that number. Wilt didn't want to stay at Kansas for his senior year and get hacked to death, so, because the NBA didn't yet allow early entry, he signed with the Harlem Globetrotters to make dough. His $30,000 rookie contract made him the highest-paid player in the NBA. When he signed his $250,000 contract with the Lakers, it was double what Jerry West was making. Black men usually didn't double their white counterparts' salaries back then. More than anything, though, Wilt changed the game. That's an exceedingly hip-hop thing to do. The NBA temporarily widened the lane, primarily to make Wilt less dominant. That's like the RIAA outlawing compound-rhyming in 2000 to slow down Eminem.
13. Barry Bonds
Greg Anderson sat mum in a jail cell for quite some time. If you know hip-hop, then you know that's hip-hop. Ask Shyne about that. Bonds was public enemy No. 1. A "hip-hop" clothing designer and baseball zealot bought Bonds' home run ball in an auction, just so he could brand it with an asterisk. The thing is, Bonds didn't care. He is probably the haughtiest, most "kiss my a--" athlete of his generation. That's hip-hop -- so hip-hop, that we'll forgive him for wearing that cross earring and S-curl for too long.
12. Dr. J
The iconic Afro (check this link and tell me which athlete looks cooler). The revolutionary "above the rim" game (check this link -- one of the announcers actually says, "I've never seen that dunk before."). The Rucker Park appearances. The dope nickname. His most legendary exploits may have come in the late-70s, when funk music still blared through most boomboxes, and he may look like Lionel Ritchie, but he was just as hip-hop as he was Commodores.
11. The Williams Sisters
Venus turned pro in 1994, Serena a year later. They were two prodigies from South Central Los Angeles rocking beaded braids. They looked like the girls in your neighborhood, except, for the next 10 years or so, they would dominate professional tennis. And they'd do it with fashion flair andfail all their own, along with a somewhat-crazy Pops. Now they're filthy-rich moguls and icons. Hip-hop doesn't have the monopoly on "overcoming the odds" success stories, but one like the Williams sisters is drenched with hip-hop identifiers. That Serena took to hip-hop's go-to move of empty threats of violence is just the bonus.
Vincent Thomas is a SLAM magazine columnist and a frequent contributing columnist and commentator for ESPN. He can be reached at vincethomas79@gmail.com or @vincecathomas on Twitter.