Commentary
Miami's Category 5 scandal
Originally Published:
August 18, 2011
By
DJ Gallo
| Page 2
A big scandal is like a hurricane -- it grabs stuff completely unrelated to the storm and pulls it into the vortex. Here are the people and places that have been pulled into the Hurricanes scandal.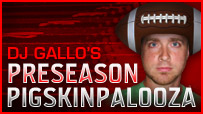 Luther Campbell: Nevin Shapiro, the imprisoned Ponzi schemer at the center of it all, was known among Miami players as "Little Luke," a reference to Shapiro's 5-foot-5 height and rapper Campbell, who was closely linked to Miami during its glory years.
But Campbell doesn't care for being dragged into this scandal and wrote a column for the Miami New Times on Wednesday. The column includes such lines as "Nevin Shapiro wishes he could wear my shorts for one day" and "That punk could never be me." Campbell also writes that "I never violated any NCAA rules when I was the team's biggest fan in the '80s." Miami's biggest fan, eh? Said with such certainty. Campbell sounds like the kind of guy who has a "World's #1 Dad" T-shirt.
Near the end of the column, the former 2 Live Crew frontman also calls Shapiro "beady-eyed." So, yeah. A good reminder that Campbell probably still shouldn't be our go-to source for advice on morality and decorum.
Teddy Dupay: When Shapiro booked hotels for his alleged player-prostitute parties, he used the name Teddy Dupay. Dupay is Florida's all-time leading high school basketball scorer and a former Gators point guard. Although it's funny that Shapiro reportedly used a name of a famous Gator to book Miami hooker parties, making those reservations as "Tim Tebow" would have been even better. "When the women in the clear heels arrive, can you send them up to Room 569? God bless."
The Mercury Hotel: Shapiro (aka Teddy Dupay) says the hotel he used for his player-prostitute rendezvous was The Mercury Hotel on South Beach. Here is the hotel's website. The hotel is rated 2½ stars, and you can get a room for between $119 and $129. Yep. Pretty cheap. I'm starting to get a sense that Shapiro wasn't a very classy guy.
Land Shark Stadium: "Landshark" is really a fitting name for the home of Miami football. If Shapiro had purchased naming rights, the conversation probably would have gone something like this:
"Thank you for your support of the program. I assume you want the stadium called Nevin Shapiro Stadium now, yes?"
"You know what? Land Shark Stadium actually sounds perfect for me."
Of course, if Shapiro had purchased the stadium, he could have classed it up with stripper poles in all the luxury boxes. Really. "I had an architect try to put a stripper pole in [my] suite," Shapiro told Yahoo! "Aesthetically, it wouldn't work."
What kind of architect specializes in stripper poles? A guy who is deemed too trashy for Donald Trump's design firm? I'm pretty sure you just get a pole, bolt it to the floor and to a beam in the ceiling. Look at me! I'm a Miami architect!
Kellen Winslow: Chicago Bears wide receiver Devin Hester probably has received the most attention of current The U players in the NFL over this scandal. Shapiro alleges that Hester was paid for every kick he returned for a touchdown and for excessive-celebration penalties. (If the '80s and '90s Hurricanes were paid this way, they would all be the richest men in the world.) But Winslow's story is easily the funniest.
Shapiro claims Winslow once crashed his jet ski into a boat. At this point, it's probably best that Winslow never be allowed near another vehicle in his life. Not a jet ski, not a motorcycle, not a car, not a moving walkway in an airport. There is too much at risk. Although a great way to get Winslow to block is probably to tell him: "OK, Kellen, I want you to drive your feet and crash as hard as you can into that linebacker."
Al Golden: The Hurricanes' new coach beat out Randy Edsall and Marc Trestman to get the job. Bummer for him. Golden's brief tenure at Miami reminds me a lot of this.
Donna Shalala: The University of Miami president was probably best known for her eight years of service as former President Bill Clinton's Secretary of Health and Human Services. But since 2001, she has been Miami's president and may now go down in history as the person who was asleep at the wheel during the biggest scandal in college football history. And this picture won't help. That's Shapiro and Shalala at a bowling alley,… and is that Shalala smiling at a check? It's hard to make a some bowling alleys look dirtier than they already are, but this picture might just pull it off.
Paul Dee: Unfortunately for Dee, Miami's director of athletics from 1993 to 2008, he has no presidential cabinet experience on his résumé to bolster his reputation. However, what is on his résumé is chairman of the NCAA's infractions committee. That's the committee that nailed USC, with Dee saying at the time: "High-profile athletes demand high-profile compliance." Indeed, Dee. Indeed.
And here's an interesting side note: Dee graduated from Florida. Maybe his destructive tenure at Miami is just the greatest prank of all time. If so, well done, Paul. If not, no one has ever done his job worse than you, Paul.
Cliff Harris: When Oregon cornerback Cliff Harris got pulled over by an Oregon state patrolman for driving 118 mph in June and was asked whether anyone in the car had marijuana, Harris replied: "We smoked it all." This news item came out on the same day the Miami story broke but didn't get the coverage it might have normally. But then everyone started saying: "This Miami story is getting so much coverage that everyone is ignoring the amazing Harris/weed line!" So in a way, Harris' story actually got more attention by being overshadowed. Too bad, Cliff. Next time you should smoke all that weed on a slow news day.
MPC Computers Bowl: The 2006 MPC Computers Bowl is the last bowl game Miami won, as it beat Nevada 21-20 and capped a 7-6 season (3-5 in the mighty ACC). Now, that victory is tarnished. Sometimes I wonder whether the MPC Computers Bowl really even means anything anymore.
Sebastian the Ibis: Mascots are the true victims of NCAA scandals. There's just some kid inside a costume who wants to have fun, and then that costume becomes a symbol of all that is wrong with college sports. And here's a fun fact: Real ibis birds feed on insects they scoop out of mud. If the NCAA isn't going to bring down the death penalty, forcing everyone at Miami to eat bugs out of mud seems like the next-best -- or at least most fun to watch -- punishment.
LeBron James: Somehow, everything bad in Miami always comes back to LeBron. For years, Ohio State's basketball team has worn LeBron James-branded gear. In July, James added Miami and Kentucky to his sponsorship family. So, yes, it seems that yet again, James is some kind of sports curse. First Ohio State, now Miami -- Kentucky, you probably should just go ahead and impose some sanctions on yourself now before everything hits the fan.
DJ Gallo is the founder of SportsPickle.com. His first book, "The View from the Upper Deck," is available from only the finest bargain-book retailers. His next book project will be released soon. You can follow him on Twitter at @DJGalloESPN.