Commentary
You can't abstain from 'Sunday Brunch'
Updated:
August 21, 2011, 1:31 PM ET
By
Jerry Greene
| Special to Page 2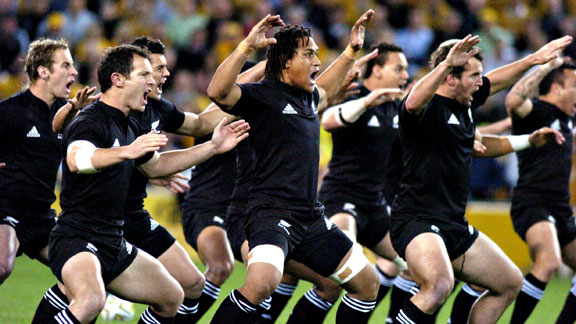 AP Photo/Steve HollandWe're a few weeks away from the Rugby World Cup, and there are some strange requests.
Stop me if you heard this one.
When a young couple got married, they sought the blessing of the bride's extremely strict (and rich) grandmother. However, she said that even though they were married, they had to prove themselves to her by abstaining from consummating the marriage for one year.
Eleven months went by before the extremely honest couple returned to the elderly lady's mansion to confess that they had failed.
"Actually," said the man, "we failed spectacularly. Clothes were ripped. There was yelling and screaming and even some coarse cursing."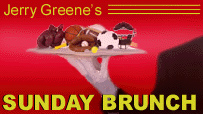 "A lot of coarse curing," added the young woman.
"I can't forgive you," said the old lady. "You are out of my will and you may never come back to my home again!"
"We're not surprised," said the man, "because we'll never be welcomed back at McDonald's, either."
Bada bing. One thing's for sure: The young couple are not from New Zealand. (See! This does have something to do with sports.)
In a spectacularly short ad campaign, supporters of New Zealand's All Black rugby team were asked to "abstain" during the World Cup. Public reaction in New Zealand was clear: This is a very bad idea.
Still, you got to admire the bold attitude of this excerpt from the advertising copy about what the fans should do: "Throwing aside your natural instincts and lacy lingerie, standing proudly in your flannelette pajamas and whispering, 'I love you, New Zealand.'"
Even though the campaign failed, you know there will be young All Black fans for years that will embrace their lovers and tenderly whisper: "I love you, New Zealand."
Meanwhile, while our literary chefs are preparing the fascinating main courses for today's Brunch, here are a few more appetizers from the week that was:
• Personal note to Georgetown coach John Thompson III: Cut it out or China will foreclose.
• Breaking news: Texas A&M still not a member of the SEC. I'm just sayin'.
• Hard to believe Jets quarterback Mark Sanchez would admit he wanted to fight coach Rex Ryan last season. Talk about starting off the new season on the wrong foot.
• The four words University of Miami fans are thinking: "Hey, baby, we're back!"
• Who do you want in next year's Masters: Keegan Bradley or the field?
Brunch time! The stars are ready, so let's get to the main courses, starting with some Chinese:
• That on-court brawl in China involving the touring Georgetown team may have some symbolic significance. Dan Levin of The New York Times explains how there is a struggle going on in China between the desire for more individual freedom for young athletes and the ruling government. Read it here.
• But how about the struggle in New York for supremacy between baseball's Yankees and the two NFL teams there? Mike Lupica, writing for the New York Daily News, explains at length why he loves baseball but then reluctantly admits that pro football rules. Read it here.
• And now for our mid-Brunch advertising break. We turn to Molly Aronica of The Daily Meal website for a list of the "Most Iconic Athlete Commercials." But should that cookie-licking idea really been part of your list, Molly? Read and watch it here.
• Back to our main show and a touch of controversy. Mac Engel of the Fort Worth Star-Telegram thinks it is time for college football to strike out on its own. And during his argument, he takes a real shot at Title IX. Can you do that? Read it here.
• We search far and wide for your enjoyment. Scott Adamson of TheIndependentMail.com from Anderson, S.C., says there are three men who could bail out of national government financially because of their amazing confidence despite investing in a no-win situation. Yes, they are the three main financial backers of the UFL. Read it here.
That's it for today's Brunch. Hopefully you won't be intellectually hungry again one hour from now.