Commentary
Power Rankings: Manning Neck Edition
Originally Published:
September 6, 2011
By
Greg Hardy
| Special to Page 2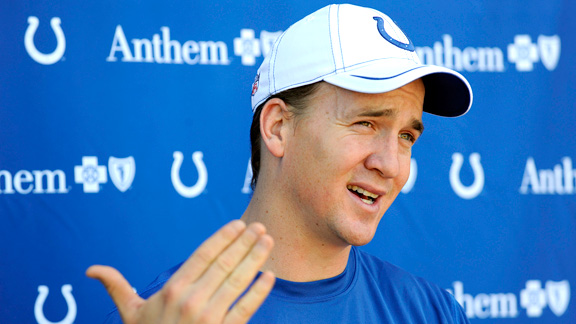 AP Photo/Alan PetersimePeyton Manning will likely miss Thursday's NFL opener. There goes our season.
Welcome to the planning stages of the Peyton Manning retirement party with the Page 2 Power Rankings! Our formula combines the results of two surveys: a human poll concocted by ESPN Page 2's Greg Hardy and a scientifically calibrated poll generated by computer analysis. Unfortunately, our computer got zapped during the Michigan Wolverines' lightning delay at the Big House, and the only thing we could save from its hard drive was Rich Rodriguez's playbook. To the results!
| | | | |
| --- | --- | --- | --- |
| Human Poll | Computer Poll | Power Points | Trending |
| 9.7 | 9.5 | 19.2 | |
Credentials: Sadly, it's a moment we'll one day tell our grandchildren about. We'll remember where we were when Peyton Manning's streak of 227 consecutive starts ended at the dawn of the 2011 NFL season. This has to be especially traumatic for those closest to Peyton who knew him best -- the geeks who selected him in their fantasy keeper leagues. Fear not, you can always gather together for a support group and hold a draft of which of his body parts will be blamed each week for him sitting. Our projected mock draft for that is: (1) nerve endings in his neck; (2) his sore back; (3) gimpy triceps; (4) cuts on his throwing hand; (5) flashbacks from Tracy Porter's Super Bowl pick-six. OK, if the unthinkable can happen, like Peyton being told by doctors not to practice this week, it's definitely possible for our editors to order us not to make Peyton Manning jokes this week, so we'll depart before Colts fans realize how screwed they are for this entire season.
| | | | |
| --- | --- | --- | --- |
| Human Poll | Computer Poll | Power Points | Trending |
| 9.5 | 9.0 | 18.5 | |
Credentials: We're not saying the Maryland Terrapins rolled out a distressing color pattern on national television against Miami, but someone should check the NCAA bylaws and make sure that what they wore doesn't make them eligible for history's second college football death penalty. But if the fans love a color pattern based on a nuclear bomb explosion over the aurora borealis at a Sherman-Williams warehouse, then fine -- next home game, get the true believers in on the action by having the entire stadium dress up for a Red-White-Black-and-Yellow-Out. Until the next uni watch, all we can say is, "Party like a Terp star."
| | | | |
| --- | --- | --- | --- |
| Human Poll | Computer Poll | Power Points | Trending |
| 8.8 | 8.2 | 17.0 | |
Credentials: All hail the 1-0 Mad Hatter! Especially mad props because that record comes courtesy of shrugging off preseason scandal and running up the score on a fellow top-five program. But now that Oregon and Cowboys Stadium are in the rearview mirror, there's a slightly lower degree of difficulty in returning to Baton Rouge to square off against Northwestern State. So how can the Bayou Bengals' coach impress us by devouring a cupcake? By doing just the opposite -- proving he has complete and utter control over these crazy outcomes by declaring he's going to get to a 2-0 record by winning this game 2-0. That's right, John Chavis' defense will bag one safety and keep the Southland Conference's Demons out of field goal range the rest of the night; and the maligned Tigers' offense will play ball-control and take a knee at the opposing end zone every drive. Winning 2-0 will never cover the spread; never try betting against Les Miles.
| | | | |
| --- | --- | --- | --- |
| Human Poll | Computer Poll | Power Points | Trending |
| 7.7 | 7.2 | 14.9 | |
Credentials: Lockout, shmockout. Our reward for putting up with a summer of drama comes in a few short hours when the Saints set foot on heavenly Lambeau Field on Thursday night. Then the floodgates open and all our football prayers will be answered. Which means embracing every unlikely scenario that pops up because the show can go on. Even if that means seeing Rex Grossman as an opening-day starter again. Yes, if we could see one dream come true this NFL season, it's for "Washington Rexskins" to be a trending topic on Twitter.
| | | | |
| --- | --- | --- | --- |
| Human Poll | Computer Poll | Power Points | Trending |
| 7.1 | 7.4 | 14.5 | |
Credentials: Here's all you need to know about the difference between American tennis players and the rest of the world. Rafael Nadal had a scary moment during a post-match media interview when leg cramps forced him to slide to the floor. But Rafa gritted his teeth and tried to blow the whole thing off. No way an American tennis player would do that. First, we'd blame the chair manufacturer for not designing a chair that properly prevents gravity from taking over the person who sits in it. And after that lawsuit's filed, we'd petition the International Tennis Federation to mandate that all interview-room chairs come equipped with safety harnesses and restraints. Only once all was got said and done would we get back to actually working on our game.
6. College football expansion
| | | | |
| --- | --- | --- | --- |
| Human Poll | Computer Poll | Power Points | Trending |
| 6.2 | 6.3 | 12.5 | |
Credentials: Dear college football coaches: Yes, we're all intrigued by the seeming inevitability of the "superconference" format. But has anyone shown you the math that proves the more superconferences there are, the fewer conference championship trophies there will be to hand out? Fewer conference trophies means more fan bases mad that their $4 million-a-year coach "can't with the big one." Thus, more coaches on the hot seat year in and year out. Thus, like any drug, the more you take it, the highs get higher but shorter and the lows get lower and longer. We're not saying "Just Say No To Superconferences." We're just saying prepare for one heck of a long stint in rehab after every BCS Championship Game.
| | | | |
| --- | --- | --- | --- |
| Human Poll | Computer Poll | Power Points | Trending |
| 5.4 | 5.1 | 10.5 | |
Credentials: Someone read the fine print on the Irish's TV contract with NBC and see where it says that Notre Dame is obligated to play the role of cupcake in a season-opener to a Big East team. We assume it already spells out that coach Brian Kelly is contractually obligated to lose his cool to nuclear proportions after every screw-up, and his face must contort so much that at some point this season he'll actually turn green on his way to bursting into an Incredible Hulk on the sideline. Because no one can get that beautifully, photogenically mad without it building up to some larger release down the road.
| | | | |
| --- | --- | --- | --- |
| Human Poll | Computer Poll | Power Points | Trending |
| 5.2 | 4.8 | 10.0 | |
Credentials: Is it panic time in Boston now that the 12-game winner left Sunday's game in the fourth inning with a sprained right ankle? The true believers need a sign they can cling to that a miracle can take care of their starting rotation. Any sign at all, except for a bloody sock. That one's been done to death already.
| | | | |
| --- | --- | --- | --- |
| Human Poll | Computer Poll | Power Points | Trending |
| 5.1 | 4.2 | 9.3 | |
Credentials: It's not fair. You spent countless hours at work avoiding projects and deadlines so you could study the mock drafts and cheat sheets of who you were going to take in your fantasy draft. But what about the jerks who couldn't bother to log in to your draft room on time, and it took the computer nanoseconds to pluck the "best available" players for their teams? It's inconsiderate that these people show no respect for your league, and it'll be downright rude when they win the league -- especially if it's done without making a single roster adjustment the entire season. Computer, if that player doesn't cut you in on a share of the loot, you have our permission to post his checking-account password on Facebook.
| | | | |
| --- | --- | --- | --- |
| Human Poll | Computer Poll | Power Points | Trending |
| 5.0 | 4.2 | 9.2 | |
Credentials: World records come and world records go, but the IAAF says its zero-tolerance false-start elimination policy is here to stay. And the Jamaican world champ says he's fine with that, with the London Olympics on the horizon. Of course, that's easy to for him to honor. Here's a guy who can wait to leave his blocks until the rest of the field is a quarter of the way to the finish line, and the only photo finish he ever requires is that someone snaps his good side while he does his victory dance.
| | | | |
| --- | --- | --- | --- |
| Human Poll | Computer Poll | Power Points | Trending |
| 4.2 | 4.0 | 8.2 | |
Credentials: Congratulations if you've got Webb Simpson as the man to beat in your golf playoff office pool. But as the cliche goes, you know the office FedEx Cup playoff pool is going to be won by the dude who knows so little about the sport he thinks Tiger Woods is the world's best golfer.
12. Summer movie ticket sales
| | | | |
| --- | --- | --- | --- |
| Human Poll | Computer Poll | Power Points | Trending |
| 4.0 | 3.2 | 7.2 | |
Credentials: Bad news from the multiplex. With the Labor Day box-office receipts added up, it's official: This summer marked the lowest number of movie viewers since 1997. Maybe this could have been avoided if "Shark Night 3D" had been a documentary that took place in South Beach during a surf competition among the Miami Heat's Big Three. It would have sold a boatload of tickets in Cleveland, at least.
| | | | |
| --- | --- | --- | --- |
| Human Poll | Computer Poll | Power Points | Trending |
| 3.1 | 2.3 | 5.4 | |
Credentials: They've got three games left in the WNBA season, and with a little luck can close things out with wins at Phoenix, at Los Angeles and against San Antonio to finish with a whopping 6-28 record. But odds are they'll settle for 3-31 and go into the offseason looking for anything resembling a pick-me-up. Maybe if the NBA is still under lockout by the time the 2012 WNBA season starts, the Shock can petition David Stern to be forbidden from playing as well.
Also receiving votes
• Bill Buckner: Who knew native New Yorker Larry David was such a humanitarian that he'd create a "Curb Your Enthusiasm" episode that (SPOILER ALERT!) proves the Boston Red Sox first baseman can make a clutch catch. Thought it remains to be seen how many idiot Red Sox fans will a few months from now hold public burnings of the Season 8 DVD box set because they're still not over Game 6. And does this mean Season 9 of "Curb" will feature an episode that gets Bill Belichick off the hook for Spygate?
Never receiving votes
• Empty seats: Florida Gators fans had a strange welcome for the start of the Will Muschamp era: The Swamp's sellout streak of 137 games that stretched to 1989 came to a crashing halt. Maybe the bad economy has finally trickled down to high-roller boosters; or maybe Gainesville locals weren't interested in seeing the mighty Florida Atlantic Owls carved up. Just don't let Gators fans get away with the excuse of "My Tim Tebow jersey was still at the dry cleaners."
Greg Hardy is a Page 2 contributor. It's all pop culture all the time at Twitter.com/HardyVision.