Commentary
It'll be pipe dream at Dolphins' stadium
Updated:
September 12, 2011, 11:29 AM ET
By
Jerry Greene
| Special to Page 2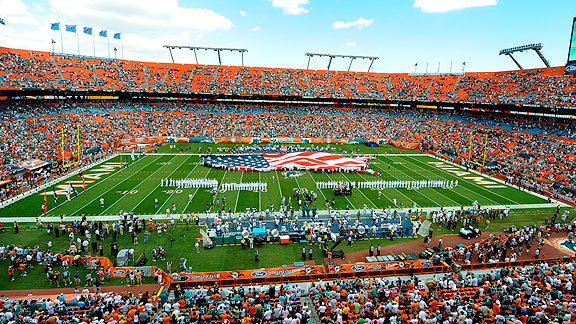 AP Photo/Rhona WiseHow loud will the real crowd be at the Dolphins game at home?
A complete football coach must be prepared for everything. Just ask Miami Dolphins coach Tony Sparano. He's got to be ready for a season-opening game on prime-time television Monday night against the vaunted New England Patriots.
And if that challenge isn't enough, he's got to get his Dolphins ready to handle the raucous crowd in enemy territory -- Sun Life Stadium. That's the Dolphins' Sun Life Stadium.
Yes, Sparano must be the first coach in the history of football to pipe in negative crowd noise during practice while preparing for a home game. Would it be worse in New England? Apparently not.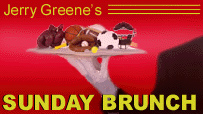 "No, never before,'' Sparano admitted about this tactic as quoted by Dave Hyde, columnist for the South Florida Sun-Sentinel. "One of the reasons we do it here is we are in South Florida and the New England teams and New York teams, there's a lot of fans out here. They have a good fan base themselves. Somehow they make their way into our stadium."
Can you say pathetic? Of course he has a point, considering Dolphins starting quarterback Chad Henne was booed in a Dolphins' practice.
Sparano likes to quote Russell Crowe dialogue from "Gladiator" about "If you win the crowd, victory belongs to you."
If he turns to the crowd Monday night, he may get nothing but thumbs-down. Has a team ever been executed -- at home?
And don't forget that these are the same Dolphins who plan on saluting Denver backup quarterback Tim Tebow when the Broncos come to town. Apparently that makes sense in Miami.
Say, isn't Los Angeles looking for a team?
Before we get to the important main dishes in today's special 9/11 Sunday Brunch, here are a few bits of tid to chew upon:
• About 2000 drenched folks were huddled together in New York on Tuesday night to stay out of the rain -- and an Orioles-Yankees game broke out at 11.
• NBC's Jay Leno earlier this week: "The NFL season kicks off on Thursday night, right here on NBC. Very excited about that. The game will be on right after the season finale of President Obama."
• Most popular Halloween costume -- a Maryland football player.
• "Great job, quarterback David Garrard, representing the Jags at our kickoff luncheon. Oh, by the way, Coach wants to see you in his office -- and bring your play book."
Ding-ding. Time to sit down for the outstanding main courses including some that focus on the historic significance of this date:
• But first, who doesn't like a cheerleader story (and photo)? And the name Alexa Flutie may sound familiar because she's the daughter of Doug Flutie and has finally made the Patriots' squad on her fourth try. Chris Fedor of SportsRadioInterviews.com provides a Q&A with her. Read it here.
• Rioting, regardless of the reason for it, is a global threat. Sebastian Coe, chairman of the London Olympic Committee, maintains a British stiff upper lip about the recent riots in his city, describing the problem as nothing more than "unstructured late-night shopping." Really? Christopher Clarey of The New York Times has the full report here.
• Back to American soil for a different kind of celebration on this emotional day. Linda Robinson of the Miami Herald paints a beautiful word picture about the joys of watching high school football, calling it "the purest feeling we've got left in sports." Read it here.
• We turn to Bill Plaschke of The Los Angeles Times to consider the playing of "God Bless America" during the seventh-inning stretch -- a tradition practiced by only three major league teams. Appropriate or disruptive? Plaschke looks at both sides here.
• The Chicago Sun-Times provides a sampling of thoughts and memories of numerous Chicago Cubs about the honor of playing in New York this weekend. Read it here.
• Want to know who wins Sunday and Monday in the NFL? Jerry Greene (that would be me) provides his acclaimed predictions along with an invitation to "Beat Jerry" in a prognostication contest that is totally free. Find it here.
In closing of this Sunday Brunch, remember that today and every day is a great day to be an American.
Jerry Greene is a regular contributor to ESPN.com and can be reached at osogreene@aol.com