Commentary
Q&A: Hank Williams Jr. talks football
Updated:
September 12, 2011, 10:07 AM ET
By
Bill Speros
| Special to Page 2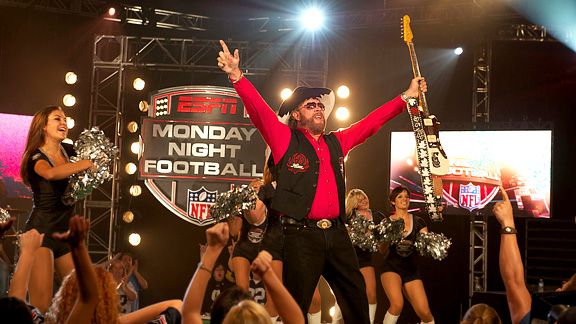 Steven Johnson Hank Williams Jr. at the taping of the intro for his 23rd season on "Monday Night Football."
It's a big week for Hank Williams Jr.
On Monday, he'll return to millions of TV screens, singing the "Monday Night Football" intro for the 23rd season. On Tuesday, his late father will return to the spotlight as "Hank Williams: The Legend Begins" is released. It's a three-CD package of newly discovered historic recordings. Hank Williams Jr. spoke with Page 2 before the season while filming the video of his "Monday Night Football" introduction with several hundred of his most rowdy friends at Full Sail University in Winter Park, Fla., near Orlando. A devoted Steelers fan, Williams knows his stuff when it comes to the NFL and had plenty to say about his favorite team, the Packers' chances of repeating, the Titans, Cowboys and even Alabama's chances in the SEC:
You've been doing the Monday night intro for 23 seasons. Now we have Big & Rich doing the intro for ESPN's Saturday "College GameDay" and Faith Hill singing the intro to NBC's "Sunday Night Football." Why is there such a strong connection between country music and football?
It's kind of like NASCAR. It's the same kind of fans. I think there's a wannabe factor in there. It's like, "I can play, I can play." Like the baseball players and the football players, we're living in a plane and on a bus. And you share the same stories. Those guys wear themselves out. You share camaraderie -- how many miles you put in.
It's been a rough offseason for the Steelers -- what would you do with James Harrison if you were commissioner?
If Bill Cowher was there, I could tell you what would happen. You're out of here. They [the Rooneys] have never tolerated that kind of stuff. And they're not going to tolerate it today. ... Mike [Tomlin] is great, too. Everybody has their limits. ... They have a heart-to-heart talk with these guys and tell them, "This is the way it's going to be, and if you don't go that way in the city of Pittsburgh, you're out.'"
So who would be coaching your fantasy league team -- Mike Tomlin or Bill Cowher?
Oh, Bill, absolutely. I'm close with him. I used to go to training camp with them.
The Super Bowl is on the line -- Ben Roethlisberger or Terry Bradshaw?
That's a 50-50. Let me tell you, Big Ben has nothing to prove.
Third-and-1: Jerome Bettis or Franco Harris?
Jerome Bettis, without a doubt.
Alabama lost four players in the first round of the draft. How will they do this year?
We turn out too many good players. And they don't stick around the whole time. But they're always turning out new names. You'll see.
Was it too soon for a Nick Saban statue? Maybe it was one year too soon. Let's face it; you have to give the guy credit. Look what he's done at those schools. It's hard to win national championships at multiple schools. You've got to realize that he followed a real mess down there [at Alabama]. It was a bad 10 or 15 years they had to go through.
Were you invited to Ben Roethlisberger's wedding?
I know I [could have gone] if I wanted. But he knows better than to bother me about that stuff.
Would you have sung at his wedding if asked?
I'd tape it. I'd rather take him on a fishing trip.
What about the new coach for the Titans [Mike Munchak]?
Oh, please. Let me tell you something, the Tennessee Vols and Tennessee Titans are in bad shape. Bad shape.
Is Cam Newton ready for the NFL? It could be a rude awakening. We've all seen it happen before. You've got to give the guy his due, though, he single-handedly won several of his team's games, but it's a different deal when you step out on that field in the NFL.
Can the Steelers get back to the Super Bowl?
I wouldn't want to go to Vegas and bet on it.
Do you have a fantasy league team?
No. I don't do that. I'd rather go to the window in Vegas.
Who would be the first player on your football team?
My first player would be a dominating defensive player. The type of guy who would take a game over. Derrick Thomas used to take a game over. Lee Roy Jordan and Charles Haley used to take a game over. ... There's not a Charles Haley in the game right now.
What about the rest of the league?
The Cowboys are under a big microscope right now. They've really got to step up. I think they'll probably have a much better season than last year.
What did you think of what happened with Jay Cutler after that loss in the playoffs? [Asked after Williams spoke to a fan wearing a Bears hat.]
That was awful. He looked like Foreman against Ali. He didn't know where he was. They killed him. It was sad, what happened to him. ... I don't think he's a quitter. I met him when he was right out of college.
You said you knew the Steelers would lose the Super Bowl to Green Bay. Why?
The Packers' youth. That magic word, "youth." I just knew it. That unit's been together about six or seven years. I look for a repeat. Who is going to beat them? I'm telling you, they're loaded.