Commentary
Power Rankings: SerenaTube edition
Originally Published:
September 12, 2011
By
Greg Hardy
| Special to Page 2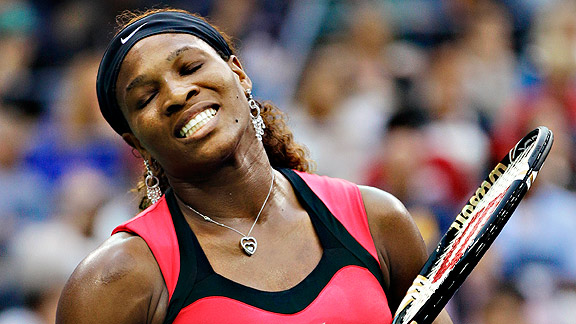 AP Photo/Matt SlocumPage 2 wonders whether U.S. Open runner-up Serena Williams has seen herself on YouTube yet.
Get ready to argue the finer points of smack talk against a chair umpire with the Page 2 Power Rankings! Our formula combines the results of two surveys: a human poll concocted by ESPN Page 2's Greg Hardy and a scientifically calibrated poll generated by computer analysis. Unfortunately, our computer became obsessed with viewing every deleted scene featured in the new "Star Wars" Blu-ray collection and it's unlikely to get back to work until it finds the outtake where Chewbacca is digitally inserted as a power forward during garbage time of a 1992 Dream Team game. To the results!
| | | | |
| --- | --- | --- | --- |
| Human Poll | Computer Poll | Power Points | Trending |
| 9.4 | 9.8 | 19.2 | |
Credentials: We're all guilty of it. A fact we should know off the top of our heads slips our minds, so we look it up on Google or Wikipedia or, in a pinch, Ask Jeeves. But Serena Williams raised the stakes on our memory crutch culture in her post-U.S. Open final interview. When asked whether she regrets anything about her repeat offender meltdown, her response was, "I don't even remember what I said. Sorry. I guess I'll see it on YouTube." Is this what rationalization has come to regarding behavior in elite athletes? We can only expect them to be enlightened about their temper if they Google themselves? Actually, funny coincidence, every time we go on YouTube, it's to see cat videos of the little kitty dressed in funky women's tennis gear that goes by the handle "Purina Williams." Ha ha, that little angel gives a whole new definition to "tennis catfight"! P.S. Before it gets lost in the shuffle, congrats to Samantha Stosur for winning the U.S. Open.
| | | | |
| --- | --- | --- | --- |
| Human Poll | Computer Poll | Power Points | Trending |
| 9.5 | 9.2 | 18.7 | |
Credentials: Is Tony Romo playing as though he never practiced during the lockout, or is he playing as though he wants to know when the lockout is coming back? Of course, expecting Romo to play a perfect game is like asking Jerry Jones to tone it down with all those big-screen TVs. Our advice to give Romo at least a little peace of mind? Anytime you audible from here on out, just tell Dez Bryant to sprint directly out of bounds. That should chew up about 10-15 seconds of Bryant's time.
| | | | |
| --- | --- | --- | --- |
| Human Poll | Computer Poll | Power Points | Trending |
| 8.8 | 8.2 | 17.0 | |
Credentials: We were shocked as anybody by Cam the Man's 422-yard, three-touchdown debut in Arizona. Considering all the Auburn storylines in his past, we were ready to bust out the "Cam Newton couldn't buy a touchdown in his pro debut" one-liners. Of course, give NFL defensive coordinators a few weeks to break down his tendencies and decide to cover four-time Pro Bowler Steve Smith, and soon we might have a different story. For now, all we can say is "Cam Newton is money" … in a good way.
| | | | |
| --- | --- | --- | --- |
| Human Poll | Computer Poll | Power Points | Trending |
| 7.7 | 7.6 | 15.3 | |
Credentials: As predicted, the first night game in the Big House produced incredible fireworks. But were Michigan fans prepared to wander around Ann Arbor at night? To help fans find their way back to their cars safely, we hope the Wolverines promotions staff had the foresight to hand out glow sticks shaped like Brian Kelly's face.
5. Missing Peyton Manning
| | | | |
| --- | --- | --- | --- |
| Human Poll | Computer Poll | Power Points | Trending |
| 7.2 | 7.4 | 14.6 | |
Credentials: We have a huge suspicion that a 34-7 opening smackdown in Houston is nowhere near rock bottom for Kerry Collins and the unlucky horseshoes: Here's our week-by-week prediction of Indy's upcoming schedule: think about Brett Favre; call Favre's agent; sign Favre; start Favre; tear up Favre's agent's phone number; begin scouting Andrew Luck in earnest.
6. "Entourage: The Movie"
| | | | |
| --- | --- | --- | --- |
| Human Poll | Computer Poll | Power Points | Trending |
| 6.2 | 6.3 | 12.5 | |
Credentials: We're not entirely comfortable with the fact that Vince and the boys ended the series flying off in so many different directions that seemed to come out of nowhere. Suspicions are high that this was just a big trailer for an inevitable big-screen follow-up. Our worst-case scenario? We see these characters again in "Bucky Larson 2: Born to be an Entourage Member."
| | | | |
| --- | --- | --- | --- |
| Human Poll | Computer Poll | Power Points | Trending |
| 5.4 | 6.1 | 11.5 | |
Credentials: After getting swept by the Rays in St. Pete and with another series against Tampa Bay on the horizon, Boston's wild-card hopes appear to be in grave danger. We're in the camp that thinks two World Series titles cannot completely erase the Curse of the Bambino from causing an epic collapse. Hey, the Red Sox started the season 0-6. Why not end 2011 with a similar crash landing? "Curses be darned!" we say. Prove us wrong.
8. Pittsburgh Steelers fail
| | | | |
| --- | --- | --- | --- |
| Human Poll | Computer Poll | Power Points | Trending |
| 5.2 | 5.8 | 11.0 | |
Credentials: Desperate Steelers fans are fashioning life rafts out of Terrible Towels after Pittsburgh's blundering loss to the Ravens. But we still view Big Ben & Co. as a team likely to fix things and make the playoffs. A few weeks from now, "seven turnovers in Baltimore" will be so forgotten that people will think it was a punch line from Comedy Central's Charlie Sheen celebrity roast.
9. Conference realignment
| | | | |
| --- | --- | --- | --- |
| Human Poll | Computer Poll | Power Points | Trending |
| 5.6 | 5.2 | 10.8 | |
Credentials: Got your compass handy? No. 1 Oklahoma literally travels to Tallahassee, Fla., this weekend while shadowy behind-the-scenes negotiating will go a long way toward determining whether the Big 12 school will soon relocate (figuratively) to the West Coast to join the Pac-(place random number between 12 and 16 here). The application process involves Sooners athletic director submitting an essay titled, "Why People in the Year 2021 Will Hail the Impulse Decisions I Make Today as Part of a 'Tradition.'"
| | | | |
| --- | --- | --- | --- |
| Human Poll | Computer Poll | Power Points | Trending |
| 5.2 | 4.2 | 9.4 | |
Credentials: What else do you expect from a movie staring Matt Damon, Gwyneth Paltrow, Laurence Fishburne and Kate Winslet and directed by Steven Soderbergh but to have a strong opening weekend box office and talk about Oscar nominations. Congratulations, the $23.1 million you collected is sure to purchase a lot of cough drops for the cast and crew. Note to sports fans: The plot of the film "Contagion" is in no way associated with "Cubs Fever."
| | | | |
| --- | --- | --- | --- |
| Human Poll | Computer Poll | Power Points | Trending |
| 4.4 | 4.4 | 8.8 | |
Credentials: We've reserved a comfy Seat Cushion of the Week award for Chargers backup running back Mike Tolbert, who scored three touchdowns against Minnesota. Let's hear it for goal-line carries at the expense of starter Ryan Mathews! Tolbert, your 26 points on our bench puts the two earned for us by Jets starter Shonn Greene to shame. We hang our heads in your direction.
| | | | |
| --- | --- | --- | --- |
| Human Poll | Computer Poll | Power Points | Trending |
| 4.1 | 4.2 | 8.3 | |
Credentials: NASCAR's playoff field is set, and the No. 1 story we're watching is how Jimmie Johnson, with one win on the season, is going to overtake Kyle Busch, Kevin Harvick, Jeff Gordon and Matt Kenseth to earn his sixth title in a row. The No. 2 story we're watching is whether Dale Earnhardt Jr., who is winless in 118 races, is going to cause a multicar pileup when his mind wanders to how nice it would be to head to Starbucks because those wonderful pumpkin spice lattes are back. At least that's what we assume he thinks about during a race this time of year.
| | | | |
| --- | --- | --- | --- |
| Human Poll | Computer Poll | Power Points | Trending |
| 3.2 | 3.3 | 6.5 | |
Credentials: Only Lane Kiffin could run up the score on an opponent hours after a game was over. His Trojans blocked a Utah field goal attempt that could have sent the game to overtime, but USC's runback for a touchdown was ruled on the field not to have happened because of a penalty. Upon further review, Pac-12 bigwigs ruled that the penalty was in error -- therefore, the touchdown stands for a final score of 23-14. Did we mention the point spread was Utah plus-8? We hope everyone who bet on that game uses the honor system in the aftermath to make sure the proper payouts go in the proper pockets. Geez, we always said Kiffin would end up rewriting the history books in terms of coaching bizarro-ness. Who knew that included taking an eraser to the Final Results appendix?
Also receiving votes
• Old Spice sea captain: Admittedly, we have nothing but praise for this hilarious new character in the Old Spice manly man pantheon. We're just a tad perturbed as to why it takes multiple double-takes to figure out whether this bold blackbeard is being played by Giants closer Brian Wilson. Or, worse yet, whether this is lifted from documentary footage of Wilson walking around all day repeatedly punching a squid on his shoulder. Old Spice, to avoid copyright infringement or whatever, gave the sea captain a beard dye job of purple polka dots. Then again, maybe that will be Wilson's next look.
Never receiving votes
• Brad Pitt and math: Billy Beane, we salute you in many ways. You became so famous for introducing sabermetrics into the business model of baseball that Brad Pitt is about to show the world his huge man-crush on you in the movie version of the book "Moneyball." However -- and maybe we're being way too picky about this -- should we have a problem that Pitt is trying to play someone far younger than he really is? Follow our math: If Beane was born in March 1962 and Pitt was born in December 1963 and Michael Lewis' book came out in 2003 and this movie is only coming out in 2011 and it covers things that happened before 2003 … well, we're not sure how the age-appropriate math adds up. That's why all of you are smarter than us. Maybe there's a secret way to carry the 1 that we're not seeing.
Greg Hardy is a Page 2 contributor. It's all pop culture all the time at Twitter.com/HardyVision.