Commentary
Varsity Tailgate: Should we pay players?
Originally Published:
September 15, 2011
By
DJ Gallo
| Page 2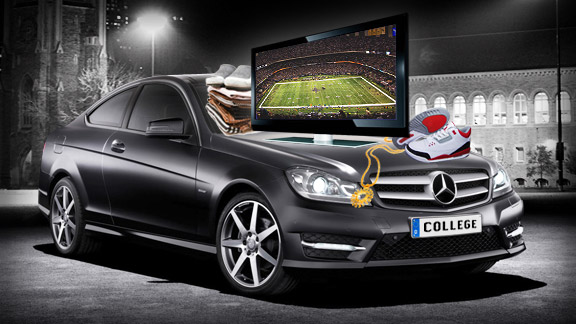 ESPN.com Illustration
A report published this week by an advocacy group for college athletes claims the average FBS player would be worth $121,000 a year. None other than Steve Spurrier supports the report's reasoning.
"I mean, 20 years ago, 50 years ago, athletes got full scholarships," he said. "Television income was what, maybe $50,000? And now everybody's getting 14, 15 million bucks and they're still getting a scholarship."
What if college athletes did get paid? What would an 18-, 19-, 20-, 21-year-old do with $121,000? That's a lot of money! Let's break it down.
An annual salary of $121,000 works out to about $10,000 a month. Take approximately 35 percent out of there immediately for federal, state and local taxes and that's down to $6,500 per month. Of course, college athletes aren't going to get paid AND still get full scholarships, so they'll need to pay their way through school. Take out $1,500 a month for tuition and books and we're down to $5,000 a month. Cool. Still good money.
Now we need housing. No big-time college football athlete making six figures is going to live in a crappy dorm, so we'll need about $1,000/month for a good apartment.
Next up is a car. We can afford an upgrade over what Terrelle Pryor was driving -- a used Nissan 350Z. Let's go with a $500/month car payment. Oh, and we'll need to set aside about $250 more each month for insurance to cover an 18-to-22-year-old male in a nice car. And gas. Can't forget gas. That's another $200.
Now let's do food. NCAA athletes currently get a $35 food allowance on the road. Over a month, that works out to $1,050. But again, making six figures merits at least a modest bump in dining. Let's put the monthly food budget at $1,250.
Time for clothing. You may recall that Baton Rouge police took 49 pairs of shoes from Jordan Jefferson's apartment last month. He has to spend, what, $300 a month on shoes? Jefferson is probably a bit of an aberration, but between shoes and clothing, $500 a month sounds about right for a college athlete.
Back to the apartment. We'll need to furnish that. That's a few thousand dollars up front, but we'll spread it out over the whole year -- $3,000 at $250 a month.
Time for electronics -- the lifeblood of any 18-to-22-year-old. Flat screen, Xbox and/or PS3, smartphone, iPad, iPod, laptop, video games, Blu-ray, Netflix subscription, cable bill, Internet bill, cell phone bill, electric bill. Between up-front costs, again spread out, and monthly bills, we're looking at another $500 a month and probably closer to $750. We'll go with $750.
On to entertainment -- going to movies, concerts and games, hosting parties at your apartment, whatever. One good party can run a few hundred bucks, so $250 for the whole category seems like a conservative number.
Last we have a miscellaneous category. Some players will want to send money home, some might have a kid, some might give money to their church, some might have a hobby. Who knows? It could be anything. But $500 sounds about right as a catch-all.
So let's total it all up. Annnnnnnnnd & we're $450 in the hole. Crap. Hmm. I don't see any way a modern college football player can reasonably expect to live on $121,000 a year.
It's probably best to just continue not paying them anything at all.
---


Game of the Week:
No. 1 Oklahoma at No. 5 Florida State, 8 p.m., ABC
Oklahoma crushed the Seminoles 47-17 last September in Norman. But it wasn't an easy victory for Bob Stoops because his offense put up all of those points on his brother, Mark, Florida State's defensive coordinator. "I've never been so conflicted and miserable about winning," the Oklahoma Stoops said.
Bob Stoops' emotional turmoil might be the key to Florida State's chances even more than shutting down Landry Jones. I suggest the Seminoles hold up play call cards on the sidelines, clearly visible to Oklahoma, with images that will tug at Bob's heartstrings. A picture of Mark Stoops as a baby, a picture of their mother, Mrs. Stoops, looking sad and a picture of the family dog, long-since passed away. And for the last photo, to really make Bob cry, the Big 12 logo.


Another Game of the Week
No. 17 Ohio State at Miami, 7:30 p.m., ESPN
The joke was made weeks ago by everyone: This year's Ohio State-Miami game is the "IneligiBowl." But it's no laughing matter. When you consider that the Buckeyes and Hurricanes have only one bowl win combined since 2006, either program will happily take a victory in Saturday's inaugural IneligiBowl.


Still One More Game of the Week
No. 15 Michigan State at Notre Dame -- 3:30 p.m. on NBC
Last year the Spartans tricked Notre Dame by lining up for a 47-yard field goal attempt in overtime, only to fake it and score on a 29-yard touchdown pass to win the game. That's almost as heartbreaking as what Michigan did to Notre Dame last week. The Irish should probably stop scheduling games against Michigan teams. Likewise with teams in the Big East (South Florida, Pitt and UConn). And from California (USC and Stanford). And the Naval Academy, too, of course. And what conference is Tulsa in? Conference USA? OK, so to recap, Notre Dame should try to avoid: Michigan teams, the Big East, the entire state of California, let's say all of our nation's fine service academies and Conference USA. But beyond those, they can be fairly competitive with most anyone.

Cupcake of the Week
North Texas
The North Texas Mean Green have been outgained 1,091 yards to 591 in their first two games of the season, both 25-point losses. Despite playing in the Sun Belt Conference, they haven't won more than three games in a season since 2004. And Saturday they travel to Tuscaloosa to face No. 2 Alabama (7:30 p.m., ESPN3.com). The spread is 46 points. Calling a terrible team such as North Texas the "Mean Green" seems a bit generous . To me, North Texas Soylent Green is a much better name. Maybe opponents won't be so eager to devour them when they discover that Soylent Green is people. It's PEEEEEEEEEEOPLLLLLLLLLEEEEE!


Rivalry Game of the Week
Utah at BYU, 9:15 p.m., ESPN2
"The Holy War" is one of the fiercest rivalries in college football. In many ways, it's seen much like the other great football rivalry in the Rockies. Here's how Utah is perceived. And here's BYU.


Another Rivalry Game of the Week
Tennessee at No. 16 Florida, 3:30 p.m., CBS
It's one of the SEC's biggest rivalries, but Will Muschamp versus Derek Dooley doesn't quite yet feel as significant as Steve Spurrier versus Phil Fulmer or even Urban Meyer versus Lane Kiffin. Spurrier and Fulmer had history and Kiffin openly tried to provoke Meyer, while Muschamp says of the rivalry: "I just think from an approach standpoint, I don't like to treat any other game more important than another one. It's the next one; that's why it's the most important one." Wow. So Tennessee is the most important game on Muschamp's calendar. I told you it was a big rivalry.

Heisman Candidate in the Crosshairs
Landry Jones, QB, Oklahoma
Jones needs to throw for just 112 yards Saturday to pass Sam Bradford and become OU's all-time leader in career passing yardage. And if he throws for 8,781 yards Saturday, he'll also pass Hawaii's Timmy Chang and take over first place on the NCAA career passing yardage list. Chances are an 8,000- or 9,000-yard game would catch the attention of Heisman voters, too, as long as Jones throws for most of it in the first half before the voters' bedtime.

Mascot Fact of the Week
One of Auburn's eagle mascots, Spirit, accidentally slammed into a luxury box last week while circling the field before the Tigers' game against Mississippi State.
While many were concerned with the bald eagle's safety -- the bird checked out fine after the incident -- maybe it was just trying to cement its place in Auburn history. You see, according to one popular legend, the first War Eagle circled the field before Auburn's inaugural football game in 1892 against Georgia. Right when Auburn won, the bird fell to the ground and died. Really. That's the legend. There's even a children's book, "The War Eagle Story," that tells the story.
Obviously, this tale raises several questions: 1) What is it about Auburn football that makes eagles want to kill themselves? 2) Why did Auburn adopt an eagle as a mascot when, per the 1892 incident, eagles are clearly Georgia fans?
Tailgate Tip of the Week
Get yourself some electric underwear
It's mid-September already and cold weather is right around the corner. So you'll want to beat the rush and order electric underwear now. For only $595, you can get yourself some WarmX Tights. That price includes the charger, extension cable and Mini Power Controller, which is positioned in a small pocket on the front of the pants -- perfect for tailgate conversation starters, such as: "Don't mind my bulge. It's just the controller for my electric pants." Or: "There's a long extension cord in my pants." And good news! According to the WarmX product description, the tights are machine washable and "seamless to avoid chafing." Whew! Never again will I be chafed by my plug-in pants.

Quote of the Week
"Due to an expected high heat index for this Saturday's SEC opener at Ben Hill Griffin Stadium between Florida and Tennessee at 3:30 p.m., fans are encouraged to properly hydrate and to wear loose clothing and a hat to avoid heat exhaustion. ... It is recommended to avoid excess alcohol consumption, since it will compound heat problems."
-- notice posted on Florida's GatorZone.com.
Unfortunately, this advice did not go online until Tuesday, long after Florida and Tennessee fans had already started tailgating for the game, so they're all too drunk to read it.

Greatest Conference Ever of the Week
SEC
SEC teams went 10-2 last week and the two defeats came in-conference (Mississippi State to Auburn and Georgia to South Carolina). The eight nonconference wins were by an average of 25 points. Congratulations to the SEC on being the Greatest Conference Ever of the Week.

Worst Conference Ever of the Week
Big Ten
Iowa lost to Iowa State, Minnesota lost to New Mexico State, Purdue lost to Rice, Indiana lost to Virginia, Penn State lost to Alabama and Michigan lost to Notre Dame. (Michigan then beat Notre Dame a few seconds later.)

Stat of the Week
1,000
Not only is burning stuff in Morgantown now penalized with a $1,000 fine, possible a felony charge and jail time, but the school's athletic director is asking fans not to wear T-shirts with profanity on them.
In an "Open Letter to WVU Fans," Oliver Luck writes that such shirts are "not the image of our University and our state that we want to promote." Well said. But a guy in this blazer/tie combo probably shouldn't be dispensing fashion advice. It might be best if WVU requires everyone to just stay shirtless.

Coach on the Hot Seat
Mike Stoops, Arizona
Because Mark Richt and Brian Kelly can't hog this every week, let's make it very Stoopsy edition of the Varsity Tailgate. Mike Stoops went 7-6 a year ago and the Wildcats got hammered by Oklahoma State last week to fall to 1-1. That 1-1 could easily become 1-4 because now Arizona has Stanford (10:45 p.m. on ESPN), Oregon and USC. It's a good thing Mike Stoops doesn't have Oklahoma on the schedule this year, or Bob Stoops would be left feeling "conflicted and miserable" about winning by 50.

Player Name of the Week
Gelo Orange, DE, Wake Forest
Gelo Orange had two tackles last week in Wake's 34-27 win over NC State. The previous week Orange had zero tackles in Wake's 36-29 overtime loss to the & wait for it & Syracuse Orange. Hmm. Suspicious.

Coach Name of the Week
Bobby Jack Wright, Assistant Head Coach and Assistant Defensive Coordinator, Oklahoma
You might think Jimbo Fisher gives Florida State the coach's name advantage in this week's FSU-Oklahoma game, but don't forget about Bobby Jack Wright. Stretching back to 1973, Bobby Jack has spent his whole coaching career in Texas and Oklahoma. But then you probably could have guessed that.

Stone Cold Lock of the Week
Someone is going to burn down Morgantown's profanity T-shirt factory and escape all charges.
DJ Gallo is the founder of SportsPickle.com. His first book, "The View from the Upper Deck," is available from only the finest bargain-book retailers. His next book project will be released soon. You can follow him on Twitter at @DJGalloESPN.