Commentary
Tony Romo takes our breath away
Updated:
September 25, 2011, 8:07 AM ET
By
Jerry Greene
| Special to Page 2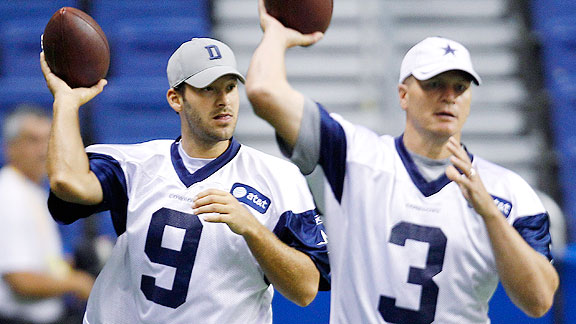 AP Photo/Eric GayTony Romo or Jon Kitna? It appears the tribe has spoken.
Tony Romo had an interesting week.
The Dallas Cowboys quarterback played some football in San Francisco and then left the field apparently because a couple of ribs broke and one of them punctured a lung. Of course Romo has a bunch of ribs (kind of like Tony Roma's) and, fortunately, a spare lung. He went back to the locker room, where he sipped some of that special tea that all NFL doctors have.
He came back.
And that brings us to Jon Kitna, who really had an interesting week. Kitna had replaced Romo on the field as offensive leader of the Cowboys. But then someone essentially said to him: "Thanks, old man, but we'd rather use the guy who has a rib sticking through one of his lungs."
Isn't that, you know, a little insulting?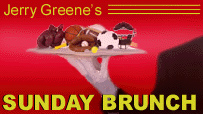 This week Kitna has been leading the team in practice but admits "I try to do things just as he [Romo] would do them." Guess that's why Kitna gave up two interceptions against the Niners. (Oh, that was nasty.)
You know what the Cowboys should do before Monday night's home game against Washington? Trade Kitna to Denver for Tim Tebow. No, silly, not to use Tebow in the game but to have him there to lay hands on Romo if he pops another lung.
Meanwhile, as our top literary chefs put the finishing touches on the Sunday Brunch's main dishes, here are a few tidbits for you to chew:
• Wrigley Field will show "Ferris Bueller's Day Off" on Oct. 1. Makes sense because what else would you do at Wrigley Field in October?
• Speaking of Chicago, there newspapers proclaimed that "The World Ends at 11:45!" Really, I heard it on Fox Sports.
• Even though Lakers forward Metta World Peace can't dance anymore, he's still got his day job. Oh, wait a second ...
• Tweet of the Week from the Atlanta Journal-Constitution's David O'Brien: "Braves fans pulling for Mets, Red Sox fans pulling for Yankees, dogs and cats living together, real wrath-of-God type stuff."
• They say that 6-ton satellite fell somewhere in the Pacific Ocean. I had 100 bucks in Vegas on it hitting the Kansas City Chiefs.
• "Congratulations, Dan! Great job holding our conference together! Oh, btw, we're going to need your resignation immediately."
Ding-ding! Time for the main courses of the first Brunch of the Fall and it's an eclectic menu today:
• We start with a brief update about the opening of "Moneyball" as provided by the legendary Internet Movie Data Base. Remember "The Benchwarmers" from 2006? Well, "Moneyball" did about as well. You decide if that's a good thing. Check the numbers here.
• You thrilled at the end of the American men's pro golf season? Uh, are you aware it's ending? John Paul Newport of the The Wall Street Journal analyses the FedEX Cup Playoffs and says it's certainly worked for the players but its success for the fans is debatable. Read it here.
• Back to baseball for a look at champagne celebrations. Great tradition or aging display of immaturity? Frank Fitzpatrick of the Philadelphia Inquirer considers them to be "senseless rituals" that should go the way of public floggings. The question is how many of us miss public floggings. See what you think by reading it here.
• OK, how about some hockey? No, really. John Tapper of the Toronto Star has uncovered a report from Social Psychological and Personality Science that states your jersey's color helps determine your time in the penalty box. Players wearing white get a pass, color is bad and black is the worse. Believe it? Check it out here.
• Back to football and the "Red Zone" story. Lang Whitaker and Ian Lovett of The New York Times examine the relatively new way to watch the NFL and, to our delight, call it "a Sunday brunch of nonstop football." Yeah. Read all about it here.
• And, of course, if you want to know who will win Sunday's and Monday's NFL games, I provide that information along with some factoids you may not know. There's also a "Beat Jerry" contest that is absolutely free. Can't beat it with a stick but try it here.
And hello, Autumn!
Jerry Greene is a regular contributor to ESPN.com and can be reached at osogreene@aol.com