Commentary
Remaking 'Scarface': The sports edition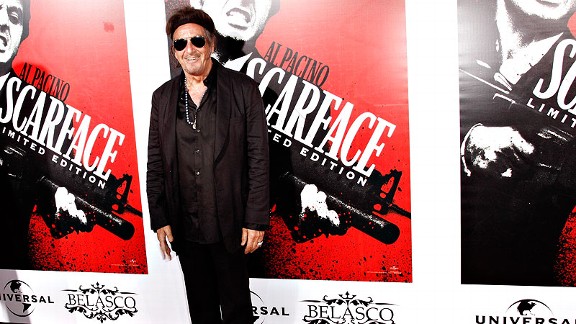 AP Photo/Matt SaylesWho should play the role of Al Pacino in the remake of "Scarface"? We have some ideas.
Yep, they're doing it. Remaking "Scarface."
But instead of complaining about the news that broke recently -- after all, the 1983 version was itself a remake -- we're aiming to push it to the limit, to make this "Scarface" a little different.
In other words, forget your movie stars. We're scouring the sports world for the next best anti-hero.
Here's our top 10 sports figures who could fill the role:
10. Bill Belichick
He's already lived it. Sort of. No, Belichick-Bill Parcells wasn't quite Tony Montana-Frank Lopez, but Belichick's landing in New England (and resignation as HC of NYJ) was a little messy. Belichick also spent plenty of time as a low-level assistant, was cast off from Cleveland, and got caught up in illegal activity (Spygate). Who put the New England dynasty together? Him, that's who.
9. Tony Gonzalez
We promise this isn't profiling. No, it's because Gonzalez did this on TV. OK?
8. Manute Bol
The late, great Bol was as peace-loving and generous as they come. But it would've been worth a whole movie to see him yell, "Say hello to my little friend!" ... then step aside to reveal onetime teammate Muggsy Bogues.
7. Bas Rutten
The only impersonation better than Gonzalez's came from … a Dutch UFC champion? Check it out.
6. Kevin Garnett
In this version, noted "Scarface" fan Garnett -- who once shot a commercial loosely based on the film -- emigrates to Boston, and builds an empire alongside buddies Paul and Ray and charismatic leader "Doc." His downfall: Trash talk.
5. Dana Holgorsen
This "Scarface" heads to the hills, where up-and-coming gangster Holgorsen arrives to fix a flagging bootlegging operation run by Mr. Stewart (whose team of drivers can't match the speed of predecessors Rich and Rod). After dramatically displacing the boss, all seems well -- until a team of Cajuns takes these mountaineers down.
4. Shaqface
Shaq has got some credentials here; he's a fan and showed it, holding a a "Scarface"-themed party a few years back. Also, let's not forget his verbal assassinations of Kobe Bryant (you know what we're talking about), "Ericka" Dampier and the Sacramento "Queens."
3. Kobe
Did someone say assassin? Bryant often gets that label -- and he did win the L.A. Lakers tug-of-war with Shaq, after all. For a while, the basketball world was his.
2. Pat Riley
This one is based on history, too. No, the real Riley's first top job wasn't a hostile takeover, but he did get his Lakers gig in a less-than-smooth way (after Magic Johnson
basically asked for Paul Westhead's firing, and a stint as co-head coach with Jerry West). The main difference? Riley's "downfall" (leaving L.A. without his trademark "three-peat") wasn't ultimate, nor was his good-not-great stint in New York. He went to Miami. Got Dwyane Wade and Shaq, too. Then won a championship. And if the NBA ever starts again, he might take another trophy to that paradise, via Wade, LeBron James and Chris Bosh. Could "Scarface" really have a happy ending?
1. Ozzie Guillen
Come on. The accent (it's Venezuelan, yes, but hey -- Pacino's wasn't exactly spot-on Cuban). The clashes with superiors. The fast rise (1985 AL ROY). The undeniable success (2005 World Series). And now Miami? When it comes to playing Scarface … you think you can take him?
Patrick Dorsey is a writer for Page 2. He can be reached at bypatrickdorsey@gmail.com.
ESPN Editor
General Editor
Joined ESPN in 2011
Arizona native, LA resident, Northwestern graduate
MOST SENT STORIES ON ESPN.COM