Commentary
10 signs your NFL dream is a nightmare
Updated:
October 6, 2011, 3:04 PM ET
By
Jerry Greene
| Special to Page 2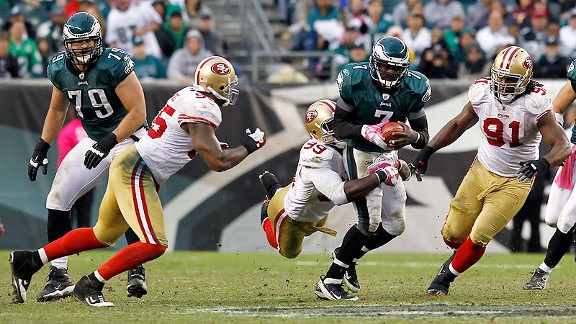 AP Photo/Alex BrandonPhiladelphia quarterback Michael Vick is tired of people calling the Eagles a "Dream Team."
Let Mike Vick make this perfectly clear: The Philadelphia Eagles are not a "Dream Team." Not during the lockout. Not during the brief preseason. And certainly not now.
Said Vick on Wednesday: "I think the 'Dream Team' -- that word is dead now. You can't talk 'Dream Team' anymore. Maybe it put pressure on some players, maybe it didn't. But I think just the fact that it was lingering around and people were talking about it creates a sense of pressure."
Actually, Vick is wrong. Bad dreams are dreams, too, and the Eagles' 1-3 start has been a bad dream. So you are part of a "Dream Team," Mike, just the wrong kind. Of course, the Eagles are hardly alone. Other teams have seen their seasons turn into nightmares after one-fourth of the schedule has been played.
However, one thing became evident as your reader-generated suggestions for this week's list poured in. Nightmares can be diverse. Consider that your suggestions for nightmares included celebrities from Brett Favre to the Kardashian sisters.
But why talk about the list when we can just look at the list:
Top 10 Signs Your NFL Dream Is A Nightmare
10. "Your team hires a Kardashian for a 'make-over'," said David H. of Tigard, Ore. (We had to use this one so we could attach a Kardashian photo to this story. We are not fools.)
9. "You're sick about the loss of Chad Henne, while David Garrard isn't answering your phone calls," said Arturo B. of Hialeah, Fla.
[+] Enlarge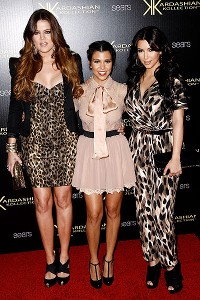 AP Photo/Matt SaylesKhloe, Kourtney and Kim Kardashian as bad-luck charms?
8. "Your 'Dream Team' has a quarterback named Freddy Krueger," said Brett F. of Wichita, Kan.
7. "Local grocery stores are trying to help by providing dotted lines for cutting eye holes on their checkout bags," said Alice A. of St. Paul, Minn.
6. "The Miami Herald headline reads 'Shula returns as head coach,' but it turns out to be David Shula," said Steve B. of Georgetown, Ontario, Canada.
5. "Your cheerleaders try to disguise themselves by wearing double-breasted faux silk trenchcoats from London Fog," said Chuck C., M.D., of Missoula, Mont.
4. "Andrew Luck sees that you are in last place -- and starts working on his curveball to enter the MLB draft," said Carey S. of Palo Alto, Calif.
3. "Your big signing this season is a RB who lost his Heisman, lost his national championship and lost his Kardashian," said Frank H. of Stillwater, Minn. (Two Kardashian references! Our lucky day.)
2. "Tim Tebow starts his 'salvation speech' in your locker room but then pauses and says, 'Oh, forget it,' and walks away," said Ben M. of Peoria, Ill.
1. "Your entire team flies to Gulfport, Miss., but Brett Favre escapes on his tractor," said Shawn B. of Atlanta.
You had to know Brett Favre would be featured in this list considering that he somehow makes his way into almost all our lists. So no surprise there. What was surprising was that the team most frequently mentioned was the Miami Dolphins instead of the Eagles or the Dallas Cowboys.
Sorry about that, Dolphins, but if you're lucky, nobody will show this list to Andrew Luck.
Jerry Greene is a regular contributor to ESPN.com and can be reached at osogreene@aol.com