Commentary
Who has most thankless job in sports?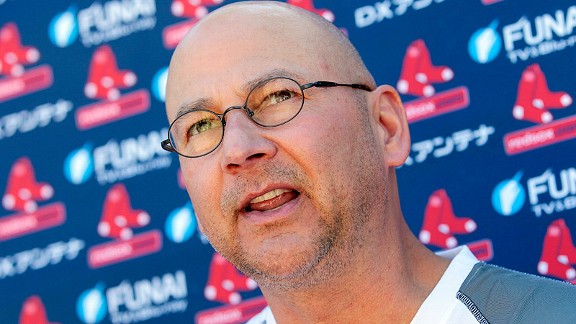 AP Photo/Dave MartinTerry Francona won two titles for the Boston Red Sox and was tired of all the drama.
This just in: Sports can be lucrative. There's money. Attractive wives. Fame. Hero worship.
But enough about Tom Brady.
Because sports has its downside, too. In fact, some positions are so full of negatives that it's a wonder anyone accepts them. There's even a place where -- and you're not gonna believe this -- one can break a nine-decade championship drought, win another title three years later, and still see yourself pushed out the door after one bad month.
More on that later. Right now, Page 2 commences countdown of the 20 most thankless jobs in sports:
20. Erik Spoelstra
Coaching two of the NBA's best players and a third All-Star sounds pretty nice, no? Not always. And even when things turned around last season, the Miami Heat coach was faced with a couple of playoff scenarios: Either Spo would (A) win the championship, in which case it's all because he had LeBron James and Dwyane Wade, or (B) lose, in which case -- well, he should feel lucky that LeBron drew the attention in the NBA Finals. Now, with the lockout still on, Spoelstra can't even enjoy the winning. So much for a Dream Team.
19. Bullpen Catcher
Major League catchers get beat up and worn down, but some also get big dollars. All of them get to hit. Bullpen catchers have no such perks, taking hundreds of pitches per night -- and more, according to the Pittsburgh Pirates' Heberto Andrade, in spring training. It might not be thankless in the literal sense; the Los Angeles Dodgers' Rob Flippo points to actual thanks from players and coaches as a main perk. But here's guessing these guys' knees aren't thanking them come October.
18. Minor League Baseball Manager
Winning doesn't bring much praise -- and can be discouraged, lest one ruin a prospect for the sake of a dubious championship. Really, the best way to receive attention is through the occasional memorable tirade. Which is an odd way for an otherwise professional guy to get noticed.
17. Major League Baseball Official Scorer
In a tricky sport filled with subjective calls, a choice can make the difference in a stats race. (Or make a certain Boston Red Sox DH a little ticked, albeit rightfully so.) Not only that, but with all those scorecards floating around, each stadium is filled with fans who not only think they can do your job -- they're trying to prove it with every pitch. Insulting.
[+] Enlarge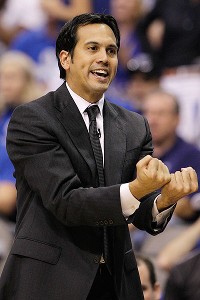 AP Photo/Mark HumphreyAs long as Pat Riley is in the building, is Erik Spoelstra really the head coach of the Heat?
16. Player on College Football Cupcake Team
It's one thing to see your school score a six-figure payday while you get crushed on hallowed ground (such as Indiana State this year, at Penn State). But think about this: North Carolina Central (a reported $400,000), Charleston Southern ($400,000) and Austin Peay ($325,000) all spent their opening weeks this year getting humiliated … at the home stadiums of Rutgers, Central Florida and Cincinnati, respectively. And how much of that money do the players see, exactly?
15. The Next Man Up (post-home run trot)
OK, let's get this straight. Your teammate takes a little too long to admire his homer … and gets punished by you receiving a fastball to your torso (or nearly worse). Yeah, that's fair.
14. Holder
Quick -- name the most memorable holder in NFL history. Now name No. 2. They're both quarterbacks -- one in real-life, one in fiction, and both punished relentlessly for this simple-yet-unfathomably treacherous gig. Remember: Laces out.
13. Punter
So they take no few hits, yet still draw an NFL salary. Easy, right? Well, not exactly. First of all, as Chris Kluwe learned, don't have an opinion. Secondly, per Kluwe, it takes years to hone a punter's skills -- and he doesn't even get the hero worship handed a game-winning placekicker. As Kluwe once said: "When I come in, it's pretty much a signal for everybody to get up, grab a beer and go to the bathroom."
12. Long Snapper
Still, even Kluwe admits his job isn't the most thankless in the NFL special teams universe. "The only time you hear my long snapper's name," Kluwe has said (mild language), "is if a snap goes bad." That, plus the guy must block and make tackles. And the position doesn't even appear on Pro Bowl ballots. But other than that, cushy.
11. Cleveland
OK, so nobody confuses The Forest City with San Diego. But still. It's a viable place. A top-30 U.S. metro area. Subject of a pretty solid song. Home of the Rock and Roll Hall of Fame. And then … there's sports. We all know the story. No championships since Lou Groza. Just Fumbles and Drives. World Series comebacks against them. A certain superstar who Decided to go elsewhere. Oh, and even the team from "Major League" was juiced. No wonder Cleveland's fans are incurably fatalistic.
10. The Sprint Center
This gorgeous, state-of-the-art Kansas City arena was built in 2007 to replace the decrepit Kemper, and perhaps bring another major league franchise to the city. Mission … halfway accomplished. Yes, K.C. now boasts a place to put big-time indoor concerts and the occasional Big 12 (10, 9, whatever) basketball tournament and Arena Football League game. But until a hockey or NBA team lands at Sprint, it will get used far more in the figurative sense -- "Watch out! We could move to Kansas City!" -- than the literal.
9. Umpire (non-pro division)
Umpiring a major league game isn't easy -- especially since some mistakes can be colossal. But the big leagues allow for showmanship (sometimes a lot of it) on a big stage, not to mention a game check. At lower levels? All of the difficulties, fewer helpers, angry -- and occasionally violent -- parents, and for volunteers no reward except for the pride of a job well done (as long as nobody yells at you).
8. The Gatorade Tub
Everybody's always dumping on the Gatorade tub. Well, out of it, actually -- then casting it aside as the celebration ensues far away from this faithful-but-underappreciated hydration helper. And that's not the worst of it. In baseball, this poor thing's job isn't just thankless -- it's dangerous.
7. Brian Wilson's Right Arm
Gatorade tubs might not be so sympathetic (see link above), but it's hard not to feel for Wilson's throwing arm. It lands the San Francisco Giants closer in three All-Star Games and a World Series, and all anyone talks about is beard, beard, beard.
6. NHL Discipline Chief
Colin Campbell declared this position thankless before vacating it in June. Now it's up to former NHL star Brendan Shanahan to walk the fishing-line-thin tightrope of legislating big hits in a physical game. As Canadian hockey writer Bruce Arthur tweeted: "Brendan Shanahan is going to have to start reacting to bad hits on Twitter like the rest of us, if only to save time." Even embattled NFL disciplinarian Roger Goodell doesn't have it this bad.
5. Caddie
OK, so the money is good. At the top end. But what about a caddie for a journeyman pro? They must pay their own way to tournaments -- which means if their guy doesn't make the cut, the caddie doesn't get his cut. Add that to the sometimes-grueling work (carrying the bag like a servant, knowing the course like an expert, advising the player like a coach), and it's -- apologies in advance for this pun -- rough. And when one tries to take some credit for a win? Watch out.
[+] Enlarge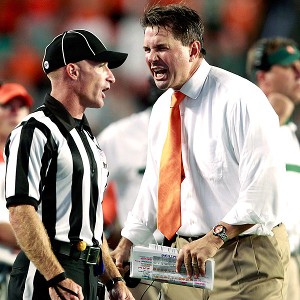 AP Photo/Wilfredo LeeAl Golden either has bad luck or no luck at all.
4. Al Golden
He said it himself: Even taking Temple's football program from moribund to bowl-bound did little to prepare the University of Miami's new coach for what he faced after accepting the Coral Gables job. Two words: Nevin Shapiro. Then four more: Possible extreme NCAA sanctions. Those likely won't be handed down for a while, leaving Golden stuck between a Ponzi scheme and a hard place -- rather than holding one of the nation's most coveted jobs.
3. NCAA Compliance Officer
It gets worse in college sports. As reported by ESPN's Seth Wickersham, insiders called this "the worst in intercollegiate athletics" -- the kind of position that forces one to live "like enemies of the state" as they try to make scholastic sports stay scholastic in the face of win-craziness. "I have no idea why people get into this work," one veteran compliance officer told Wickersham. "We're pawns in a chess game." Hail alma mater!
2. Stadium Cleanup Team Member
Uh, yeah … do we really need to explain why dealing with this isn't fun?
1. Boston Red Sox Manager
"I gave everything I had," Terry Francona said Wednesday. And that everything got curse-killing World Series titles in 2004 and 2007 -- making the Boston Red Sox the only multiple winner in the past decade. But in the pressurized field of Fenway madness -- where single decisions can spell someone's end -- those championships weren't enough to allow Francona to survive Boston's September 2011 collapse.
But it's not a Boston thing; the Patriots lost the Super Bowl in January 2008 and haven't won a playoff game since, yet Bill Belichick remains unquestionably employed. Ditto Doc Rivers, whose Celtics lost a big lead in Game 7 of the 2009-10 NBA Finals.
So yeah, sign us up for those last two jobs. The Sox? Well …
Think we missed any thankless positions? Let us know in the comments section.
Patrick Dorsey is a writer for Page 2. He can be reached at bypatrickdorsey@gmail.com.