Commentary
Mr. Roboto
Hugh Jackman on Real Steel, training with Sugar Ray Leonard and wanting to fight Perez Hilton
Originally Published:
October 6, 2011
By
Sam Alipour
| ESPN The Magazine
This story appears in the Oct. 17, 2011 issue of ESPN The Magazine.
Hugh Jackman plays the trainer of a robot boxer -- yes, you read that right -- in the new movie Real Steel, opening Oct. 7. Mr. Wolverine tells us the $150 million sci-fi flick got the sweet science right despite his own deficiencies.
Mag: What was your training regimen like?
HG: "I play an ex-boxer in the movie, and I was lucky to have Sugar Ray Leonard as our boxing consultant. Early on, Ray said, 'My name is attached to this film. Don't make me look bad.' He was all over me. We started three to four months before the movie, and he was there through shooting. Boxing requires physical and mental stamina -- and you're getting hit in the head at the same time. It's the greatest test there is."
Mag: Do you have much of a fighting background?
HG: "Not much. The best fight I was in was when I was 18, at a pub outside London. I was drunk, singing Australian songs, annoying the locals. As I'm leaving, a guy goes, 'Hey, Aussie!' I turn around -- one punch, I'm out. When I woke up, my head was on the pavement and the sun was out."
Mag: Low blows: Cool or cheap?
HG: "If he's stronger than me, then it's smart -- but also cheap. I draw the line at scratching, but only because the idea of having someone's skin under my nails doesn't appeal."
Mag: Toughest guy in Hollywood?
HG: "Clint Eastwood. Apparently he has a dip bar on movie sets, and at lunch he challenges the crew. I've heard he can do 30 dips. That's pretty cool, considering he's 81.But I'd take him out, absolutely."
Mag: Who'd you like to fight?
HG: "Perez Hilton. He did something on my wife, so I think he deserves it. It'd be funny, at least."
Mag: Which will we see first -- a real-life robot boxer or Pacquiao-Mayweather?
HG: "They say we're eight years away from real robot boxing, so I just hope Pacquiao-Mayweather comes first. Those guys need it for their legacies. Can you imagine Ali without the Thrilla in Manila? Even the loser's legacy would benefit."
Sam Alipour is a contributing writer to ESPN The Magazine and ESPN.com. You can reach him at sam.alipour@gmail.com and follow him on Twitter here.
Sam Alipour is a Senior Writer at ESPN Magazine and contributor to ESPN and ESPN.com. Contact him at sam.alipour@gmail.com and on
Twitter.
ESPN The Magazine: October 17, 2011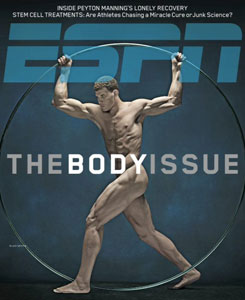 Features
Columns & Go/Play
MOST SENT STORIES ON ESPN.COM