Commentary
Mr. Manners' etiquette for sports world
Originally Published:
October 7, 2011
By
DJ Gallo
| Page 2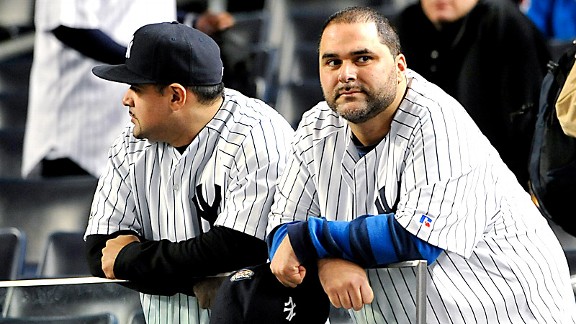 AP Photo/Kathy KmonicekIs it impolite to revel in the disappointment of Yankees fans? Mr. Manners solves this conundrum.
Seasons change. Summer has become fall. But our etiquette must never change. It's time for another edition of Mr. Manners!
Dear Mr. Manners,
I play tight end for the Washington Redskins, one of the rivals of the Dallas Cowboys. I went on a local radio show and laughed it up over Tony Romo's repeated failures in the clutch. Some people are saying I went over the line. What do you think?
-- Chris C. (Washington, D.C.)
Dear Caustic Chris,
I have no problem with a little trash talk between rivals. Just know that when you start a verbal fight, you open yourself up to comebacks. Be prepared for that. Romo could easily come back with something like: "Wait, you're laughing at me? You play for the Redskins." Or ... well, that's probably a good enough example. Then you might feel compelled to come back with something like: "Oh, yeah? Well, we're 3-1!" Then he might say something like: "The fact that you're so proud of being 3-1 shows how far your franchise has fallen." Which is really a good point by hypothetical Romo. So sometimes it's best to not say anything.
-- Mr. Manners
---
Dear Mr. Manners,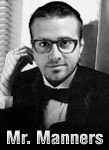 I recently ripped into my team's fans because there were empty seats at our last home game. They need to be as dedicated to the team as the players and coaches are, regardless of weather or quality of opponent! I am right on this, no?
-- Dana H. (West Virginia)
Dear Disappointed Dana,
I find it's best not to attack the people whose support you need to do your job. Luckily, I don't have that problem, as my editors are intelligent, attractive and fun to be around. Same with my readers -- but doubled!
However, if you continue to criticize your fans, I imagine you will eventually get the full house you desire. The news conference announcing your firing will be packed.
-- Mr. Manners
---
Dear Mr. Manners,
I'm the starting quarterback for the Denver Broncos. The fans hate me and want the backup to start, even though anyone who has seen us practice knows I am far superior to him. Recently, a group of fans purchased space on an electronic billboard promoting him for the job over me. So rude, right? What can I do to show them that they are wrong?
-- Kyle O. (Denver)
Dear Disrespected in Denver,
Fans can be fickle. You need to keep doing your job. Except maybe for one game. Consider faking an injury to miss a week so your backup has to play. If he is as bad as you say he is, the billboards will disappear.
-- Mr. Manners
---
Dear Mr. Manners,
We're playing our final season in the Mountain West Conference. A year ago, we announced our intention to leave and join the Big East. Now we're leaving the Big East before playing a single game to join the Big 12. Should we feel guilty about all of the moves?
-- Texas Christian U. (Fort Worth, Texas)
Dear Transitioning in Texas,
Loyalty is hard to come by in this day and age. Instead of doing what's right on principle alone, everyone is out to make money. I will give you some great advice specific to your situation if you return the enclosed, self-addressed, stamped envelope with a check for $50,000. Thanks!
-- Mr. Manners
---
Dear Mr. Manners,
I'm the owner of a baseball team in Florida. Our fans are terrible. No matter how much we win, they don't come to the stadium or watch us on TV. I've told them how much they suck, but that seemed to cause some backlash. What should I do?
-- Stuart S. (Tampa, Fla.)
Dear Salty Stuart,
I am forwarding you a letter from a coach in West Virginia. You guys might have something in common. I have also forwarded you his contact info. He lives at a hotel in Morgantown, W.V. Maybe you can meet up for drinks at the hotel bar.
-- Mr. Manners
---
Dear Mr. Manners,
I'm really enjoying the fact that the Red Sox choked to miss the playoffs and that the Yankees lost in the first round. Is it poor manners to root against them and mock the teams and their fans?
-- United S. (of America)
Dear United Schadenfreude of America,
Normally it is poor manners to find joy in the failure of others, but rooting against the Yankees and Red Sox is as American as mom, apple pie and baseball teams trying to buy championships. I have no problem reveling in their defeat. However, I would encourage you to balance your ridicule with a positive comment to show that you are a person of refined manners.
Say: "Keep your chin up ... so you can see the scoreboard, which is the official record of you being a loser."
Or: "Hey, no one wins them all. In fact, some teams only win one of them in 11 years, which is almost impossible if you think about it, considering they had the biggest payroll in every one of those years."
Or, if you're texting a Yankees or Red Sox fan, write "LOL" and not "ROFLMAO." Rolling on the floor is a little over the top, and I've found it's not good for finely tailored suits. Also, a lot of Red Sox and Yankees fans are on the floor weeping. It's a pathetic place. You don't want to be there.
-- Mr. Manners
DJ Gallo is the founder of SportsPickle.com. His first book, "The View from the Upper Deck," is available from only the finest bargain-book retailers. His next book project will be released soon. You can follow him on Twitter at @DJGalloESPN.