Commentary
Blackhawks practice is a fantasy for fan
Originally Published:
October 12, 2011
By
Steve Etheridge
| Special to Page 2
During the 1938 Stanley Cup finals, the Chicago Black Hawks (spelled with two words, as was the style back then) lost goalie Mike Karakas to a toe injury, forcing the team to recruit a minor leaguer named Alfie Moore they found in a Toronto bar. Moore played the first game of the series, allowing only a single goal and earning the win. He was awarded a gold watch for his efforts, as gold watches were believed to ward off polio at the time.
On Monday, nearly three-quarters of a century later, the Blackhawks (consolidated to a single word, presumably for aerodynamics) found themselves in a similar pinch: Starting goaltender Corey Crawford was unable to practice due to a lower body injury (re: concussed groin), and the team needed someone -- ANYONE! -- to take drills. Goalie coach Stephane Waite placed a call to Scott Czarnik, a former Arizona State club team goaltender now studying at Illinois State.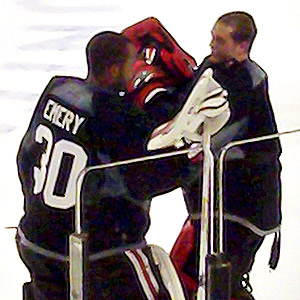 Jesse Rogers/ESPN Chicago Blackhawks goalie Ray Emery chats up Scott Czarnik.
Like similar situations with the Capitals and Coyotes in recent years, Czarnik suddenly found himself blocking pucks with the pros, cramming a dozen Christmases worth of childhood fantasy into a couple of morning workouts. Although he faced a relentless barrage of vulcanized rubber projectiles launched at perilous speeds, he lived to tell his tale.
After the practice, Blackhawks center Patrick Sharp jokingly told ESPN Chicago: "I didn't know if he was here to tape sticks, pick up the laundry or put the equipment on. We got a good kick out of him playing. He did a great job."
Even though the Blackhawks didn't make Czarnik available to the media, Page 2 tracked him down.
Page 2: What would you have been up to if you hadn't gotten the call to come play?
Czarnik: I would have definitely been sleeping. Just catching up on sleep like a typical college student.
How intimidating is Joel Quenneville's mustache in person?
Well, it commands attention and does a good job of making you really concentrate on what he's saying. But, yeah, it is very intimidating.
Who was your favorite player growing up?
I went to a lot of Hawks games growing up, and I'd have to say Jocelyn Thibault was my hero, the Hawks' goalie from the late '90s 'til 2004.
Whose shots were the toughest to stop?
Had to be Jonathan Toews, for sure. That guy can put the puck wherever he wants. If I gave him the smallest hole, he'd put it there every time.
Were all the guys nice to you?
They were great, yeah. Marian Hossa played a couple jokes on me actually, so that was pretty funny. They made me feel right at home, as if I was part of the team.
How does it feel knowing that you and Ray Emery have the same regular-season save percentage?
I had some buddies text me that they'd sent waiver requests for me for their fantasy teams and that Ray and I were ranked the exact same for the season, so it was cool to be on the same page as him. But, in all seriousness, it was just an honor to be out there with him and the other guys.
What's the second-most-exciting thing that's happened to you this week?
Well, besides being able to practice with the Hawks, just getting the pro experience. They have a chef there before practice. I got a nice omelet in the morning, any drink I wanted. All my stuff was hung up for me at my temporary stall. It was just cool being around the guys and feeling kind of like a young rookie.
How well did you play? Did you make any "SportsCenter" Top Plays?
Well, I was victim of one when Toews and [Patrick] Kane went two-on-one on me and made me look like a fool. But other than that, no. I really just stopped the shots that I could and learned from the experience.
Steve Etheridge is a Chicago-based writer. You can find his work at SportsPickle.com, CollegeHumor.com and McSweeney's Internet Tendency, or you can email him at stetheridge@gmail.com.