Commentary
Page 2 compares the World Series cities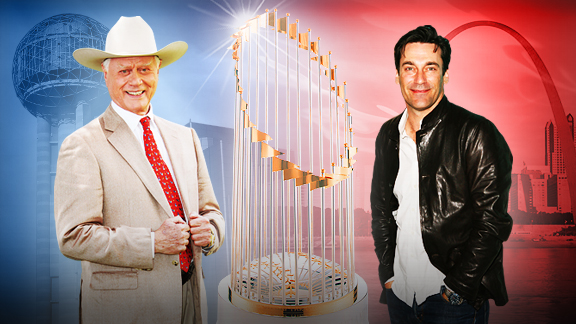 ESPN.com Illustration
Why let a little thing like the World Series decide whether St. Louis or North Texas is the superior metropolis?
We've analyzed 10 categories, pitting the Gateway City against the Metroplex, with cultural supremacy on the line ...
1. Skyline icon
DFW: Reunion Tower isn't the tallest structure in the Dallas-Fort Worth area, but it's probably the most visually striking -- it's sort of a Seattle Space Needle, minus the needle (and the Seattle).
St. Louis: The Gateway Arch. OK?
Advantage: St. Louis.
2. Adult beverages
DFW
: The Spoetzl Brewery, maker of Shiner Beers, isn't located in Dallas (it's in Shiner -- about 260 miles to the south), but here's guessing a few Shiner Bocks will be tipped throughout the Lone Star State during the World Series.
St. Louis: The Cardinals play in Busch Stadium. As in Anheuser-Busch, the St. Louis-based company that brings us Budweiser and those Clydesdales.
Advantage: St. Louis by a nose, by virtue of the commercials.
3. TV icons
DFW: Fort Worth-born Larry Hagman moved a few miles east to play king cad J.R. Ewing in "Dallas," a man whose attempted murder shook the nation back in 1980.
St. Louis: St. Louis' Jon Hamm went a little farther east (Madison Avenue) to play the complicated Don Draper on "Mad Men," for which he's won a Golden Globe.
Advantage: Push. Both are icons of their times.
4. Brett Hull
DFW: Hull spent just three seasons with the Stars, but scored (or "scored," depending on your point of view) a pretty important goal.
St. Louis: The hockey star began his NHL career in Calgary, but emerged with the Blues -- and made seven of his eight All-Star appearances as a St. Louis representative.
Advantage: DFW.
5. Jazz musician
DFW: Norah Jones was born in New York, but she was raised in Dallas. Her 2002 album "Come Away With Me" earned her a stage full of Grammys.
St. Louis: The godfather of cool, Miles Davis, grew up in East St. Louis, Ill.
Advantage: St. Louis. No disrespect to Jones, but it's a very short list of musicians who could even merit a debate against Davis.
6. Quarterback you forgot about
DFW: Danny White won't win any comparisons with Roger Staubach or Troy Aikman, but he made the 1982 Pro Bowl squad and put together four winning seasons for the Cowboys. He also served as the primary punter for the Cowboys for most of his career.
St. Louis: Neil Lomax won't win any comparisons with Kurt Warner, but he did make two Pro Bowls with the Cardinals and threw for 4,614 yards in 1984.
Advantage: DFW.
7. Fair food
DFW: ... which brings us to the Texas State Fair, perhaps the fried food capital of the world. A sampling of the latest delights: Fried bubble gum, fried salsa and buffalo flapjacks.
St. Louis: The 1904 World's Fair popularized a staggering number of culinary staples: Ice cream in a cone, hot dog in a bun, hamburger as a sandwich, Dr Pepper and cotton candy.
Advantage: Push; our hearts tell us St. Louis (for cholesterol purposes), but Page 2 supports innovation.
8. R&B icon
DFW: Ditto Usher, born in Dallas but based in Atlanta. Still, wouldn't you want to claim the King of R&B?
St. Louis: Akon was born in St. Louis, and although he wasn't raised there, he's not a bad guy to represent your city ... what with three platinum albums, five Grammy nominations and a killer collaboration with The Lonely Island (NSFW -- sorry, no link).
Advantage: DFW.
9. Fiery pitcher
DFW: Nolan Ryan played only five of his 1,000,000,000 (or something like that) major league seasons with the Rangers. But he's the MLB strikeout king with 5,714 and has helped build the Rangers into a formidable power in the American League.
St. Louis: Bob Gibson is one of the most feared pitchers in baseball history. He played his entire 17-year career for the Cardinals and posted a 2.91 career ERA (and a ridiculous 1.12 in 1968) with 3,117 strikeouts.
Advantage: Push. Both were elected to the Hall of Fame in their first year of eligibility -- deservedly so.
10. Hilarious movie scene
DFW: Shot mostly in Austin but ostensibly set in Dallas, the cult hit "Office Space" immortalized frustrated cubicle-dwelling heroes, in part, for destroying a malfunctioning fax machine (with some parental-advisory rap playing over it).
St. Louis: Road comedy extraordinaire "Planes, Trains & Automobiles" jumps all over the Eastern and Central U.S. But perhaps its funniest moment takes place at the St. Louis airport -- and if you've seen Steve Martin's profanity-packed tirade, you know what we're talking about.
Advantage: Push.
Overall winner
It's a tie (3 wins, 3 losses, 4 pushes).
Apparently they will have to play baseball after all ...
Scott Noll of ESPN Dallas contributed to this article.
Patrick Dorsey is a Page 2 editor. He can be reached at bypatrickdorsey@gmail.com.