Commentary
Metta World Peace, future NFL star?
Originally Published:
October 19, 2011
By
Kelley L. Carter
| Special to Page 2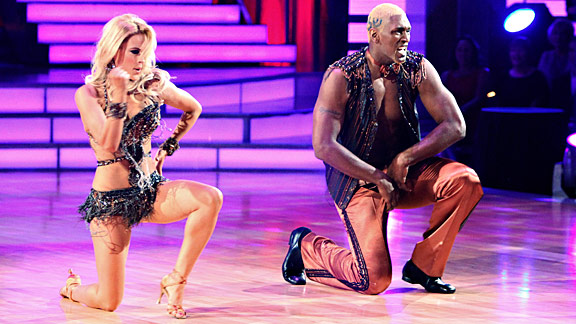 ABC/Adam TaylorMetta World Peace has had a busy year in the entertainment business away from the court.
Metta World Peace (formerly Ron Artest) is spending the NBA lockout working on his Plan B.
And C. And D. And maybe E.
Known for his hoops skills, he's been dancing, acting, rapping, managing (his children's music careers), boxing and training for MMA fighting. And if he gets his way, he'll play a little football too.
On Tuesday night, World Peace guest stars in BET's newest series "Reed Between The Lines," where he plays a basketball player who seeks therapy for his anger issues. The show airs Tuesday nights at 10 Eastern.
Page 2 caught up with World Peace -- or go ahead and call him Artest. He doesn't care what you call him, really.
You've been going full throttle in the entertainment industry this year; was this your master plan?
Definitely. I didn't want to start once it's over. I wanted to start early. So once my career's over, I should be ready to shoot movies. I'm just doing a lot of TV now just to get people ready to see me on the big screen.
What made you say yes to this particular role on the BET show?
It made sense because it reminded me of 'The Cosby Show.' We haven't had a show like that in a long time. A lot of the shows don't teach kids how to become a good dad, to be a good family man. It doesn't teach girls how to be a wife.
Tracee Ellis Ross' character is a therapist, and that's something that you've been vocal about, so much that you have been donating money to mental health organizations. Was that also an appeal for you to do this show?
Yes. This is the perfect thing for me to play a role like that to help get my message across. I get to show people what I was talking about after the championship game, and I'm still perusing it.
What made you be so forthcoming about going to therapy?
Being a basketball player, you have to be mentally tough. If I didn't see a psychologist, in Game 7 I don't think I would've been as mentally tough. I needed help; I needed support. My psychologist gave me support and helped me to be successful in the game. [Because I talked about it], I affected a lot of people around the world.
When you were on "Dancing With The Stars," you talked about your daughter [Diamond, who's 8] and her battle with cancer. How's she doing now?
She's doing so much better [and is cancer-free]. When she had cancer, she had to [cut] off her hair. She had tumors in her kidney. And then once she got healthy, [the cancer] came back a year later. She plays tennis now and now she's singing and acting. She wants to be inspirational to other kids.
How did that change you, watching your daughter go through that?
I view my life different now. I saw people on TV go through things, but you never think it could happen to you. It's tough. That same day she had surgery, I had a game against Memphis. The surgery was actually in St. Jude's Hospital in Memphis, which was a coincidence. So I went to the surgery and then I played the game and after the game I went back to the hospital.
Note: Diamond just released a video for her new song, "Fighter," about battling cancer.
You changed your name. Do you have a preference what people call you now?
Everybody's calling me Metta, which is weird. I really don't have a problem either way.
Will you change it on your jersey once the season starts?
Yeah. My last name is World Peace now, so I'm assuming the last name will be there.
I read that you're interested in doing some MMA fighting. Is that real?
That's totally real. My first thing I wanted to do -- when my career's over -- I wanted to play football, I wanted to try out and when the lockout happened, I was talking with Drew Rosenhaus. I spoke with him and then he said 'once [the lockout happens], I'm gonna get you a tryout,' and he never called me back. I wasted a whole summer. So right now I'm looking for a football agent to figure out when I can get a tryout or at least let the football owners and managers know that I'm really looking for a tryout.
You also mentioned that you want to box?
The boxing is real too. I've started training already. But right now it's no conditioning, it's more like skills. It's definitely something I'll be pursuing hopefully until about the age of 40, 38 to 40. I want to be boxing until I'm about 40.
Kelley L. Carter is a Los Angeles-based entertainment freelancer.