Commentary
Scouting undefeateds' remaining skeds
Originally Published:
October 27, 2011
By
Sarah Phillips
| Special to Page 2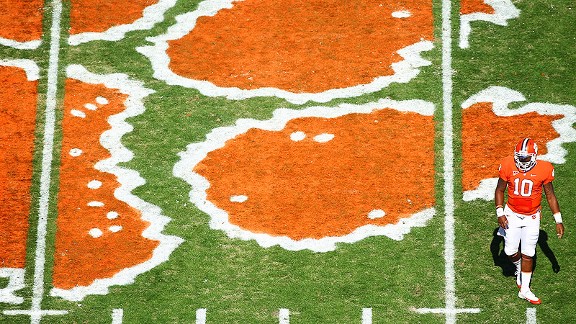 Scott Halleran/Getty ImagesIf Clemson is to remain undefeated, it might need star quarterback Tajh Boyd to play defense, as well.
Wasn't it just a week ago that we were discussing the possibility of multiple undefeated teams this season and the potential of chaos trying to figure out which sacrificial lamb would be selected to lose to the SEC champ in the BCS title game? So much for that.
Last week, Wisconsin and Oklahoma provided cautionary tales for the remaining non-SEC undefeated teams. The Badgers showed us it can be difficult to win in a pressure-packed, prime-time showdown. The Sooners showed us it can be difficult to win with absolutely no pressure when everyone expects you to romp -- you're a freaking 31-point favorite!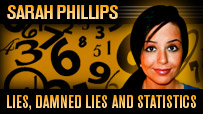 Due to the results in East Lansing, Mich., and Norman, Okla., it's timely to break down the remaining schedules of the non-SEC unbeaten teams. Let's discuss each team's most challenging opponent (red flag) and each team's softest opponent (not-so-red flag).
Degree of difficulty, or lack thereof, is determined by projected Las Vegas point spreads.
Sorry, Kansas State. I've taken the liberty of eliminating the Wildcats from the discussion since they probably will be a double-digit underdog in at least three of their five remaining games. If Kansas State runs the table in those five games, I'll dedicate an entire column to the Wildcats.
Even if Houston completes a perfect regular season, Case Keenum and the Cougars need each of the contending schools to have multiple losses in order to even have a slim chance at qualifying for the BCS title game. The BCS is counting on SMU to beat Houston on Nov. 19.

No. 6 Stanford Cardinal
Red flag: No. 7 Oregon at Stanford, Nov. 12
Projected line: Stanford (-3½)
Not-so-red flag: Stanford at Oregon State, Nov. 5
Projected line: Stanford (-21½)
It's a bit ironic that the BCS computers don't like Stanford, given the school's proximity to Silicon Valley. Many pundits say the majority of Stanford's wins have come against lousy opponents. However, if Stanford can beat Oregon, that would go a long way toward mending the relationship between the computers and the Cardinal. But the other Oregon team might provide Stanford with a different type of hurdle on its way to perfection.
Oregon State lost at home to FCS Sacramento State in Week 1. If that doesn't scream, "We have no business beating Stanford," I don't know what does. But the Beavers have a history of winning games as massive underdogs at Reser Stadium. Pete Carroll's 2006 and 2008 USC teams know this all too well.

No. 3 Oklahoma State Cowboys
Red flag: No. 9 Oklahoma at Oklahoma State, Dec. 3
Projected line: Pick 'em

Not-so-red flag: Oklahoma State at Iowa State, Nov. 18
Projected line: Oklahoma State (-28)
Even with Oklahoma's loss to Texas Tech, the Sooners remain the favorite to play the LSU-Alabama winner for all the sugar. Which means that the Bedlam matchup could become a de facto play-in game for the BCS title game
Could Iowa State ruin the party? The Cyclones haven't won a Big 12 game this season and have allowed 42.8 points per game in conference play. Overconfidence is the only thing that could derail the Cowboys on this trip to Ames.

No. 5 Clemson Tigers
Red flag: Clemson at No. 13 South Carolina, Nov. 26
Projected line:Clemson (-1½)
Not-so-red flag: Clemson at NC State, Nov. 19
Projected line: Clemson (-19½)
It's difficult to imagine Clemson reaching its Nov. 26 matchup against South Carolina with its undefeated record intact. The Tigers allowed 38 points to unranked North Carolina -- which was actually an improvement over the 45 they allowed to Maryland the previous week. If the Tigers improve on defense, it could set up an intrastate Thanksgiving weekend showdown against the Gamecocks.
But don't tell NC State. After going 9-4 last season, the Wolfpack downgraded at quarterback when Russell Wilson transferred to Wisconsin. Apparently, NC State was sandbagging months before Texas Tech made it trendy. The Wolfpack recently lost to Cincinnati by 30, but this beatdown is offset by quality wins over FCS opponents Liberty and South Alabama. Beating FCS teams makes you tough! Just ask the SEC.

No. 4 Boise State Broncos
Red flag: You're kidding, right?
Projected line: N/A
Not-so-red flag: The entire remaining schedule
Projected line: Boise State will almost certainly be favored by at least 17 points in each of its remaining games.
I have good news and bad news, Boise State fans.
The good news: The most difficult remaining game is Nov. 12 against TCU, where the Broncos will likely be favored by 17 points at home. After that, San Diego State is the most dangerous opponent, and Boise State will probably be a 22-point favorite on the road.
The bad news: The Broncos probably need all the other undefeateds (except Houston) to stumble -- and also for the strongest one-loss teams to lose again -- in order to earn a berth in the BCS title game.
This week's college picks
All games are Saturday unless otherwise noted.


No. 6 Stanford at USC, 8 p.m. ET, ABC
Last week, Stanford opened as a 21-point favorite against Washington and was quickly bet down to 17½ by kickoff. Then the Cardinal humiliated the Huskies 65-21. This week, Stanford opened as a 9½-point favorite against USC and has been bet down to seven. Will the Trojans suffer the same fate as the Huskies? With last week's cover, Stanford has gone undefeated against the spread in its past 13 games. If you bet $100 on the Cardinal at the beginning of their current 13-game unbeaten streak, and let your winnings ride on each game, you would now be up $234,378.74.
Pick: Stanford (-7)


No. 9 Oklahoma at No. 8 Kansas State, 3:30 p.m. ET, ESPN
This is the first of three brutal matchups for Kansas State before a potential pillow fight at Texas on Nov. 19. After the Sooners game, the Wildcats play at Oklahoma State and host Texas A&M. But with its passing offense ranked 119th in the nation, Kansas State has about as much of a chance to win those three games as you do of naming five Wildcats players. Kansas State has the unenviable task of dealing with a furious Sooners team coming off an upset loss to Texas Tech. Oklahoma is 19-7 against the spread in its past 26 games following a loss. Kansas State's tailspin begins on Saturday in Manhattan.
Pick: Oklahoma (-13½)


No. 11 Michigan State at No. 14 Nebraska, noon ET, ESPN
This is a do-or-die game for the Huskers if they want a shot at the Big Ten title. With a loss, Nebraska would fall two games behind the Spartans, and Michigan State would hold the tiebreaker. But the Huskers have essentially had three weeks to prepare for the Spartans -- a bye week, a game against Minnesota and this week. If Nebraska's preparation and desperation are at an adequate level, the Huskers will remain in the Big Ten title picture coming down the home stretch.
Pick: Nebraska (-4)
This week's NFL picks
All games are Sunday unless otherwise noted.


Patriots at Steelers, 4:15 p.m. ET, CBS
Twitter turned upside down this past week when photos emerged of Patriots tight end Rob Gronkowski with another tight end, porn star BiBi Jones. Gronkowski apologized for the images and said he never meant to hurt the reputation of the Patriots organization. Based off my conversations with friends about the situation, Pats owner Robert Kraft has nothing to worry about. Here's the transcript:
"Rob Gronkowski is linked to BiBi Jones!"
"Who?"
"BiBi Jones, the porn star."
"I know who BiBi Jones is. Who's Rob Gronkowski?"
I'm going to go out on a limb and say Gronkowski's escapades won't be a distraction for Tom Brady and Bill Belichick, especially since New England has owned the Steelers at Heinz Field in recent years. The Pats are 6-1 against the spread in their past seven games in Pittsburgh. It'll be the Steelers, not Gronkowski, who will have their hands full on Sunday.
Pick: Patriots (-2½)


Cowboys at Eagles, 8:20 p.m. ET, NBC
Eagles cornerback Asante Samuel recently compared members of the Philadelphia front office to fantasy owners. I beg to differ. Fantasy football owners would have addressed the Eagles' need at linebacker and offensive line long before acquiring an abundance of cornerbacks. Honestly, it's unclear whether Samuel was trying to insult the Eagles front office or those of us who play fantasy football. Drama aside, Philadelphia had an extra week to prepare for this game, and the Eagles are 4-1 against the spread in their past five games following a bye week.
Pick: Eagles (-3)


Chargers at Chiefs, Monday, 8:30 p.m. ET, ESPN
Kansas City went from being 0-3 and in the Andrew Luck sweepstakes to 3-3 and a win away from the division lead. San Diego went from being 4-1 and one of the favorites to win the AFC championship to 4-2 and a defeat away from losing the division lead. Such is life in the AFC West. The Chargers began this season with an unexpected surge, but after losing to the Jets last week, it seems their typical early-season woes simply might have been delayed a few weeks. San Diego is 4-9-1 in its past 14 games in Kansas City, so signs point toward the Chiefs improbably taking the division lead on Monday night at Arrowhead.
Pick: Chiefs (+4)
Last week's picks: 3-4
Season record: 37-30-2 (55.2 percent)
You can follow Sarah Phillips on Twitter @SarahPhilli.