Commentary
Power Rankings: Suh Rules Edition
Originally Published:
October 31, 2011
By
Greg Hardy
| Special to Page 2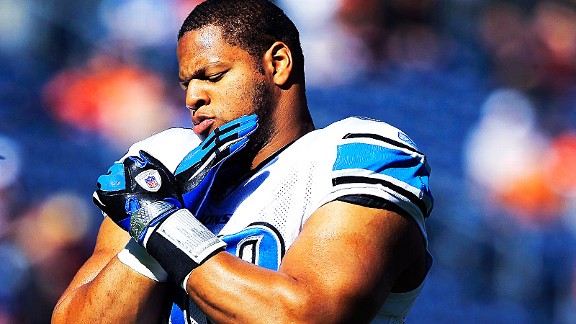 AP Photo/Joe MahoneyNdamukong Suh is meeting with NFL Commissioner Roger Goodell to talk about hits.
Get ready to have things explained to you in no uncertain terms in ESPN.com's Page 2 Power Rankings! Our formula combines the results of two surveys: a human poll concocted by ESPN Page 2's Greg Hardy and a scientifically calibrated poll generated by computer analysis. Unfortunately, our computer spent the weekend pondering the ramifications of the planet's new 7 billion-person population estimate, and running projection models to see if there are enough newspapers in the world for at least six billion of us to continue to engage in extreme couponing. To the results!
| | | | |
| --- | --- | --- | --- |
| Human Poll | Computer Poll | Power Points | Trending |
| 9.5 | 9.6 | 19.1 | |
Credentials: Here's one of the most bizarre ways we've ever heard of an NFL player spending his bye week. Detroit Lions defensive tackle Ndamukong Suh is requesting a meeting with league officials so that he can get clarification on what exactly are the rules he's been bending, breaking, twisting, crunching, chewing and spitting out since he's turned pro. In addition, he wants to know what's happening to the $42,500 in fines he's racked up through 23 games. Until now, he's been under the impression that his "Get Out of Jail Free" money goes into a pot that gets collected by whichever player lands on Free Parking. Suh also wants to make sure that he gets Roger Goddell's blessing that Suh is allowed to play Madden with defenses off. The only drawback we can envision? He starts taunting opponents that he knows the rules better than they do.
2. Your Halloween costume
| | | | |
| --- | --- | --- | --- |
| Human Poll | Computer Poll | Power Points | Trending |
| 9.5 | 9.0 | 18.5 | |
Credentials: For anyone who waited til the last minute to come up with an idea, there's always the zombie route. Specifically, you can be Zombie Lane Kiffin -- who is very enraged that he's a zombie, because he claims the Zombie Refs promised no one would chomp him on the arm. Hey, even zombies know that the only thing worthwhile about biting Lane Kiffin is to infect him into joining the undead army. You think there's a lot of brains up there to chew on?
3. St. Louis celebrations
| | | | |
| --- | --- | --- | --- |
| Human Poll | Computer Poll | Power Points | Trending |
| 8.9 | 8.2 | 17.0 | |
Credentials: Turns out the Cardinals victory parade has morphed into a Tony LaRussa retirement party. Great, the more the merrier! And if they act fast enough, in all the ensuing happy mayhem, someone get a Cardinals official to slip into a little kid's hands on the autograph line a new free agent contract to trick the slugger into staying in St. Louis.
| | | | |
| --- | --- | --- | --- |
| Human Poll | Computer Poll | Power Points | Trending |
| 7.7 | 7.2 | 14.9 | |
Credentials: On the one hand, Timmy is now 1-1 as a starter this year. On the other hand, his collegiate Gators have four regular season games remaining to the Broncos' nine, and it'd be interesting to see Las Vegas' odds as to which team will end up with more victories. Everyone's acting as though the worst-case scenario is that he struggles to bulldoze his way to a double-digit quarterback rating for each game. We say the worst-case scenario is that if he walked into one of the postgame news conferences and we see that his super-optimistic, never say die personality has changed. Finger-pointing? Potty mouth? Kicking an orphan? Timmy, don't make us say we don't even know you any more.
| | | | |
| --- | --- | --- | --- |
| Human Poll | Computer Poll | Power Points | Trending |
| 7.2 | 7.4 | 14.6 | |
Credentials: Like sands through the hourglass, we knew this day would come for the Penn State coach: After beating Illinois, he owns the Division I record for victories with 409. Now all we need to put this in perspective is to hear him wistfully say at his next news conference: "I'd trade each and every one of them for one more day of the Kardashian-Humphries marriage."
| | | | |
| --- | --- | --- | --- |
| Human Poll | Computer Poll | Power Points | Trending |
| 6.3 | 6.3 | 12.6 | |
Credentials: When the No. 1 Tigers visit the No. 2 Crimson Tide, we've already got the "Super Bowl of the South" on tap. It's a good thing the NCAA wants to give players an extra $2,000, because that's probably what it will cost them at this point to score extra seats in the Bryant-Denny nosebleeds. To sweeten the stakes, the NCAA has agreed to let the winning school break off from the SEC and start its own 16-team megaconference.
7. NFL north of the border
| | | | |
| --- | --- | --- | --- |
| Human Poll | Computer Poll | Power Points | Trending |
| 5.5 | 5.1 | 10.6 | |
Credentials: Are the 5-2 Buffalo Bills for real? One corner that they've finally turned is winning one of their "home" games in Toronto for the first time in the 4-year-old annual field trip. Finally, their Canadian fans have something new to cheer about. Never mind that to make them feel good about hosting the series in the Rogers Centre in the first place is that Ralph Wilson already shipped them all of the leftover 1990s "Buffalo Bills Super Bowl Champs" shirts and caps that the printers hadn't destroyed at the time.
| | | | |
| --- | --- | --- | --- |
| Human Poll | Computer Poll | Power Points | Trending |
| 5.3 | 4.8 | 10.1 | |
Credentials: BREAKING NEWS: According to sources close to the negotiations, the players and owners have come up with a compromise on how to play as many games as possible in the 2011-12 season. The All-Star game will still be played in Orlando, but all regular season games that take place before the break will be of a "sudden death" variety. That's right, first team to sink a basket wins. OK, that might not make driving to the arena and buying a beer worth the price of admission for fans, and we're probably going to see a much stronger emphasis on defense. The real question is whether this makes it more or less likely for LeBron James to attempt any shot at all.
9. "Field of Dreams" field
| | | | |
| --- | --- | --- | --- |
| Human Poll | Computer Poll | Power Points | Trending |
| 5.2 | 4.2 | 9.4 | |
Credentials: Well, at least they're not going to bulldoze the property and turn it into a boring multiplex. The Iowa cornfields that were the backdrop for the baseball diamond in the fabled 1989 Kevin Costner flick has changed hands to a couple and their company Go the Distance Baseball LLC to keep the land as a baseball shrine. Kudos to the parties involved for making this happen. Meanwhile, our attempts to get the driveway from "BASEketball" put on the National Register of Historic Places continues to go nowhere.
| | | | |
| --- | --- | --- | --- |
| Human Poll | Computer Poll | Power Points | Trending |
| 5.1 | 4.2 | 9.3 | |
Credentials: Now's the time of year when we give the usual golf claps to the top 25 people on the Nationwide Tour who earn their official PGA Tour card for 2012. But get your blood pumping a little stronger for 31-year-old Erik Compton, a man for whom making the cut pales in comparison to the two heart transplants he's endured. And just as Tiger Woods' incredible workout regimen inspired some pros to get in better shape, let this be a lesson to anyone who finishes behind Compton next year: Try losing 20 pounds, cut down a half-pack of cigarettes and that extra pint or three on the 19th hole. A guy who's had two heart transplants is being a better athlete than you.
| | | | |
| --- | --- | --- | --- |
| Human Poll | Computer Poll | Power Points | Trending |
| 4.2 | 4.0 | 8.2 | |
Credentials: Don't you hate when right after your New York Red Bulls squad loses 1-0 to the L.A. Galaxy you throw the soccer ball at Landon Donovan? Well, then you've got a lot in common with Rafael Marquez, who did just that before flopping to the ground in the immediate dust-up. What an appalling lack of soccer decorum. Honestly, throwing a ball at Landon Donovan? C'mon, no hands! You're supposed to KICK the ball at Landon Donovan.
| | | | |
| --- | --- | --- | --- |
| Human Poll | Computer Poll | Power Points | Trending |
| 4.1 | 3.2 | 7.3 | |
Credentials: With three races to go, fans are gassed up about the Carl Edwards-Tony Stewart showdown. But what about five-time champion Jimmie Johnson? He's in sixth place and 43 points back, and while on paper it might be possible for him to make up ground, we're going to go on record with this sharp assessment: J.J. is ultimately going to fall short and will go down in auto racing history as the Dale Earnhardt Jr. of Sprint Cup six-peats.
| | | | |
| --- | --- | --- | --- |
| Human Poll | Computer Poll | Power Points | Trending |
| 3.2 | 2.3 | 5.5 | |
Credentials: Words are probably of little comfort to the millions of people without power in the Northeast. But look at the bright side: What if the Boston Red Sox hadn't collapsed before the playoffs, had made a World Series run, and then this weather hit right before Game 5 at Fenway? Well, there'd be a lot of exploded frozen beer cans in the Red Sox clubhouse, that's for certain. So until the snow melts away, continue lettering your bitterness for Theo and Francona warm yer belly.
Also receiving votes
• The "All-Hype Team": OK, in the overall picture, the Philadelphia Eagles Dream Team is still only a drowsy 3-4. But they're 1-0 and leading 34-7 on the scoreboard against Rob Ryan, the Dallas Cowboys defensive coordinator who fired up the "All-Hype" nickname in August. Mr. Ryan, since you still have one more game in your All-Hype Team season ticket package remaining, just know that Sunday night's outcome will complete your payment for your All-Hype Team personal seat license.
Never receiving votes
• Winless NFL teams: We're down to the final two oh-fers. The Colts are 0-8, and the only reason the Dolphins aren't is because they've only played seven games. So which squad is worser than worse? Our prediction: If Miami and Indianapolis met on neutral field -- uh, then there's one stadium where the promoter is very, very bad at his job.
Greg Hardy is a Page 2 contributor. It's all pop culture all the time at Twitter.com/HardyVision.