Commentary
Page 2 Q&A: Pink Floyd's Nick Mason
Pink Floyd is unquestionably one of the most successful acts in rock history.
The famed psychedelic pioneers have sold more than 250 million albums worldwide. The band's 1973 opus, "Dark Side of the Moon," has appeared on the Billboard charts for a record 785 weeks, and its final excursion, in 1994, was the highest-grossing rock tour in history to that point. Floyd's 1979 album, "The Wall," spawned an elaborate theatrical tour, a feature film and a No. 1 single, "Another Brick in the Wall Part 2."
If that's not enough, the band's 1988 live release, "Delicate Sound of Thunder," is believed to be the first rock album to be played in space.
In a nutshell, Pink Floyd is kind of a big deal.
So, what does any of this have to do with sports?
[+] Enlarge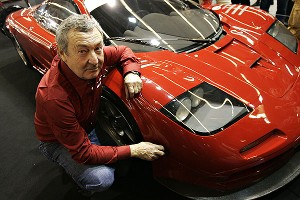 AP Photo/Christophe EnaPink Floyd drummer and car collector Nick Mason poses with his 1995 McLaren F1 GTR in 2007.
In addition to being the only musician to have played on every one of Floyd's albums, drummer and founding member Nick Mason is a huge motorsports enthusiast who owns a renowned collection of race cars. Mason has competed in the 24 Hours of Le Mans five times, and he owns one of the most coveted automobiles in the world, a Ferrari 250 GTO -- one of only 39 produced by the legendary Italian manufacturer.
Mason was kind enough to chat with Page 2 recently about his love of racing, his car collection and the newly remastered releases from Pink Floyd's catalog. Here's what transpired:
Page 2: You were attracted to cars at an early age through your father. In what areas was he involved in racing?
Mason: He was mainly involved in filmmaking about racing. He was an enthusiast. For instance, he actually got to drive in the Mille Miglia [the famed 1,000-mile Italian road rally] in 1953. They ran it, more or less, as a camera car, but actually ran it in the competition.
What do you recall about competing in La Carrera Panamericana, the 2,000-mile rally in Mexico, with [Pink Floyd guitarist] David Gilmour in 1991?
It was great fun right up until the point that David had the accident ... which took a little bit of the fun out of it. But I loved it. I'd done the race a couple of years before. It's one of the great events. It's not as dangerous as it was in its original format -- when it was flat-out the whole way. But in terms of seeing Mexico and enjoying the whole ride, I loved it.
MORE FROM NICK MASON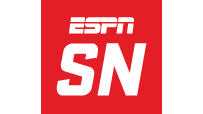 Pink Floyd's Nick Mason recently fielded questions from ESPN.com users during an online chat. Check it out below:
What is your most vivid memory of the five times you competed in the 24 Hours of Le Mans?
My most vivid memory is probably the first time, because it was where I'd always wanted to get to. It was the pinnacle of my motor racing ambition, really. Just to get out there for the first time on the main straight -- which no longer exists; they put chicanes in it now to slow it up a little bit -- and to drive at night and all those things are still great memories for me. ... In '79 we won the Index of Performance [and placed 18th out of 55 teams] and we were second in class, which was Group 6, 2.0-liter class, and then in 1980, we were third in class. My career went downhill from there, really, because the other three times, the car failed at some point in the race.
Can you compare and contrast the experience of competing in Le Mans to a rally event such as the Mille Miglia?
A race, in many ways, is a far more pure form of motorsport. The Mille Miglia is great fun, but it's not a speed competition. So they're very different events. My heart lies with proper motor racing, really. That's the real test.
You currently have about 30 cars in your collection. How does it compare to some of the top collections in the world?
It's a nice collection, but it's not one of the great collections. There are some fantastic collections, with far more cars, but also each one of which is a jewel. It's not the biggest collection. One of the great collections is Ralph Lauren's cars, which were recently exhibited in Paris. Every car is an absolute jewel, whereas mine is a bit of a mix-up. There are one or two really exotic Ferraris, and then there's a Model-T Ford that we think belonged to the Mack Sennett studios [and used by Laurel and Hardy] with an exploding radiator and a back that falls off. ... So it's a pretty weird mix. I wouldn't rate it that highly, but it's a bit like my children, if you know what I mean. I'm particularly fond of all the cars in there.
How many model years does your collection span?
[+] Enlarge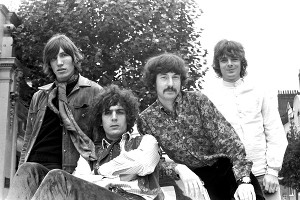 Chris Walter/WireImagePink Floyd in 1967 -- From left: Roger Waters,
Syd Barrett, Nick Mason and Richard Wright.
The cars span from 1901, which is the earliest, up to the modern and something like the [Ferrari] Enzo, which is 2005. My book, "Passion for Speed," has all the important cars in my collection photographed, and I talk about why I chose those particular cars in the first place. A friend of mine, [Mark Hales], a journalist driver, does sort of an evaluation of them all. Also included is a CD with the sounds of them all, which is very good for clearing the room at the end of a party.
Did you agonize over the decision to keep your Ferrari 250 GTO when you received a $35 million offer for it in 2010?
No, I didn't agonize over it at all. There's no other car that does quite what that [one] does. There may be a point in my life where I want to do something entirely different, but at the moment I'm still very fond of that car. We raced it at [the] Goodwood [Revival, an annual racing festival in England], two weeks ago, and as I sit here now, my wife is in Italy doing a rally in it.
Your daughter Holly is married to professional racer Marino Franchitti. Does he get to drive the GTO?
He certainly does. He's a great driver. This year, I'd already promised the drive elsewhere, so he drove my Maserati Birdcage. It's great to have someone like Marino in the family.
How does one go about insuring a $35 million automobile?
Well, you ring up the insurance company, and when they're finished laughing at you ... actually, it's not that bad, because the big thing with these really valuable cars is that the value is in the prevalence of the car. If you've wiped out the front suspension in an accident or something like that, it's not that difficult to repair it, and it doesn't change the value of the car. So it's not the sort of problem that people imagine. The only real problem that could occur would be, maybe if you were shipping it overseas and the captain had to push it over the side in a storm. Then you'd have a problem.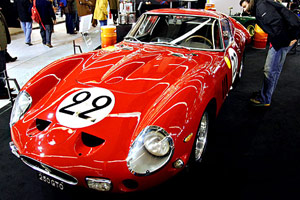 ESPN.comMason turned down a $35 million offer to sell his exquisite 1962 Ferrari 250 GTO last year.
You released a solo album in 1981 entitled "Nick Mason's Fictitious Sports." Aside from your interest in racing, are you a sports fan?
Yeah, but mainly motor racing. I have two sons who are absolutely soccer mad and support Arsenal. So, by default, I wind up watching an extraordinary amount of soccer, because you can't get them to turn the channel over.
Can you describe the magnitude of the project to oversee the digital remastering of Pink Floyd's entire catalog?
I think it was probably almost a two-year project and involved a lot of work, particularly from our sound engineers, James Guthrie and Andy Jackson. We all monitored what they did, but in terms of who actually did the real work, they did. And it was massive, and it's things like remastering the 1974 live Wembley [Stadium] concert, where they had to painstakingly repair almost every bass drum beat, because there had been a faulty microphone. That sort of thing indicates the amount of work that had to be done.
What are the chances that Pink Floyd will record again with yourself, David Gilmour and Roger Waters?
I think there is really no chance of recording again together, because I think apart from everything else, we're in a new age now where records simply don't count for as much as they did. If we were going to do anything, I think we'd play live, and there are no plans to do anything of the sort. But I think the thought of going back into the studio is really not something that we'd countenance.
What do Pink Floyd fans have to do to convince the three of you to consider a reunion tour?
[+] Enlarge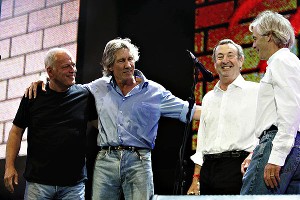 AP Photo/Lefteris PitarakisPink Floyd reunites at the Live 8 concert in London in 2005. From left: David Gilmour, Roger Waters, Nick Mason and Rick Wright.
I think it's very difficult. I've sometimes described David [Gilmour] like this: You can lead a horse to water, but you can't make it drink; with David, you can't even lead him to the water.
Whom do you consider to be the three greatest musicians of your lifetime and why?
I'd cite Yehudi Menuhin, because I think he was the great violinist for so long. There are plenty of great violinists, but he actually not only was a fabulous player, but he actually was very involved in education and was a great mentor to a lot of people.
I think I'd probably say Miles Davis from the bebop jazz groupings, perhaps rather than Charlie Parker because he spanned such a wide [number of styles] ... then he dipped into rock music ... the soundtrack he did for [former heavyweight champion] Jack Johnson [in 1971] is sensational and just shows someone who can move across different genres.
I'd probably say Jimi Hendrix, because he [inspired] about 10-15 million young guitar players, and he's still influencing people to this day. I'd put those three off the top of my head.
Who are some current musical artists you enjoy and why?
Quite a lot of English [artists] -- Radiohead, even Coldplay on a good day. ... Mumford & Sons -- people who are doing things where they are managing to find a niche in a world that no longer buys records in the same way. Really entrepreneurial people who are, in a way, forging the new music business.
Who were your favorite musicians growing up?
The reason I'm here now -- is because I saw Ginger Baker playing with Cream and thought that's exactly what I wanted to do. All the people from that era, bands like Cream, Jimi Hendrix, The Who -- and in particular the drummers -- people like Keith [Moon] and Mitch Mitchell, [who played] with Jimi, who was not an influence but really a nice guy and encouraging. Those are the big influences, really. I mean there are some jazz players that I really liked, but in terms of how I play, I think Ginger Baker was, without a doubt, my biggest influence.
Thomas Neumann is an editor for Page 2.