Commentary
Power Rankings: Good Cheer Edition
Originally Published:
November 14, 2011
By
Greg Hardy
| Special to Page 2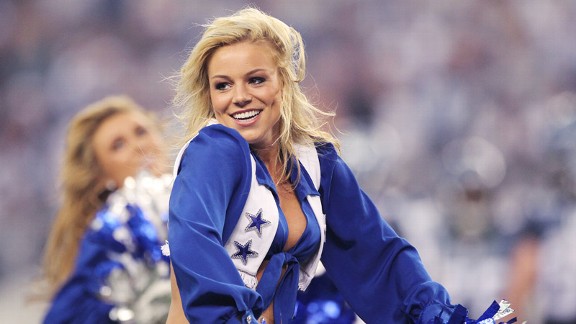 Matthew Emmons/US PresswireKelsi Reich is a Dallas Cowboys cheerleader and girlfriend of Buffalo Bills receiver David Nelson.
Get ready to exchange game balls and promise rings with ESPN.com's Page 2 Power Rankings! Our formula combines the results of two surveys: a human poll concocted by ESPN Page 2's Greg Hardy and a scientifically calibrated poll generated by computer analysis. Unfortunately, our computer spent the weekend trying to figure out if U.S. taxpayers providing the funding for an aircraft carrier to host the North Carolina-Michigan State game constituted an illegal benefit from a few hundred million boosters and the Tar Heels' victory must be vacated. To the results!
| | | | |
| --- | --- | --- | --- |
| Human Poll | Computer Poll | Power Points | Trending |
| 9.9 | 9.8 | 19.7 | |
Credentials: "Here's the story. Of a lovely lady. Who was busy as a Dallas Cowboys cheerleader. Most of them had hair of gold. But Kelsi Reich was special. Her boyfriend was running curl routes for the Bills. Here's the story. Of a man named David Nelson. Who was busy getting his butt kicked by the Cowboys. The offense was 11 men running around together. Yet they were all alone thinking they could win the AFC East. Until the one day when Nelson caught a touchdown. And the TV cameras had a little bit of a hunch. That Nelson would then give the ball to his girlfriend Kelsi. That's the way they all became The Awkward Football Allegiance Bunch." But seriously, this story is far from over. Because with that move, they basically recorded the pitch session for their upcoming reality TV show. Just the explanation of the act alone serves as the pitch. "Remember that random NFL receiver who gave the ball to his dazzling Dallas Cowboys cheerleader girlfriend? That's the show!" Bravo, TLC and VH1, we expect to name a highest bidder by noon tomorrow.
| | | | |
| --- | --- | --- | --- |
| Human Poll | Computer Poll | Power Points | Trending |
| 9.5 | 9.0 | 18.5 | |
Credentials: Should we be worried that the players are about to opt for the "nuclear option" of decertification of the union? We'd hope that anyone who'd be in charge of a nuclear option, even if it's only in the figurative sense, would be using good judgment. And considering the ways we've seen NBA players think their way should be the right way to defend Kobe Bryant in the final seconds before he takes a winning shot, we'd be very worried if they had their finger resting on any button at all.
3. Sean Payton's magic crutch
| | | | |
| --- | --- | --- | --- |
| Human Poll | Computer Poll | Power Points | Trending |
| 8.8 | 8.2 | 17.0 | |
Credentials: Please don't think we're making fun of the Saints' coach's horrific, leg-shattering injury. But did you see the authority with which he swung his crutches in barking out directions while patrolling the sideline again in the Georgia Dome? He was so spot-on with wielding that thing around, it was like watching live-action, "Inspector Gadget"-style appendages. And who knows, maybe before the game he had them sanctified with a little New Orleans voodoo, and that's why the Falcons became zombie-like brain dead and went for it on fourth down deep in their own zone in overtime. Coach Payton, keep this up, and your Wand of Goodness will be on the short list of iconic NFL accessories. Up there with Landry's fedora, Lombardi's glasses and trench coat and waaaay classier than Belichick's hoodie.
| | | | |
| --- | --- | --- | --- |
| Human Poll | Computer Poll | Power Points | Trending |
| 7.7 | 7.2 | 14.9 | |
Credentials: Andrew Luck, who we've been told all year is so good he'd be the salvation of any team that would stoop so low as to have Tim Tebow as its starting quarterback, basically turned over the Heisman race to his competitors after turning the ball over so much to the Oregon Ducks. But who's behind him to step up? We say that if Timmy can get the Broncos to the AFC West division crown, he should definitely be awarded his second stiff-arm trophy.
| | | | |
| --- | --- | --- | --- |
| Human Poll | Computer Poll | Power Points | Trending |
| 7.1 | 7.4 | 14.5 | |
Credentials: Is you-know-who ready to take his place back atop the golf world? Fans have got to be excited about him placing third at the Australian Open. Privately, Woods must consider this his most exciting third-place finish since the day he was only the third-most clicked headline on TMZ after weeks and weeks of being the No. 1 story.
| | | | |
| --- | --- | --- | --- |
| Human Poll | Computer Poll | Power Points | Trending |
| 6.2 | 6.3 | 12.5 | |
Credentials: We're not saying Andy Reid is becoming an expert on fourth-quarter collapses, but in his next job after he's fired from the Eagles, he really shouldn't apply to be LeBron James' life coach. Oh, and FYI, DeSean Jackson wasn't benched because of missing a team meeting. That was just a cover story so that Jackson could take time off to go to Kinko's and run off copies of Reid's résumé that he'll soon be sending out.
| | | | |
| --- | --- | --- | --- |
| Human Poll | Computer Poll | Power Points | Trending |
| 5.4 | 5.1 | 10.5 | |
Credentials: We're down to the final race of the season, and either Carl Edwards or Tony Stewart will win the Chase for the Sprint Cup after driving 400 miles at the track at Homestead. Of course, the real pressure isn't seeing who will end up on the right side of Edwards' three-point advantage that separates the drivers. It'll be seeing if Edwards or Stewart can win six series championships in a row, which Jimmie Johnson clearly wasn't equipped to do. Success has strange standards in NASCAR, where the most popular driver is Dale Earnhardt Jr., and he hasn't won a race since before Volkswagen Bugs existed.
| | | | |
| --- | --- | --- | --- |
| Human Poll | Computer Poll | Power Points | Trending |
| 5.2 | 4.8 | 10.0 | |
Credentials: Is the 30-year-old right-hander leaving Boston only in exchange for a four-year, $50 million deal? Or maybe he's interested in comparing and contrasting visits to Yankee Stadium with visits to Citi Field. Obviously, being the reliever for a perennial contender must beat the heck out of following Theo Epstein to Chicago. And while visiting Fenway for interleague matches probably isn't as poetic as being on the home team's roster, at least he won't hear about the Red Sox's 2011 epic collapse anymore. Because Philadelphia fans would never hold onto a grudge like that if a comparable playoff collapse happened to them.
| | | | |
| --- | --- | --- | --- |
| Human Poll | Computer Poll | Power Points | Trending |
| 5.1 | 4.2 | 9.3 | |
Credentials: Anyone expecting closure from this fight could have better spent their time debating which "Rocky" movie has the best cinematography. Get ready for Pacquiao-Marquez IV as soon as Vegas figures out an open date in 2012 where they can settle this free from controversy. Which, by Vegas boxing standards, probably involves inviting Floyd Mayweather Jr. to be one of the judges.
| | | | |
| --- | --- | --- | --- |
| Human Poll | Computer Poll | Power Points | Trending |
| 5.0 | 4.2 | 9.2 | |
Credentials: How would Albert Pujols look in an orange jersey? That could be the new world order in the NL East if a free-agency jackpot aligns in the stars with a baseball team's uniform redesign that couldn't look more ridiculous if it included a cape. Then again, if negotiations with Albert Pujols boil down to he wants to wear a cape, who's going to be sitting around in the Marlins' new ballpark to complain?
| | | | |
| --- | --- | --- | --- |
| Human Poll | Computer Poll | Power Points | Trending |
| 4.2 | 4.0 | 8.2 | |
Credentials: It's the Greek mythology action movie Homer might have made if he had access to CGI editing software, and it scored $32 million to win the weekend box office. And we'd wager that "Immortals" is also the name of the last-place team in your fantasy league composed of Rex Grossman, Chris Johnson, Montario Hardesty, Steve Breaston, Mike Williams and the Vikings' defense. This from a guy who still hasn't paid his league entry fee yet. Hey, "Immortals" owner: No one likes an immortal who's a deadbeat.
| | | | |
| --- | --- | --- | --- |
| Human Poll | Computer Poll | Power Points | Trending |
| 4.0 | 3.2 | 7.2 | |
Credentials: The experts are telling us that no matter how many conferences realign between now and New Year's, it appears we're on a collision course for an LSU-Oklahoma State championship bout. Which means it would be a game pitting LSU coach Les Miles against the team he coached from 2001 to 2004 before deciding the grass was greener in Baton Rouge. Forget the fact Miles knows he can outcoach Mike Gundy with one hat tied behind his back. The only way Miles is going to find the game intellectually stimulating is if he's coaching against a Cowboys team coached by himself. Whether that entails him sprinting back and forth across the opposing sidelines to call plays every single down or finding a time machine to bring his 2003 self to 2011, the point is the NCAA has to step in at some point and prevent this from happening. Having two Les Miles-coached teams on the field at the same time can only have catastrophic consequences, like crossing the streams in "Ghostbusters." We'll gladly accept a safer, more boring world with an Alabama-Oregon showdown.
13. Lions on Thanksgiving
| | | | |
| --- | --- | --- | --- |
| Human Poll | Computer Poll | Power Points | Trending |
| 3.1 | 2.3 | 5.4 | |
Credentials: In a sight about as rare as a photo of the original Pilgrims and Indians eating Taco Bell carryout at the first Thanksgiving, the Lions will have a winning record entering their traditional Turkey Day game. Unfortunately, as a team that has lost three of its past four games, Detroit must treat Sunday's game against Carolina and then the Thursday game after a four-day turnaround against the Packers as though they were playoff games. And not to spoil your holiday cheer, Lions fans, but it's impossible to use a Christmas wish for the purpose of receiving a Thanksgiving Day victory. That'd be like crossing the streams in "Ghostbusters." Oh wait, we just used that joke. We'll promise to reference other '80s movies next week.
Also receiving votes
• Punting to Devin Hester: Thank you, thank you, thank you to every NFL team stupid enough to boot any football within 20 yards of this man. In a land of uncertainty about jobs, the markets, national security, the leaders of our institutions and whether the final "Twilight" movies will be any good, it's fantastic to know that once the ball lands in his arms, the Bears are only a few seconds away from adding six points to the board. He has 12 punt returns for touchdowns, an NFL record. And the only thing that's going to stop him from collecting a 13th, 14th, 15th and so on is if the Bears' defense ever decides to stop forcing other teams to punt.
Never receiving votes
• 0-10 Colts: Bad news for anyone who had their fingers crossed that coach Jim Caldwell and quarterback Curtis Painter could reel off a seven-game win streak and avoid double-digit losses. Maybe this upcoming bye week is a good time for all involved with the team to take a good look in the mirror. Just make sure you're looking into an actual mirror and not a Peyton Manning poster that you think is a mirror.
Greg Hardy is a Page 2 contributor. It's all pop culture all the time at Twitter.com/HardyVision.