Commentary
Digging deeper on baseball changes
Originally Published:
November 23, 2011
By
Jim Caple
| Page 2
There was plenty of news in baseball this past week, what with the addition of another wild-card team in each league, the Astros switching to the American League, year-round interleague play and a new collective bargaining agreement that includes a test for HGH plus a raise in the minimum salary to $480,000.
Of course, the devil is always in the details, and Off-Base has learned of some interesting little-known codicils hidden in those agreements. For instance …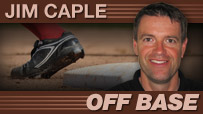 1. Realignment and wild cards: To address previous division inequalities and satisfy the TV networks, the Yankees and Red Sox will shift from the AL East to their own two-team division, playing 162 games against each other -- all televised on ESPN. The division champion gains an automatic berth in the ALCS and -- to keep obnoxious Boston fans from storming Fenway Park with torches and a giant tree-trunk battering ram -- the Red Sox will get one of the league's two wild cards every year regardless of record.
Additionally, if both the Yankees and Red Sox advance to the ALCS, the loser of the series will then switch to the National League so that the two can play in the World Series as well.
To further appease network executives, if Kansas City, Pittsburgh, Minnesota, Colorado, San Diego, Florida, Tampa Bay, Houston, Seattle or Arizona win their respective divisions, they will NOT advance to the postseason due to their small market size, though they will receive a gift certificate from Dicker & Dicker of Beverly Hills. The Brewers, meanwhile, will receive one of the National League's two wild-card slots every year until Bud Selig retires as commissioner. And Oakland can have a postseason berth as long as Brad Pitt shows up at the ballpark as Billy Beane.
The World Series will be played in Arizona to guarantee warm weather and a roof in case of rain so that the series can be played into late November or early December or however long it takes to schedule games only on nights when there is no NFL or college football game, no "Dancing With the Stars," "American Idol," "Glee," "The Simpsons' 3-D Treehouse of Horror" or "CSI: Scranton" to compete against on the network schedule.
2. Random testing: Because the league can now test players for HGH, the players can likewise randomly test owners for B.S.
3. Entrance music: Entrance music must now be played for ALL relievers, not just closers. But the music must be pitcher- and situation-appropriate.
For instance, Mariano Rivera has Metallica's "Enter Sandman." A setup man entering a tight game in the eighth inning can use the "Rocky" theme, but if he enters earlier, he should switch to Sir Mix-A-Lot's "Baby Got Back." A left-handed one-batter specialist should use Ricky Martin's "She Bangs" (the William Hung version if trailing by three runs or more), while a middle reliever in the fifth or sixth should use Beyonce's "Single Ladies (Put a Ring on It)," Elton John's "Candle in the Wind" or anything by ABBA, depending on the score. A mop-up man down five or more runs in the fourth inning or earlier should use Celine Dion's "My Heart Will Go On" -- and he must sing it himself.
4. Player compensation: In addition to increasing the minimum salary to $480,000, players will also receive frequent-flyer miles for team flights that can be used on any airline with no blackout dates and no checked-bag fee.
5. Media access: To keep players from being harassed by reporters, the home clubhouse will be closed to the media after batting practice (by the way, this is an actual clause in the new basic agreement). Additionally, players are no longer required to answer questions unless they are asked actual questions. Thus, reporters can no longer stick a microphone in their face and say "Talk about the bullpen" or "Tough loss" or "You have to be happy" as if these statements justify any response.
6. Seventh-inning stretch: At the request of Tim Wakefield, Omar Vizquel, Arthur Rhodes and Darren Oliver, the seventh-inning stretch is being replaced by a 20-minute nap.
7. Replay: Full instant replay for all controversial calls will be retroactive to the Jeffrey Maier and Don Denkinger calls.
8. All-Star Game: To better demonstrate that everyone in a major league uniform is a star, All-Star rosters in each league will be expanded to 351 players -- 25 players from each team plus one player each from the Pirates and Royals. Each player will receive a $50,000 bonus, plus a snow cone and orange slices.
9. BBWAA awards: So there is no future confusion, BBWAA voting guidelines will specifically state that pitchers are eligible for the league's Most Valuable Player awards, as well as People Magazine's Sexiest Man Alive.
10. World Series: One final postseason note. If the Cubs reach the playoffs, they will not advance to the World Series. Actually, this is not a new rule for the Cubs, it's just the way it will continue to work out.
CSI: BOX SCORE

Kurt Snibbe/ESPN.com
YEAH, WELL, THAT'S JUST LIKE YOUR OPINION, MAN
The BBWAA Ballot -- Still A Better Voting System Than Florida: Congratulations to Justin Verlander on his well-deserved MVP this week. I had an MVP vote for the first time in 11 years and I voted for Verlander, a rare case in which I voted for the winning candidate in any sort of election (I'm still upset about John Anderson not winning in 1980). Red Sox fans complaining that Verlander should not have won the award this year because Pedro Martinez didn't win it with an even better season in 1999 need to calm down and realize this is a different season and that the writers voting this year are not all the same voters from 1999 (for instance, I didn't have a vote in '99). Further, to complain that Verlander shouldn't have won this year because Pedro didn't in 1999 is as silly as saying Obama shouldn't have won in 2008 because the Democratic candidate didn't win in 2000. Different years, different candidates, different voters. …
Better Clear Tent Space in Occupy Wall Street/Miami: With the increase in the minimum salary to $480,000, the minimum payroll for a team with no one on the disabled list is $12 million. Although Marlins owner Jeffrey Loria will still find a way to somehow keep the Marlins' payroll under $10 million. …
A Very Selig Thanksgiving: And finally, happy Thanksgiving, everyone. Can't wait until future years when we can celebrate the holiday by stuffing ourselves with turkey and pumpkin pie, then sitting back to watch the final round of baseball's newly expanded postseason. I mean, baseball looked at one of the greatest, tensest, most dramatic single days in regular-season history, one that everyone loved and had the social networks all a-Twitter and said: "Didn't you just love that? Tough. You will never see it again so that we can milk more money from the fans while attributing the need for change it on a nonexistent problem."
Awww, don't get me started. Just enjoy the holiday. And be sure to hit the gym afterward. Remember, you need to be in shape for the Hot Stove League. …
[+] Enlarge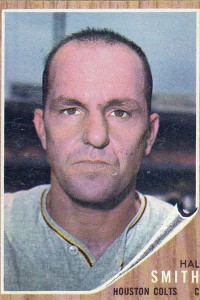 Topps Hal Smith, upon learning he was headed to Houston.
BASEBALL CARD OF THE WEEK
Doesn't Hal Smith look happy in this card (1962 Topps, No. 492)? Perhaps his glum expression is because he just learned he'll be playing with the expansion Houston team, which will not reach the playoffs for another 18 years, will not reach the World Series for 43 years, will not win a World Series in its first 50 years, and will change its name from the Colt 45s to the Astros, play in the Astrodome, change divisions several times and eventually change leagues.
And Red Sox fans think they suffered?
CSI: BOX-SCORE ANSWER
You had a couple of clues. The first is those 18 innings compiled by the Houston pitchers. Another is the presence of Roger Clemens among the relievers. A third is Andruw Jones as a hit batsman. In other words, this was an 18-inning game between the Astros and Atlanta, namely, Game 4 of the 2005 National League Division Series, the longest game in postseason history and perhaps the greatest game in Astros history. And it was also the only time Clemens won a game in relief, mostly because he only pitched in relief two other times: once in his first season and once in his final season.
(Rest in peace, Greg Halman.)
Jim Caple is a senior writer for ESPN.com. You can follow him on Twitter at jimcaple.