Commentary
Jim Brown talks Amer-I-Can, Tim Tebow
Originally Published:
December 13, 2011
By
Doug Williams
| Special to Page 2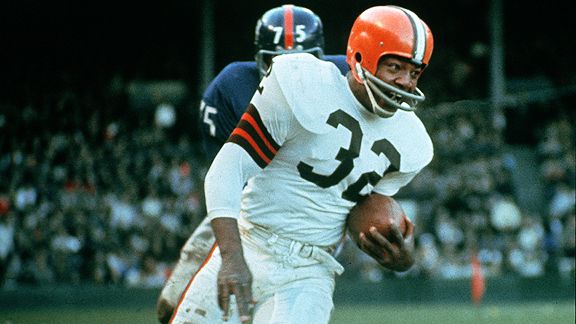 AP PhotoJim Brown said that Tim Tebow is a special player and Michael Vick could learn something.
At 75, Jim Brown sounds as if he could still break tackles and run over obstacles.
He speaks with passion in his low, rumbling voice and, every once in a while, lets loose with a soft chuckle, the kind you'd expect to hear from him if you were a 170-pound cornerback coming up to hit him in the open field -- sort of a "what are you thinking?" chuckle.
His days of overpowering defenders might be long over, but the Hall of Fame running back -- considered by many the best of all time -- is still running with a purpose.
These days, Brown is traveling the country to spread the word about his Amer-I-Can Program and its partnership with the United Athletes Foundation.
Although he's been a football star and an actor, Brown calls his work with Amer-I-Can -- the organization he founded in 1988 -- "the thing I am most proud of for the way it's been able to help educate young people, turn gang members away from violence, and provide jobs."
Now Ameri-I-Can and United Athletes have become partners to support one another's programs, including the United Athletes' commemorative coin drive that raises funds through the sale of limited-edition coins with the images of its athletes -- such as Ray Lewis, Julius Erving and Brown.
"The great thing about it is the young guys are stepping up and lending their leadership, and that's what has to happen for major change," says Brown of United Athletes, a group of more than 90 pro athletes who use their celebrity and contacts to help their communities. "The young guys have the popularity and the resources to step up and unite and make a difference."
Brown recently took time to talk about his work -- for his foundation, other charities and causes that touch him, like helping America's wounded veterans -- and reflect on some of the current topics around the NFL and sports, including Tim Tebow (he's a fan), touchdown dances (he's not), the rules that have changed pro football, the state of the league's running game and whether he's the best football player of all time (as some have proclaimed).
On Amer-I-Can and its impact:
"It's part of my life. And the interesting part about it, it's been going about 22 years and there's so many individuals that I have personal relationships with that have come through the program, that have benefited from the program and who are now the greatest supporters and promoters of the program. And it can't really be denied because all these young men take care of their biological children, they do not commit crimes, and they become peacemakers in their community.
"So yes it is the thing that I am most proud of because of their performance and their responsibility. We have one young man that's put about 100 kids in college through his basketball program … and at one time he was just a gang member. So these stories always make me feel good, and they are good because it's real."
On helping America's veterans:
"These people are not being treated right. A lot of them are homeless, a lot of them had their jobs cut from under them, and these are the men that defend our country. … We have to call attention to their needs. …
"We have to start paying attention to something other than just making money. We have the NBA almost ruin a total season because of millions of dollars. And we have the National Football League fighting over billions of dollars, and then you think of wounded warriors coming home and dealing [with their issues]. … I think we have to pay attention to a lot of things that we haven't paid attention to."
On Tim Tebow and his effectiveness as an NFL quarterback:
"I think what Tebow has done is totally embrace the fact that he's big and strong and he wants to win and if he has to run he's going to run. And when he has to pass, he's going to try to hit a pass. And so he's the epitome of a guy playing football that doesn't fit what people talk about, but he fits winning because he doesn't turn the ball over and he'll use his legs as an offensive weapon.
"Michael Vick in the last few games seemed to be afraid to use his legs because they say he's not a great quarterback because he doesn't stay in the pocket and throw the ball. …
[Tebow's] also a great kid. He has his religious beliefs, he doesn't let anyone influence him, and he's working to be better -- but he's not going to give up his legs (laughs). I think Vick should take note of that and understand how to use his legs and use Tebow as an example."
On the NFL's transition to a pass-oriented league:
"I don't look at it that way at all. I look at the rules. It's not about the running game or the passing game to me. It's about defense versus the offense. So if you set up a lot of rules that everything the defense does is illegal, you have the helmet-to-helmet thing that can happen accidentally and you have the [horse-collar tackle]. These things are put into the game, and pretty soon the defense is going to have a very difficult time playing their normal games.
"I think on one hand they're trying to deal with the safety of the players. On the other hand, I think they want to see a lot of offense. … And I think it's unfortunate, because football has to remain a physical game and you don't want dirty play, and you want people … to be looked out for. But that's a matter of trying to look out for the overall health of the game.
"And the National Football League is not known for taking care of its old players or the players that have been damaged by football-related injuries. So hopefully [the NFL] is moving toward the overall good of the players and not just the commercial value of scoring a lot of points."
On running backs in the NFL today:
"I'll tell you, one thing that's happened to the running backs is that one year you're looking at a guy and you think next year he's going to come back and do the same thing and he doesn't. You know, [Chris] Johnson is a mystery to me. You know, these guys that have talent step up and all of a sudden they're not doing what they could do and you wonder, what is it?"
On whether he's the greatest pro football player ever, as some have said:
"Let me tell you something. I don't involve myself in those things because they can change from day to day from somebody's opinion. What I do is I just point to my history and say that I'm happy I was able to have the career that I had and that I knew when to leave, and when I left I was 29 years old, I was a world champion and I was the MVP of the league. So that's the way I left. I don't know what anybody else did and I can't comment on who's better than who. I don't look at things like that.
"I appreciate the talent of all the talented people, and everybody is different. … If you have 10 guys that have done something wonderful, why pick out one and say his was much greater than the others and try to diminish what the others have done? I don't think that's good. It's not healthy.
"I don't teach kids to be No. 1. Organizations and people that tell you you have to be No. 1; that's not it. You don't have to be No. 1. What I teach is to be as good as you can be. Use what you have and be as good as you can be. That's all you can do anyway (laughs)."
On elaborate TD celebrations and dances, such as the one the Bills' Stevie Johnson did, when he pretended to shoot himself in the leg (a la Plaxico Burress):
"It's an example of ignorance. Pure ignorance. There's no upside to it. It's self-serving ignorance. The bottom line is, any intelligent person realizes that until the game is over there's nothing to celebrate. ... And it means that you are not concentrating on winning, and then you can lose the game. Or, you can drop the ball, as [Johnson] did [later]. Now where's the celebration? So all of a sudden you can't hold the ball and now what do you want your teammates to do? Should they celebrate you dropping the ball? So like I said, there's no upside. It's ignorance, and I don't even know how players can stoop to being so ignorant that they can hurt their team after something that's been successful. That is as bad as it gets. To me there's no other side of the story. There's no two sides of this story. It's a terrible, terrible lack of intelligence."
Doug Williams is a freelance writer based in San Diego.