Commentary
Dan Gilbert should continue one-liners
Updated:
December 11, 2011, 10:25 AM ET
By
Jerry Greene
| Page 2
Give it up for the NBA and its commissioner, David Stern. Even though collegiate and professional football are entering their climatic stage, the NBA stole headlines this past week. And Stern made that theft not by approving a blockbuster trade but by denying one.
Clever, especially when your season remains three weeks away.
But Stern has to give an assist to Cleveland Cavs owner Dan Gilbert, who sent an email rant to Stern about the trade that would have sent star guard Chris Paul to the Los Angeles Lakers. According to Gilbert, it seemed as if the Lakers were giving up a six-pack of beer (light beer at that) and some hot dogs (old dogs at that) for Paul.
Granted, Stern had already rejected the trade before he got the email. And granted, the trade has been resubmitted and, with a few tweaks, may still go through. But Gilbert knows how to get noticed. And the best thing about his email was the closing line: "When will we just change the name of 25 of the 30 teams to the Washington Generals?"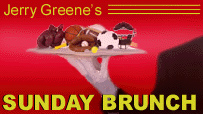 That's pretty good. And Gilbert doesn't want to stop. He should keep sending the pithy one-liners because, otherwise, Cleveland might start thinking about the quality of his product. That's why we'd like to help Gilbert with a few suggestions for gag lines to end his upcoming email rants:
• "When will 25 of the 30 teams put on lipstick and join the WNBA?"
• "When will 25 of the 30 teams propose to a Kardashian just to get noticed on TV?"
• "When will 25 of the 30 teams ask Tim Tebow to bail them out?"
There you go, Mr. Gilbert. That should carry you through Christmas.
As for everyone else, here are a few bits of tid before we get to the main courses in this pre-holiday Brunch. Enjoy.
• Yes, President Obama did switch from the Army side to the Navy side at halftime and, yes, Army did lose. But there is not a connection, so don't start.
• Major League Baseball feels a need to make the media dress appropriately. OK, now take the next step and get your senior citizen managers out of uniforms. As it is, the image of Don Zimmer will stay with us forever.
• Tweet of the Week about the Denver Broncos: "Now you better jump on the band wagon because this is a great team to root for. … Don't be surprised if, in two weeks, they go to the single wing and no face masks." -- famed comedian Bill Cosby.
• Did you hear something? There, can you hear it? Seriously, what is that? Oh, it's the celebration party for Big East expansion.
• Jay Leno: "They just came out with the list of 'The Saddest Cities to Live In.' The No. 1 Saddest City: St. Petersburg, Fla. Except on days the Colts play, then it's Indianapolis." (Will this help the Rays sell tickets? Or the Colts?)
• If Brett Favre leads the Chicago Bears to victory in Green Bay on Christmas night, get your "Grinch Stole Christmas" headlines ready now.
• Fenway Park will be 100 years old April 20 and the Red Sox have numerous celebrations planned. Meanwhile, Tropicana Field in St. Pete will be 22 on March 3 and there are discussions about holding "Dynamite Night."
Ding ding! There's the Brunch bell so it is time to feast on some outstanding work by some outstanding writers. It's good to be alive.
• We open with Dan LeBatard, someone we know well. Writing for The Miami Herald, LeBatard looks closely at Roman gladiators and modern-day football players, then sympathizes with NFL commissioner Roger Goodell, who must make a violent game less violent even though most don't really want that at all. Discover Dan's view here.
• A theme of "violence" hardly is the intention, but we cannot ignore John Branch's three-part analysis of the brief life of Derek Boogaard, who was feared on the NHL ice and then had his brain studied after his death. Remember this story because it is going to win awards. Find out here.
• We've got to lighten up, so let's turn to the college bowls. Darren Everson of The Wall Street Journal looks at the bowls and ties each one to a movie. For example, Notre Dame and Florida State in the Champs Sports Bowl is like watching "Hot Tub Time Machine." Get it? Not really a compliment, huh? Read the rest here.
• We'll stick with the bowls but go off the usual track to visit chatsports.com for Anthony Guerreso's evaluation of the best and worst bowl swag. (Note: I was all set to make a joke about bowls handing out eye patches until my granddaughter said Oakley Eyepatch 2 are sunglasses.) Check out the other swag here.
• We go way, way off the beaten track for some old-fashioned gossip about would-be new neighbors being unhappy about Michael Jordan moving into their swank area in Jupiter, Fla. This is "reported" by Jose Lambiet for gossipextra.com -- and please note the name of the site. The story oddly includes a link to dozens of photos of Hulk Hogan's mansion. See for yourself here.
That's it for this Brunch -- from potential prize-winning examinations of serious topics to back porch whispers. Can't have a great meal without all the food groups.
Jerry Greene is a regular contributor to ESPN.com and can be reached at osogreene@aol.com