Commentary
Page 2 Quiz: What bowl are you?
Originally Published:
December 16, 2011
By
Brian Frazer
| Special to Page 2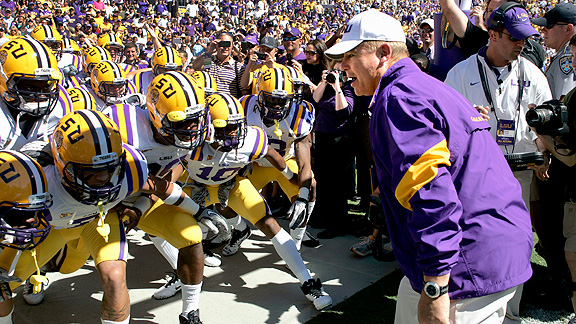 Tyler Kaufman/Icon SMILes Miles and LSU are ready for bowl season. Take our quiz to find out if you are.
Bowl season is upon us, and we know you're ready. But before the games start, there's one final test you must pass to determine your level of readiness. Strap on your helmet and dig in for the quiz that asks: What Bowl Are You?
1. Complete the following statement:
The __________ polls make up two-thirds of the BCS formula and a team's average in __________ computer polls makes up the other third.
a.) Gallup, iMac (-4) b.) Stripper, OK (0) c.) Infallible Human, Six Irrefutable (11)
2. What does the term "at large" mean to you?
a.) That somebody has to shop in one of those special stores to get suits, like Shaq. (-7) b.) It's like making the NFL playoffs but with teams full o' college kids. (2) c.) A team must finish in the top 14 of the final BCS standings to be considered for a BCS at-large berth -- unless there's only one team from its conference in the top 14. Duh! (27)
3. What does .0839 signify to you?
a.) Pi for a Razorback math major (-3.14) b.) The legal blood alcohol limit in Oklahoma. (-3) c.) The number of points Oklahoma State trailed Alabama by in the standings as of midnight ET on Dec. 2, 2011. (11)
4. What is the last college football game you saw?
a.) New England School of Optometry vs. The Art Institute (intramural, two-hand touch). (-8) b.) 10 minutes of Harvard-Yale at a bar but I asked them to change the channel to that Hal Holbrook movie. (0) c.) I'm watching one right now. I don't know who Farleigh Dickinson is but they've got a hell of a punter. (7)
5. Had Georgia upset LSU, what two teams should be playing for the national championship?
a.) Iowa State versus that team from "Friday Night Lights." (-8) b.) There shouldn't be a game and Georgia should be crowned NCAA champs! (-2) c.) Doesn't matter as long as lame one-loss Houston isn't involved. (11)
6. How do you feel about all the realignment?
a.) It's been a little painful. I think I need to find another chiropractor. (-4) b.) Destroying centuries-old rivalries is morally and ethically reprehensible. (6) c.) Awesome! Can't wait for the Boise State-Rutgers annual "Fight for Edison's Lampshade." (11)
7. Are you bowl eligible?
a.) Actually, I think I'm only eligible for a
cup
of soup with the entrée. (-10) b.) No, I'm on probation 'cause someone's parents wanted some free stuff half a decade ago. (2) c.) If Neuheisel can get fired and still coach in the Pac-12 title game, then I absolutely should be! (14)
8. Who should've won this year's Heisman?
a.) That guy with all the touchdowns? (-6) b.) A three-way tie between the Honey Badger, Tebow, and Tebow! (3) c.) Whoever Lee Corso says deserved it! (6)
9. Despite a 10-2 record, why wasn't the University of Southern California invited to a bowl game?
a.) It was, it just forgot to open the Evite. (-2) b.) The computers confused it with the University of South Carolina. (-1) c.) Because Reggie Bush's dad isn't named Cecil Newton. (10)
10. What do you think about Urban Meyer's new job?
a.) Not nearly as glamorous as Andrew Luck's facial hair consultant. (-9) b.) Sorry to hear he got fired from his old job of "spending time with his family." (3) c.) He's going to lead Ohio State to the Rose Bowl and then the Super Bowl and then the World Series! (7)
ANSWER KEY/SCORECARD
LESS THAN 0: The "I Wish College Football Went on Strike Cause I Couldn't Care Less" Bowl
1-39 POINTS: The "Sponsored by a Product Not Available in My Area" Bowl
40 AND UP: The "Only Bowl That Matters That's Practically Played in February" Bowl