Commentary
Rankings: NBA stocking stuffers edition
Originally Published:
December 26, 2011
By
Greg Hardy
| Page 2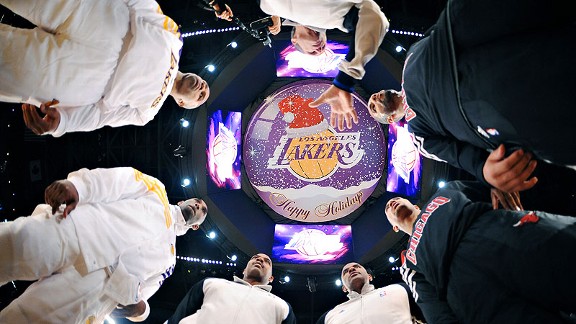 Noah Graham/NBAE/Getty ImagesDerrick Rose's game winner was a great moment, but overall NBA on Christmas wasn't fan ... tastic.
Welcome to the promised land of holiday hoops-topia with the ESPN.com Page 2 Power Rankings! Our formula combines the results of two surveys: a human poll concocted by ESPN Page 2's Greg Hardy and a scientifically calibrated poll generated by computer analysis. Unfortunately, our computer's hard drive crashed after we asked it to figure out how long Charles Barkley will have to be in those diet commercials to reach his ideal body fat index. To the results!
1. The gift of NBA action
| | | | |
| --- | --- | --- | --- |
| Human Poll | Computer Poll | Power Points | Trending |
| 9.4 | 9.6 | 19.0 | |
Credentials: Note to David Stern: Let's agree that opening the season on Christmas Day will be a one-time thing. Oh, there's nothing wrong with Christmas games, it's a great tradition, and we'll look forward to it forever. But to put all the pressure that "The NBA is BACK!!! on Christmas Day!" was, you have to admit, a bit of a bust. Yeah, Derrick Rose's game winner for the Bulls was cool, and the day had its moments, but the sum seemed to be less than the whole of its parts. At the end of the day, we were still more likely to be talking about Saturday's NFL action, and our attention span is too caught up in figuring out NFC playoff scenarios to wonder for how long Carmelo Anthony will own the Celtics. So it's kind of like we unwrapped our dream present of a 60-inch flat screen, but it came out of the box with a huge crack down the middle of the glass. No wait, it's more like we ended up with the Ugly Christmas Sweater day of NBA games. It felt like a good idea when we wrapped it, but now that we're stuck with it; it's a butt-ugly sweater in broad daylight. Did anyone keep the receipt? We'd like to exchange it for Steelers playoff tickets.
| | | | |
| --- | --- | --- | --- |
| Human Poll | Computer Poll | Power Points | Trending |
| 9.5 | 9.0 | 18.5 | |
Credentials: The score sheet says Chris Paul and Blake Griffin combined for 42 points in the Clippers' opener against the Golden State Warriors, so we're officially up and running to the Great L.A. NBA Title Run of 2012, even if Sunday's on-court action wasn't easy on the eyes. But we firmly believe The CP3 Show will eventually make its way to the top of the L.A. social scene. Remember, it's a short attention span town. They call their interstates "the 110" and "the 5," because the alternative would be to enunciate too many syllables. So getting the locals to remember a concept as intricate as "CP3" will take some time.
| | | | |
| --- | --- | --- | --- |
| Human Poll | Computer Poll | Power Points | Trending |
| 8.8 | 8.2 | 17.0 | |
Credentials: When the Baltimore Ravens visit Cincinnati on Sunday, the Bengals will have more numbers on their minds than just a final score victory that would send them to the playoffs. They're imploring fans to get off their orange and black butts and fill the seats at Paul Brown Stadium. You know, the place with more than a 65,000-seat capacity that counted 41,273 against the Cardinals in the last home game. So what's it going to take, people of Cincy? Jerome Simpson performing a Triple Lindy at halftime? Handing out vintage Cassingles of TLC's "Ain't 2 Proud To Beg"? Andy Dalton Tebowing after throwing the winning touchdown? Or are you waiting to buy plane tickets to L.A. if the franchise gets moved?
| | | | |
| --- | --- | --- | --- |
| Human Poll | Computer Poll | Power Points | Trending |
| 7.7 | 7.2 | 14.9 | |
Credentials: Well, the football gods are going to prove where they stand one way or another, thanks to the Chiefs at Broncos game. In one corner is Tim Tebow. coming off what observers are calling "his worst game as a pro." (Side note: What's Vegas' over/under for number of times in the next two years analysts will call Tebow's performance "his worst game as a pro"?) Win, and Denver is in the playoffs and Tebow-mania lives to crow another day. In the other corner is Kyle "Not Tim Tebow" Orton, who the Broncos released earlier in the year. Certainly, the football gods can show off how much of a sense of humor they have if the game is decided by the number of interceptions returned for touchdowns.
| | | | |
| --- | --- | --- | --- |
| Human Poll | Computer Poll | Power Points | Trending |
| 7.1 | 7.4 | 14.5 | |
Credentials: Remember the good ol' days of college football, when mythical national championship matchups were determined by powerful boosters in cigar smoke-filled rooms? Those days are long gone, as evidenced by the Orange Bowl bowing to pressure not to accept a three-year sponsorship deal with Camacho Cigars. Darn, and we were looking forward to a halftime performance in which Clemson coach Dabo Swinney would try to set the Guinness record for number of lit cigars he could smoke in his mouth at once. Well, maybe we can convince him to juggle chain saws instead. We sure as heck ain't tuning in to watch Clemson versus West Virginia.
| | | | |
| --- | --- | --- | --- |
| Human Poll | Computer Poll | Power Points | Trending |
| 6.2 | 6.3 | 12.5 | |
Credentials: Despite the one-game slip-up to Kansas City, the Packers are proving they're back in business by earning home-tundra advantage throughout the NFC playoffs. That means Green Bay can rest its starters in Week 17. Note to Brett Favre: Lambeau Field security has been alerted not to let you in, so give up on your plan to show up in a Matt Flynn jersey in an attempt to Enrico Pallazzo your way into the huddle.
7. Obscure college bowl games
| | | | |
| --- | --- | --- | --- |
| Human Poll | Computer Poll | Power Points | Trending |
| 5.4 | 5.1 | 10.5 | |
Credentials: It's boot camp time if you haven't memorized every remaining college bowl game. We're here to help if you can't tell your Military Bowl (Air Force versus Toledo, 4:30 p.m. EST Wednesday on ESPN, program your DVRs!) from your Armed Forces Bowl (Tulsa versus BYU, noon Friday on ESPN, clear some space on your DVRs!). Start by memorizing the bowls named after restaurants. So even if you don't care who wins the Little Caesars Bowl (Western Michigan versus Purdue, 4:30 p.m. EST Tuesday on ESPN2, buy another DVR for more recording space!), at least odds are you'll remember to get off the couch and feed yourself at some point.
8. Cowboys versus Giants toss-up
| | | | |
| --- | --- | --- | --- |
| Human Poll | Computer Poll | Power Points | Trending |
| 5.2 | 4.8 | 10.0 | |
Credentials: Everyone knows the winner of Sunday night's regular-season finale at MetLife Stadium lays claim to the NFC East title and a ticket to the playoffs. But what if the game ends in a tie? Our rulebook gurus have combed through the bylaws and discovered that the Giants win the tiebreaker, thanks to their head-to-head victory on Dec. 11. But if the Eagles beat the Redskins for a 5-1 NFC East record, a special "Division Dream Team" stipulation kicks in and means Andy Reid gets to supplant Tom Coughlin as coach of the Giants through the postseason. But New York doesn't have to give Reid any Giants gear, he can borrow Couglin's jackets and see which ones he can squeeze into.
9. Adrian Peterson injury
| | | | |
| --- | --- | --- | --- |
| Human Poll | Computer Poll | Power Points | Trending |
| 5.1 | 4.2 | 9.3 | |
Credentials: In case you were keeping your fingers crossed that the Minnesota running back could go through a season without tearing the ACL or MCL in his knee, stop reading. He tore both against the Redskins, and his status for the start of 2012 is about as solid as the Metrodome roof. That brings us to a question for Minneapolis taxpayers: Would you rather give up all your money for a new Vikings stadium or a new knee for AP? You have until lawmakers reach into your pocket to steal your wallet for you to decide.
10. Detroit Lions in the playoffs
| | | | |
| --- | --- | --- | --- |
| Human Poll | Computer Poll | Power Points | Trending |
| 5.0 | 4.2 | 9.2 | |
Credentials: The ability to "party like it's 1999" doesn't have the flavor in 2011 it had pre-2000, but that's OK in the Motor City. They have a ride to the postseason for the first time since Barry Sanders was running wild in 1999, and that's reason enough to sing. Still, they're only going in as a 5- or 6-seed, so hopefully cooler heads will prevail over the parade planning. Like for instance, don't let Ndamukong Suh drive the parade float.
| | | | |
| --- | --- | --- | --- |
| Human Poll | Computer Poll | Power Points | Trending |
| 4.2 | 4.0 | 8.2 | |
Credentials: Look, we're as big a Matt Damon and Cameron Crowe fan as anyone, but even we're not surprised this concept debuted at No. 6 in the weekend box office with only $3 million. Not that the first draft idea of the film was much better: That LSU coach Les Miles retired to an out-of-the-way piece of land in Southeastern Conference country where not only did he have to train a menagerie of LSU Tigers and Auburn Tigers along with newly rescued Missouri Tigers, he had to teach them how to eat pasture grass properly.
| | | | |
| --- | --- | --- | --- |
| Human Poll | Computer Poll | Power Points | Trending |
| 4.0 | 3.2 | 7.2 | |
Credentials: The best thing about Dallas hoisting its NBA championship banner is that it probably didn't even have to order one be made. We'll bet when Mark Cuban first bought the team he ordered three decades' worth of championship banners premade for every year and had them stored safely in his private vault. And in a painful ceremony each summer, he throws out that season's non-winning banner. But finally, the practice paid off for the one that said "2011 NBA CHAMPIONS." Think of it as the opposite of the '72 Dolphins drinking champagne when each season's final undefeated team loses.
13. New Year's Eve countdown
| | | | |
| --- | --- | --- | --- |
| Human Poll | Computer Poll | Power Points | Trending |
| 3.1 | 2.3 | 5.4 | |
Credentials: We still have to buy our hors d'oeuvres, champagne, noise-makers and the random roman candle or four, but we already know which resolution is No. 1 on our list for 2012: to boycott "Dancing With The Stars" if they announce Charlie Weis will be a contestant.
Also receiving votes
• Secondary market bowl tickets: Here's one silver lining to the proliferation of college football postseason madness. The combination of games taking place at inconvenient times and places and excessive travel distances for fan bases, not to mention it's hard to rub two nickels together at this time of year, means there are thousands of unsold tickets. So if there's a game within driving distance, and even if you don't know the teams involved, pretend you're a high roller and get front-row tickets to a college football bowl game for $12 apiece. Just try not to buy any tattoos for the starting offensive linemen.
Never receiving votes
• Rex Ryan's last word: The Jets aren't officially eliminated from the postseason, but they're going to need a Santa's sleigh's worth of breaks go their way. So has the gift-of-gab coach already written his concession speech for reporters, even if New York beats the Dolphins but no other AFC teams cooperate? No matter what bluster Ryan spews, it won't be half as delicious as if Mark Sanchez walks into the postgame press conference and counters with a "Can you shut your pie hole and trade me now please?!" And to all a good night.
Greg Hardy is a Page 2 contributor. It's all pop culture all the time at Twitter.com/HardyVision.