Commentary
Andrew Luck should return to Stanford
Originally Published:
January 4, 2012
By
DJ Gallo
| Page 2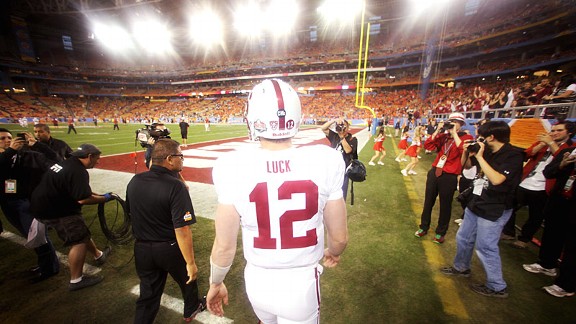 Donald Miralle/Getty ImagesAndrew Luck doesn't have to enter the 2012 NFL draft. In fact it might be a excellent idea not to.
Andrew Luck is the presumed No. 1 pick in the 2012 NFL draft. But he doesn't have to leave Stanford. He has a year of eligibility remaining.
Andrew, look at the teams waiting to draft you. Make a smart decision.

1. Indianapolis Colts: It's a franchise in disarray. The owner just canned the vice chairman and GM. The head coach is probably on the way out, and everyone knows the franchise quarterback doesn't want you around. You have a Stanford education. You're smart enough to know this is a situation you want to avoid.

2. St. Louis Rams: The Rams probably wouldn't draft you anyway, because they have Sam Bradford. But maybe they need more than one good quarterback. With their offensive line -- the Rams allowed a league-high 55 sacks and 114 quarterback hits -- they go through them pretty quickly. Avoid the Rams if you value your health at all.

3. Minnesota Vikings: Even if Adrian Peterson returns from injury to start the season, he won't be 100 percent. So it would be the Andrew Luck-Toby Gerhart show again, a show that took Stanford all the way to the 2009 Brut Sun Bowl! As you can imagine, your average Brut Sun Bowl team would struggle against the Green Bay Packers.

4. Cleveland Browns: Most scouts say you are a once-in-a-generation talent. Everyone wants to see you reach your potential and achieve your NFL dreams. Unfortunately, Cleveland is where sports dreams go to die. At least give yourself a chance to succeed in the NFL. Stay away from Cleveland.

5. Tampa Bay Buccaneers: Most of the Buccaneers' roster quit on the season around Week 10. Can you imagine if a "franchise savior" came to town? Your teammates might not even get out of bed on Sundays. "I'm sure Luck can handle it today. I need a bit more shut-eye."

6. Washington Redskins: Again, you have a Stanford education. I won't insult your intelligence by even taking the time to explain this one. Next.

7. Jacksonville Jaguars: Your best receivers would be Marcedes Lewis and Mike Thomas. Clearly the Jaguars are building their team for an offense that doesn't need to throw the ball. They want Tebow back in Florida. Your skills would be wasted and unwanted here.

T8. Carolina Panthers: They have Cam Newton and wouldn't draft you. But if they did, you would have to sit on the bench and be mentored by someone who is four months older than you, making you the starter for the 2029 season after Newton retires.

T8. Miami Dolphins: You need more than just the right team. You need the right city, too. You are a quiet guy who has a neck beard. South Beach would be like different planet to you.

10. Buffalo Bills: Refer to the Cleveland Browns section and then drop five to 10 degrees Fahrenheit.
Would the situation be better for you in 2013 draft? It couldn't be worse. Plus, you would have a great chance to win a BCS title next season, as long as you learn how to kick.
DJ Gallo is the founder of SportsPickle.com. He has written a book and written for Comedy Central, The Onion and ESPN The Magazine. He co-hosts the Page 2 Podcast and has appeared on ESPNews. You can follow him on Twitter at @DJGalloESPN.