Commentary
Page 2 introduces its Anti-All Era Team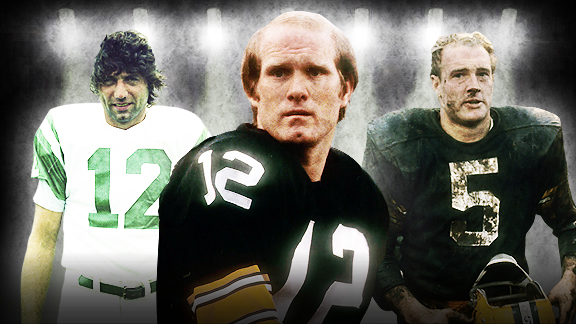 ESPN.com Illustration
ESPN.com gathered an esteemed panel of Pro Football Hall of Famers to compile a list of 20 current NFL players who are talented enough and tough enough to have played in any era of the league's history.
This epic collection of competitors has been dubbed the NFL Any Era Team.
With that in mind, Page 2 has assembled its Anti-Any Era Team, a group of NFL figures from previous eras who would face a much tougher road if they came along today. Heck, some of them might not have ever collected an NFL paycheck if they came along in any other era.
Without further ado, we present Page 2's Anti-Any Era Team: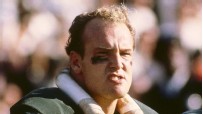 The Golden Boy enjoyed tremendous popularity during his playing days, starring for two of the most fabled teams in football: the Notre Dame Fighting Irish and the Green Bay Packers. He captured the 1956 Heisman Trophy and won four NFL championships with the Packers.
Upon closer inspection, though, it's difficult to imagine Hornung becoming a star -- much less a Hall of Famer -- if he came along even a generation later. Drafted No. 1 overall in 1957, Hornung topped the 500-yard mark in rushing yards just three times in nine pro seasons. Conversely, Jim Brown, drafted No. 6 overall in 1957, led the NFL in rushing eight times in nine seasons.
Maybe it's not fair to compare Hornung to Brown, arguably the greatest running back in history. But Hornung wasn't even a feature back during most of his pro career. That role was filled by fellow Hall of Famer Jim Taylor, who rushed for nearly 5,000 more career yards than Hornung and was a greater weapon in the passing game. Not only does Hornung have the fewest rushing yards of any Hall of Fame running back who turned pro after 1955, but he has 528 fewer rushing yards than Hall of Fame quarterback Steve Young.
Hornung also served as the Packers' primary kicker for several seasons, but converted just 47 percent of his career field goal attempts.
Finally, about that Heisman Trophy … a strong case can be made that three players -- Syracuse's Brown, Tennessee's Johnny Majors and Oklahoma's Tommy McDonald -- were more deserving than Hornung, who won the award playing for a Notre Dame team that won just two games.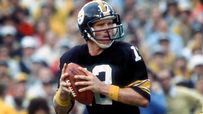 You have 140 characters to get your point across. GO! … Oops. Time's up.
That's the world we live in today -- short attention spans and instant gratification.
Same goes for top NFL quarterback prospects.
No longer are they allowed to mature at their own pace. With few exceptions, they need to display poise and command, pronto. Otherwise, they're relegated to carrying a clipboard or are out of football entirely.
All of which brings us to Bradshaw, one of the most successful quarterbacks in NFL history. He led the Steelers to four Super Bowl championships en route to the Hall of Fame. He was the NFL MVP in 1978 and was named Super Bowl MVP twice.
Bradshaw also struggled mightily after being drafted No. 1 overall out of Louisiana Tech in 1970. In his first two seasons, he went 8-13 as a starter with 19 touchdown passes and 46 interceptions. He completed just 48.4 percent of his passes.
Further, Bradshaw went five seasons without posting a passer rating better than 65 or throwing more touchdowns than interceptions in a season. Of course, Pittsburgh benefited from a strong running game and punishing defense, which provided the team the luxury of patience.
If he came along in recent seasons, however, Bradshaw might not have been given a true opportunity to flourish.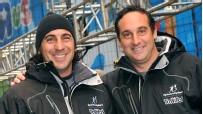 Known for hysterical celebrations and exaggerated body language, place-kicking brothers Bill and Martin Gramatica came along at the right time -- because their theatrics never would've been tolerated by the grizzled tough guys of previous eras.
Bill is known best for suffering one of the most dubious injuries in NFL history. After booting a 43-yard field goal in the first quarter of a 2001 game, he tore a knee ligament in his nonkicking leg when he landed awkwardly after a celebratory leap. Interestingly, Cardinals teammate Pat Tillman handled the ensuing kickoff, although Gramatica did return to kick a field goal and two extra points later in the game.
Martin is known best for moments such as this, this, this and this. Which would probably make the Chuck Bednariks and Dick Butkuses of the world do something like this.
4. Dick "Night Train" Lane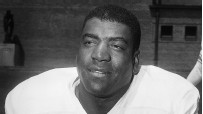 Lane clearly was talented enough to play in any era of NFL history.
He holds the NFL record for interceptions in a season, with 14 as a rookie in 1952, and ranks fourth in league history with 68 career picks. He was named to seven Pro Bowls and was enshrined in the Hall of Fame in 1974. Neither his skill nor his credentials are questionable.
Aggression is another matter entirely, because if Lane played today, he probably would be Public Enemy No. 1 to Roger Goodell.
Lane was a devastating tackler who leveled opposing receivers and ball carriers with vicious blows to the head. Lane's signature move was the clothesline. The face-mask penalty was enacted in part as a response to Lane, who had a knack for tackling opponents by the helmet.
Despite Lane's vast array of talents, his style of play would have to be drastically altered to compete in today's NFL. Would he be the same player without wielding the intimidation that helped make him so successful?

Offensive stars such as Larry Csonka, Mercury Morris and Jim Kiick get much of the credit for the success of the 1972 Dolphins, the only NFL team to complete a season undefeated and win the championship.
But the No-Name Defense was the team's backbone.
The Dolphins allowed the fewest yards and points of any NFL team that season -- and followed up their Super Bowl VII victory by winning Super Bowl VIII as well -- yet only one of its defensive players, Nick Buoniconti, went on to the Hall of Fame.
But the reason the No-Name Defense wouldn't thrive in the current NFL is simple: They would be grossly undersized compared to their bulked-up counterparts of today.
Let's compare the size of the 1972 Dolphins defense to the 2011 Pittsburgh Steelers, who allowed the fewest yards and points in the NFL this season:
1972 Miami Dolphins defense
| Name | Position | Height | Weight |
| --- | --- | --- | --- |
| Bob Heinz | DT | 6-6 | 265 |
| Manny Fernandez | DT | 6-2 | 250 |
| Bill Stanfill | DE | 6-5 | 250 |
| Vern Den Herder | DE | 6-6 | 250 |
| Doug Swift | LB | 6-3 | 226 |
| Nick Buoniconti | LB | 5-11 | 220 |
| Mike Kolen | LB | 6-2 | 220 |
| Curtis Johnson | CB | 6-1 | 196 |
| Lloyd Mumphord | CB | 5-10 | 176 |
| Jake Scott | S | 6-0 | 188 |
| Dick Anderson | S | 6-2 | 196 |
2011 Pittsburgh Steelers defense
| Name | Position | Height | Weight |
| --- | --- | --- | --- |
| Casey Hampton | NT | 6-1 | 325 |
| Ziggy Hood | DE | 6-3 | 300 |
| Brett Keisel | DE | 6-5 | 285 |
| LaMarr Woodley | LB | 6-2 | 265 |
| James Farrior | LB | 6-2 | 243 |
| Lawrence Timmons | LB | 6-1 | 234 |
| James Harrison | LB | 6-0 | 242 |
| William Gay | CB | 5-10 | 190 |
| Ike Taylor | CB | 6-2 | 195 |
| Troy Polamalu | S | 5-10 | 207 |
| Ryan Mundy | S | 6-1 | 209 |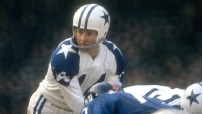 At 5-foot-7 and 160 pounds, LeBaron defied the odds to reach the NFL. He was tough -- a former Marine who served in the Korean War -- and went on to play 11 seasons at quarterback with the Redskins and Cowboys and another 11 in the CFL, from 1952 to 1963. He was the Cowboys' starter in the team's first two years of existence.
Unfortunately, in today's supersized game, LeBaron might find himself stuffed into a locker on a daily basis -- by the kicking specialists.
On the bright side, the pint-sized signal-caller was presumably the inspiration for the Chrysler LeBaron, the epic luxury sedan that seduced America with power and luxury.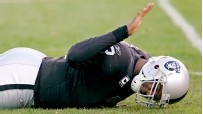 You're right. This one is too easy.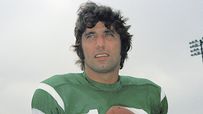 For just a minute, imagine if Joe Namath -- not Mark Sanchez -- came along as the Jets' top draft pick in 2009.
Imagine Broadway Joe prowling the nightclubs of Manhattan, filming commercials, dating starlets and soaking up the media spotlight in the age of TMZ, sports talk radio, the New York tabloids and a 24/7 news cycle. Not to mention the trouble he might have stumbled into via social media.
Consider the criticism Sanchez is facing in the aftermath of an 8-8 season despite guiding the Jets to the AFC Championship Game in each of his first two seasons. Now put that scrutiny under the microscope in light of the following statistical comparison:
Mark Sanchez: first three pro seasons
| Season | Comp | Att | Pct | Yds | TD | Int | Rating |
| --- | --- | --- | --- | --- | --- | --- | --- |
| 2009 | 196 | 364 | 53.8 | 2,444 | 12 | 20 | 63.0 |
| 2010 | 278 | 507 | 54.8 | 3,291 | 17 | 13 | 75.3 |
| 2011 | 308 | 543 | 56.7 | 3,474 | 26 | 18 | 78.2 |
Joe Namath: first three pro seasons
| Season | Comp | Att | Pct | Yds | TD | Int | Rating |
| --- | --- | --- | --- | --- | --- | --- | --- |
| 1965 | 164 | 340 | 48.2 | 2,220 | 18 | 15 | 68.7 |
| 1966 | 232 | 471 | 49.3 | 3,379 | 19 | 27 | 62.6 |
| 1967 | 258 | 491 | 52.5 | 4,007 | 26 | 28 | 73.8 |
It's not a stretch to think today's media juggernaut would try to eviscerate Namath and leave his career for dead … or worse, reality television.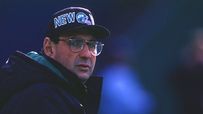 Bruce Coslet. Dave McGinnis. Rod Rust. Dave Campo. Rod Marinelli. David Shula. Et al.
All of them were unsuccessful as NFL head coaches. OK, extremely unsuccessful.
In the end, though, someone has to represent the coaching fraternity on this list, and Kotite is the unlucky guy.
Kotite was a heavyweight boxer in his younger days, even sparring at times against a young Muhammad Ali in the 1960s. Unfortunately, his coaching career ended with opponents using his teams as a speed bag.
Kotite enjoyed early success with the Eagles, going 10-6 and 11-5 in 1991 and '92 with a roster inherited from predecessor Buddy Ryan. The team regressed to 8-8 in '93, but began 7-2 in '94 despite rumors that new owner Jeffrey Lurie would replace him after the season. Then Kotite fueled the fire by saying he might seek a better job, and the Eagles finished the season 0-7.
He once even blamed a failed decision on a rain-smudged two-point conversion chart.
Kotite then succeeded Pete Carroll as coach of the Jets, where his brief tenure was an unmitigated disaster with records of 3-13 and 1-15 in two seasons. After Kotite popped off about his job status in Philly, his teams went 4-35 -- a winning percentage of .103.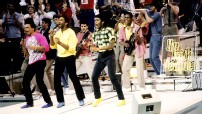 Believe it or not, Up with People headlined the Super Bowl halftime performance three times.
It's a group that describes itself as "a global education organization which aims to bring the world together through service and music."
To learn more about what sounds like a noble cause, we went to the group's official website and clicked on "read the history of Up with People." Here's what we found.
Left to our own devices to research this entertainment juggernaut, we found the following video clips from Super Bowl X, Super Bowl XVI and Super Bowl XX.
Umm … wow.
Just wow.
For those of you who clicked, we'll give you a moment to recover.
Come to think of it, you might need to take the rest of the day. Godspeed.
Thomas Neumann is an editor for Page 2.