Commentary
These NBA players not short on talent
Getty ImagesLos Angeles Clippers Chris Paul is listed at 6 foot 1 and he heads our All-Short All-Star Team.
Short people got
No reason
Short people got
No reason
Short people got
No reason to think they can't make it in today's NBA.
-- Randy Newman, "Short People (2012 Basket Case Remix)"
That's right, Randy Newman. Sing it. Because this is a special time in The Association, a period when basketball belongs to more than just the Dwights and LeBrons and Bynums and Mozgovs.
Sure, the biggies still rule; there's no impending MVP who stands 6 feet or less (like 2000-01 winner Allen Iverson), nor a Slam Dunk Contest ruled by a Spud Webb clone. But a look around the league shows a large number of successful sub-6-foot players (or guys listed at an even 6 who are probably rounding up an inch or five).
What's the reason these (relatively) little guys still thrive? Body size researcher/author Thomas T. Samaras says plenty of factors favor short people, even in height-skewing basketball: more power pound-for-pound, lower reaction times, better agility/body rotation and -- surprise! -- a stronger heart relative to size.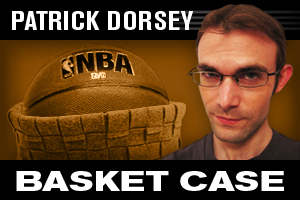 In fact …
"My guess is if you had two teams with relatively short people who were good at basketball," Samaras said, "it would be probably a pretty exciting game."
We agree! (Even if these factors didn't exactly turn Patrick "5-foot-5" Dorsey into a star.) So we created one such team -- Basket Case's first-ever Muggsy "Mighty Mouse" Adams All-Stars:
Chris Paul (listed 6-0): His star has only grown even if his frame hasn't. He ruled the offseason, brought the league to a standstill (thanks in part to David "possibly 5-foot-7" Stern), made the Los Angeles Clippers relevant with his bare little hands, and now is tops among point guards in John Hollinger's PER (ahead of reigning MVP/6-3 giant Derrick Rose).
Kyle Lowry (6-0): Also in the NBA's top 15 in PER, Lowry has put the Houston Rockets on his short, stocky (but not slow-witted and bald; he isn't George Costanza) shoulders.
Ty Lawson (5-11): Who leads the 10-5 Nuggets in minutes, points and assists? Ty Lawson, that's who. Who is almost certainly the best current player from the University of North Carolina? Ty Lawson, that's who. Who was really Tony Montana's "little friend" in "Scarface"? Ty Lawson, that's who. Say hello.
J.J. Barea (officially listed at "6-0, yeah right"): Since his breakout performance in last year's playoffs, Barea has been overshadowed by 6-4 Ricky Rubio in his new Minnesota home. Still, Barea's PER is better than Amare Stoudemire's. Oh, and there's also this.
Nate Robinson (5-9): Let's not forget the incomparable Little Nate, who is still Nate Robinson -- even after being cut by OKC before the season. And by "still Nate Robinson," we mean "led the Warriors in scoring during a win over LeBron's Heat."
Off the bench: The 5-9 Isaiah (not Isiah) Thomas, who has vastly outplayed Sacramento Kings teammate/college uberstar Jimmer Fredette (6-2); the left-for-dead Bobcats point guard D.J. Augustin (6-0), who has held off the slightly taller college superstar Kemba Walker; and 5-11 Chicago Bull John Lucas III, who showed up 6-4 John Wall while subbing for an injured Rose.
Coach -- Spud Webb: Apologies to Avery "Little General" Johnson, but Webb's our man; after all, he isn't actually coaching that stripper basketball team!
SHORT GUY TWEET OF THE WEEK
"Sooooooo I didn't get the memo that there is NO CELL PHONE talking in LA…#TicketAfterShootaround #DontKnowTheRulesYet" -- Chris Paul, who of course was referring to talking on cellphones while driving. We hope. Banning cellphones entirely would be a strange move for Los Angeles.
TONY ALLEN TWEET OF THE WEEK
"I kinda look like MLK. 2 day" -- Tony Allen, of course, who also provided us with photo evidence.
WATCHING TONY ALLEN TWEET OF THE WEEK
"Maannnnnnn why does Tony Allen always miss the open lay-ups lol" --future NBA analyst Jeff Green.
IN PICTURES. AND WORDS.
"Can we please have Chris Paul for two quarters? No? OK, how about one?"
"If you don't see it go in, it doesn't count! Seriously, that's the rule. Look it up."
"Would SOMEONE please tell me if 'Downton Abbey' won the Golden Globe!"
"Hey, pull my finger!" "That's a fist, Chauncey. You're doing it wrong."
"And now … poof! The ball has disappeared! Oh crap, it's still here."
"Do basketball things, guys! BASKETBALL THINGS!"
"No, no, no, guys. Y'all can sit down. I got this."
"Note to self: Pull pants down if I disagree with a call."
Note to readers: He did.
"Good God, Glen! Put those pants back on!"
JOKE OF THE WEEK
"I was trying to get the team hyped up and it worked. We went on a run there." -- Wizards center JaVale McGee (per the Houston Chronicle), talking about a contest-style dunk that got him benched and was followed by a 19-4 run … for the other team (Rockets). (He was joking, right?)
CRYSTAL (BASKET)BALL
Predicting the week ahead.
Portland at Toronto, Friday: With some suggesting the Blazers are too "nice" to each other to be successful, coach Nate McMillan plants some non-permitted fireworks in Raymond Felton's luggage before leaving the country. This works a little too well; Felton misses six games while stuck at the Canada Border Services Agency.
Suns at Celtics, Friday: Game is delayed as the teams' key veterans yell at officials that the music is too loud in the arena and why don't our grandchildren ever call us, anyway?
Lakers at Magic, Friday: After the game, Dwight Howard promises fans he'll be back in just a minute. He is later spotted going to the dance in the Lakers' neato convertible.
Nuggets at Knicks, Saturday: Danilo Gallinari scores 27 in a victorious return to Gotham, after which Spike Lee starts work on a time-travel movie in the hope that he can eventually undo the Melo trade in real life somehow.
Cavaliers at Heat, Tuesday: A nice, friendly limo driver meets Cavs owner Dan Gilbert at his hotel, and promptly drives him to BankAtlantic Center for that night's Florida Panthers game.
Patrick Dorsey is a Page 2 editor. He averaged 12 points per game as a second-grader in YMCA hoops. All other basketball court records have been sealed. But if you must inquire, reach him at bypatrickdorsey@gmail.com or @DorseyPatrick on Twitter.
ESPN Editor
General Editor
Joined ESPN in 2011
Arizona native, LA resident, Northwestern graduate
MOST SENT STORIES ON ESPN.COM