Commentary
What stupid SB questions will be asked?
Updated:
January 26, 2012, 9:01 AM ET
By
Jerry Greene
| Page 2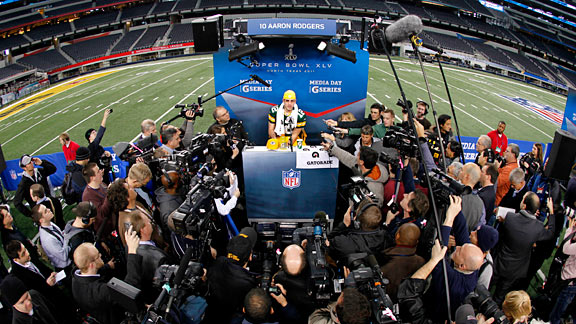 AP Photo/Charlie RiedelGreen Bay quarterback Aaron Rodgers last year saw first hand how wild media day is.
A word of defense for the media that ask the stupid Super Bowl questions ever year. The atmosphere surrounding every media day on the Tuesday before the Super Bowl makes you feel stupid.
For starters, you have to wake up early. And get dressed. Media (especially old newspaper guys) don't like to get up and certainly don't like to put on clothes before noon. So you're in a bad mood right from the start.
Then they bus you to the stadium, and then search you and corral you for an hour or so before opening the gates. That's when the hundreds of you are literally herded into the stadium. Trust me when I tell you that a lot of mooing actually goes on during this process. And old guys from Chicago like to explain that this is when the cows get a sledgehammer to the head and are hanged by a hook.
Just thinking about that will make you stupid.
Finally, you have the choice of asking the same old "X's and O's" questions that the players and coaches have answered a thousand times before -- or you can try to ask something original and clever. And that's when you say something stupid.
Based on the hundreds of replies we got to create this reader-generated list, a lot of you have what it takes to become Super Bowl media. Check it out:
Top 10 Stupid Super Bowl Questions
10. "Who is the worst-smelling tight end in the league?" suggested by Ben M. of Peoria, Ill.
9. "For Eli Manning: Does it insult you that Rob Lowe knows more about your brother than you do?" suggested by Cullen D. of Peabody, Mass. (This one might actually be asked.)
8. "Are you Team Edward or Team Jacob?" suggested by Pat C. of Pittsburgh. (This one will be asked.)
7. "For Peyton Manning: Eli and Tom Brady pull up in their cars at the exact same moment. Whose car are you going to valet first?" suggested by Hartley A. of Richmond Hill, Ontario. (Nasty, Hartley, nasty.)
6. "For Patriots DB Sterling Moore: Are you related to Sterling Sharpe?" suggested by Chris T. of Swampscott, Mass.
5. "Are you Tim Tebow, and if you aren't, do you wish you were?" suggested by Marc S. of New York City.
4. "For Bill Belichick: Kourtney, Kim or Khloe -- which is your favorite Kardashian?" suggested by Doug E. of Altamonte Springs, Fla.
3. "For Tom Brady: Do you think Madonna will have a 'wardrobe malfunction' and, if she does, would you care?" suggested by Peggy C. of Oviedo, Fla.
2. "To the quarterbacks: How much will the weather affect your game?" suggested by Janice H. of Palo Alto, Calif.
1. "Should the world end this year as the Mayans predicted, will playing in this Super Bowl seem really special?" suggested by Nate M. of Lewisburg, Pa.
It would certainly seem special to me.
Jerry Greene is a regular contributor for ESPN.com. He can be reached at osogreene@aol.com.