Commentary
Tips to stop getting posterized in NBA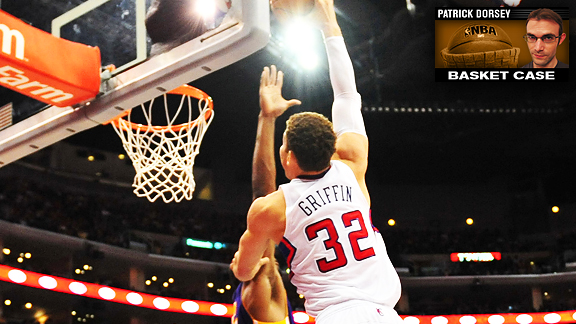 AP ImagesPage 2 has ways to stop this from happening. Well, at least slow it down.
Getting posterized. It's a traumatic experience. Just ask …
• John Lucas III and Kendrick Perkins, who got thrown down on by LeBron James and Blake Griffin this week (you might have heard about this); or …
• Frenchman Frederic Weis, whose Vince Carter moment is the real reason we started saying "Freedom Fries"; or …
• Che Guevara, who met his demise shortly after his poster got popular (although those events might be unrelated).
But getting posterized is not the end of the world. And it can be stopped. (Unless, like Che, you're a socialist revolutionary. But you're probably not a Marxist revolutionary.) Therefore, we've created Basket Case M.D.'s Guide to Getting Posterized, featuring causes, symptoms, treatment and -- most importantly -- prevention.
Note: If problems persist, consult a doctor. But not Dr. J. He'll probably also posterize you.
Causes
Playing defense: A common mistake. Poster-makers live off defenders getting dunked on -- not athletes who chat up courtside-sitting "Jerseylicious" stars during the game.
Poor teammate performance: The future dunker blows by a perimeter defender, leaving you to clean up another's mess. And who are you, Aaron Rodgers?
Late rotation: Would you rotate your tires late? No; screws up your alignment. Would the earth rotate late? No, at least not until Dec. 21, 2012. (am I right, Mayans?) So in other words, rotating late on defense is the first step toward the end of the world. Way to go.
You're Patrick Ewing: One of the more common causes.
Symptoms
Intense pride pain: People laugh. And unless you're stand-up comedian Ron Artest, aka Metta World Peace, your goal is not to make people laugh.
Twitter Mention-gitis: Ask the player formerly known as @KendrickPerkins about this one.
Flashbacks: Imagine -- you're in a Whole Foods, and a 7-year-old girl innocently drops some organic frozen blueberries into a nearby shopping cart. Next thing you know you're on the floor, in a cold sweat, clutching your bag of quinoa and muttering about how the little kid traveled and "How could the ref not see that???"
Inability to watch TV for the foreseeable future: Hope you have Netflix! Just don't rent any "Air Bud" movies (see: flashbacks).
Treatment
Tweet about it: Don't delete your account -- fire it up, immediately, and send out a "WOW i just got posterized LOL that's redic gonna be on @SportsCenter!!!!" during the next timeout. A fine for in-game Twitter use? Sure. But it shows a sense of humor. And puts you in line for a Pro Bowl spot.
Make the poster yourself: Cha-ching. Plus, you can make it say what you want. Suggestion: "I got dunked on by [insert player here], and all I got was this lousy NBA salary. So yeah, I'm doing OK. Plus, you bought a poster that's yelling at you. Who's the loser now?"
Take solace in the fact that your poster might help a guy escape from Shawshank State Prison: Speaks for itself.
Posterize someone else: Ditto.
Posterize someone else in a candy commercial: Only if you're Patrick Ewing.
Prevention
Don't play defense: That "Jerseylicious" cast is sitting right there, just waiting to be talked to …
If you must play defense, don't jump: Doing so (1) takes you out of proper defensive position (see Jones, Damon), and (2) lets Van Halen win.
Don't be in the NBA: Barack Obama was shunned by the NBA, got posterized anyway, and now he's president. Anderson Varejao, meanwhile, did join the NBA, got posterized by Dwyane Wade, and he'll never be president. 'Nuff said.
TWITTER LESSON OF THE WEEK
DeJuan Blair is a key part of the San Antonio Spurs' depth parade. He's also a prolific -- very prolific -- tweeter. Last Friday, he offered this:
And followed with this:
That's right. Real men are secure enough that they don't need company in a movie theater.
(Side note: It's easier to make this argument when you're 6-foot-7, 270 pounds, as opposed to the size of a high school cross-country runner.)
IN PICTURES. AND WORDS.
"I finally saw 'The Matrix!' And look, I'm Neo!"
"But I wanna do more 'Matrix' jumps!" "Bro, that movie came out like 13 years ago."
"Please. Everyone knows this is how you Matrix."
"Uhhh, didn't Utah used to have a Slip 'n Slide here?"
"Sooooo … you like my headshot, guys?" "Wait, it says here you were in all three 'Twilight' movies."
"Yep. Definitely shouldn't have used the arm handles on the elliptical yesterday.
"Chauncey Billups! Big fan. In fact, I've always tried to get my completion percentage to match your 3-point percentage."
"David Stern traded me here, too. Isn't that weird?"
"I am not a -- wait. You see what I'm getting paid? I am definitely a crook."
"God, I just remembered the ending to 'Human Centipede 2.' Wait, was I doing something here? Oh yeah."
"And now, a moment of silence for Kendrick Perkins' pride."
It's all right, Kendrick. Read Basket Case's Guide to Getting Posterized and you'll be juuuuust fine."
JOKE OF THE WEEK
"When you come out with the schedule in December and have a game in the Super Bowl city, lodging might be a problem."
-- poor Stan Van Gundy, the NBA's Job, who's getting Jobbed again as the Orlando Magic won't be able to stay in Indianapolis for Saturday's Pacers game because of a football thing or some reason. Instead the team must sleep in Cincinnati and drive to Indy day-of, keeping SVG from his destiny: attending that night's Playboy party as his oft-noted doppelganger, Ron Jeremy.
CRYSTAL (BASKET)BALL
Heat at 76ers, Friday: Philadelphia continues its torrid early season run by beating Miami, leading fans to serenade coach Doug Collins with chants like "Coach of the Year! CLAP! CLAP! CLAP-CLAP-CLAP!" and "Why are you wasting time with basketball and you're not the Eagles defensive coordinator already instead of Juan Castillo. Good God, why did they bring Juan Castillo back. I hate everything."
Wigan Athletic vs. Everton, Saturday: Landon Donovan nets a brace, Tim Howard keeps a clean sheet, and Wigan signs Mavericks coach Rick Carlisle to a loan deal despite his clear lack of soccer skills.
DirecTV Super Saturday Night Party, Saturday Night: Mark Cuban got hit with a $75,000 fine for recent ref-bashing -- but it doesn't stop there, as commissioner David Stern also takes control of the Mavs owner's Super Bowl event. Katy Perry is replaced with Gaylord Perry, and DJ Connor Cruise is subbed for a Frank Sinatra/Tony Bennett mixtape (as in actual cassette tape).
Raptors at Heat, Sunday: Six Ontarian snowbirds boo Chris Bosh before ignoring the Super Bowl.
Clippers at Cavaliers, Wednesday: Blake Griffin brings a 9-foot cardboard cutout of LeBron James and posterizes it during pregame warmups. Actually, that's not a bad idea. …
Patrick Dorsey is a Page 2 editor. He averaged 12 points per game as a second grader in YMCA hoops; all other basketball court records have been sealed. He can be reached at bypatrickdorsey@gmail.com and is also on Twitter (@DorseyPatrick).