Commentary
The Super Bowl's strange soundtrack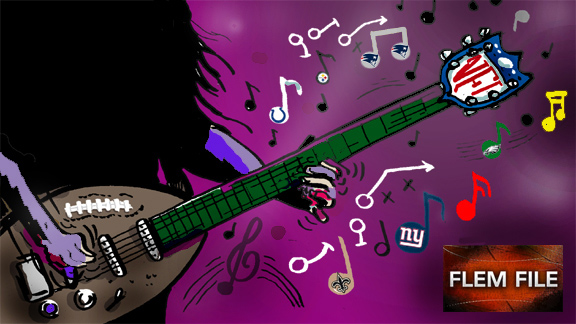 Kurt Snibbe/ESPN.com
I took it as an omen that the very moment I boarded the media shuttle bus headed for Lucas Oil Stadium and Super Bowl XLVI two things happened: I spotted Cooper Manning, Eli's brother, chilling on the sidewalk looking calm and confident in the sun just a few hours before kickoff at the exact same moment Madonna's song "Material Girl" squeaked to life over the shuttle's stereo system. And sure enough, a little later that day, Eli would indeed be engulfed by the spoils of the material world -- a new Tiffany-made Lombardi Trophy, a shiny Corvette for his second MVP award and, eventually, a diamond ring so big it could double as a napkin holder -- just as the Madge song had kinda predicted.
So as the bus lurched toward the stadium, eventually dropping us off onto an alleyway next to a tavern -- the perfect location for the media entrance, if you ask me -- I began to chronicle the peculiar and constant soundtrack from inside the Super Bowl.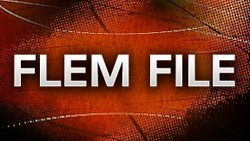 It's a connection I've been intrigued by for a long time, most recently while talking to Cam Newton for our ESPN The Magazine NEXT cover story that included a scene where the rookie of the year was actually singing parts of Drake songs. Newton got to meet Drake at the Mag's Super Bowl party -- "unreal, unbelievable," he told me. Another major storyline of the season was, of course, Tim Tebow's unorthodox success, something perhaps best explained by music producer Brian Eno. In the fantastic documentary "From the Sky Down," a film that makes "Pearl Jam Twenty" look like a student fan club project, Eno explained that Larry Mullen Jr. was a self-taught musician and therefore, technically, playing the drums completely wrong. However, he conceded that's what made his sound so original and special and impossible to steal. At the time I tweeted: Does that explain Tebow?
Entering the stadium on Sunday I bumped into Josh Elliott, a friend from my Sports Illustrated days, and the talented current news anchor at "Good Morning America." Wearing a massive overcoat that reminded me of Lloyd Dobler (from Cameron Crowe's pop classic "Say Anything …" featuring the Peter Gabriel song "In Your Eyes" as well as a bizarre cameo by Jeremy Piven), Josh informed me that he was heading down to the field to interview LMFAO. I asked what I thought was the only pertinent follow-up question which was: Will they be wearing their bedazzled Speedos during the Q&A?
One can only hope, Josh replied before disappearing into the crowd, leaving me to wait in line for the press box elevator where the lobby speakers blasted "Howlin' For You" by The Black Keys -- a band I plan to see in concert this spring, perhaps several times, even though I was shocked to recently discover that singer, rebel and too-cool outcast Dan Auerbach was actually a high school soccer star (who played with his hair in an Abercrombie-like ponytail) while growing up in northeast Ohio.
Hearing The Black Keys was something of a relief because, over the years, I've been subjected to some pretty horrendous pregame numbers at the Super Bowl. Kiss played on the field before the game in San Diego a few years ago and about midway through the first song a Kiss Army of a thousand kids, all of them with their faces painted like the band, poured out onto the field. Weirdest. Thing. Ever. Styx once played before the game -- in Tampa, I think. And -- swear to god -- one of the band members was on crutches or had a walker of some sort up on stage. When they played "Come Sail Away," dancers in white unitards unfolded their backpacks to create a sea of human sailboats that, quite shockingly, failed to make the music any more palatable. In Houston, poor Eddie Money played the pregame show, but they put him in the Astrodome next door. I always imagine the Spinal Tap-esque scene where his manager says he has good news and bad news. "The good news is that you're playing the Super Bowl! The bad news is … uh, you won't actually be in the stadium, Ed."
The lone exception to the bad pregame music was the midweek news conference given by Prince in Miami. Inside a conference room at the convention center, Prince whispered into the mike that, contrary to rumor, he would be taking questions from the press. He called on a reporter and halfway through the guy's question Prince blasted into a 15-minute brain-melting set that served as a preview to what would be, in my mind, the best halftime musical act since U2 at the Superdome post 9/11.
Saturday night in Indy I did happen to catch Pitbull and he was pretty good, considering how hard it must be to rap effectively in a velvet suit. I like Pitbull, I really do, but he has the most annoying habit of blasting the opening riff to a great, classic song (Guns N' Roses, Nirvana, Lenny Kravitz) then cutting it off to move into his next tune. This is the musical equivalent of paying $2,500 for a Super Bowl ticket and then having the Browns and the Panthers run out of the tunnel.
They were smart about the pregame music in Indy, tapping the IU Marching Hundred, which played most of its set while in a formation that read in a classic, humble, straightforward, understated Hoosier way: INDY 2012. When the band finished, an IU grad I know tweeted that the Super Bowl might be the only bowl this band would ever get to play.
When I finally took my seat inside the stadium I took it as another musical omen that I was in the one place in the hermetically sealed press box where a tiny gap in the glass allowed me to hear what was being played out in the stadium. I watched through my binoculars as the IU band scurried off the field, running past Rachel Mazique, who wore a sash designating her as Miss Deaf America. She was there to perform the national anthem and "America The Beautiful" in sign language -- and she did, but because it wasn't shown on TV or the stadium video screens there is now a petition going around requesting that NBC apologize.
I'd be happy to weigh in further on this controversy just as soon as I figure out a few other pressing questions about this pregame performance: (1) Who was that guy with Miranda Lambert? (2) Did she know she was wearing red pants with orange shoes and a pink microphone? (3) In all seriousness, are you expected to stand during "America The Beautiful"? (4) Is it wrong to think of a backup kids choir as an anthem singer's safety net? And, (5) Is it me, or did Kelly Clarkson really "bang" out that anthem? (That's a reference to her bangs; sorry, it's been a long season.)
At this point in the sequence I dropped the ball on my reporting. I missed the song that played when the Giants ran out onto the field, although I can confirm that it wasn't the team's official fight song. Like several other NFL teams, the Giants have a good old-fashioned fight song with lyrics that, coincidentally, seem to be describing something slightly sinister: "Come on and fight you fightin' Giants / Roll along, to a score / Come on and fight you fightin' Giants / Roll it up, more and more." The Pats don't have an official fight song, as far as I can tell. I would have gone with Queen's "Under Pressure," but the Pats chose Ozzy Osbourne's "Crazy Train" instead. I then expected to hear John Mellencamp's "Pink Houses" at kickoff but got something else that sounded a lot like a riff from "Detroit Rock City" by Kiss.
The first quarter inside Lucas Oil Stadium offered this bizarre soundtrack: You might not have noticed at home but the free kick after the Pats safety -- oh, gee, is this OK? Is it OK to bring up a mistake by Tom Brady or is that delicate subject still off-limits? Seriously, the most shocking and sad thing about the entire Super Bowl might have been the way the once proud and strong Patriot Nation morphed into a flock of peewee soccer parents trying to hand out participation trophies so no one would get their feelings hurt in Indy. Wait, where was I? Oh yeah, the free kick … -- seemed to be delayed while the video board ran an in-stadium ad featuring two M&Ms dancing to LMFAO; Motley Crue's "Kickstart My Heart" played before the free kick; and at the end of the first quarter we heard "Play That Funky Music" (white boy), an homage, perhaps, to Pats receiver Wes Welker, who reminded Brady before kickoff "I'm open on every play" and then proceeded to prove it with 29 yards on the final drive of the quarter.
Second quarter: The Black Keys, again, with "Lonely Boy" at the 12:55 break; nothing at the 3:00 mark because they wanted fans to focus on flashlight instructions for the halftime show; and, finally, Michael Jackson's classic "Don't Stop 'Til You Get Enough" played while they searched the crowd for celebrities but came up with only Meg Ryan and Mellencamp, Rhea Perlman and Danny DeVito, and Ron Perlman.
The closer we got to halftime the more each of the field's four tunnels began to ooze with dancers, musicians and pieces of Madonna's stage. It's hard not to love this bizarre only-at-the-Super Bowl scene: break dancers in white adidas track suits waiting next to a hundred guys dressed up like Roman soldiers standing behind a platoon of performers outfitted with shiny gold body armor like "Star Wars" storm troopers outfitted by Tory Burch. From the press box the field looked like an anthill as a nest of stagehands swarmed the field and pushed the puzzle pieces of the stage together even as players were still exiting toward the locker rooms.
[+] Enlarge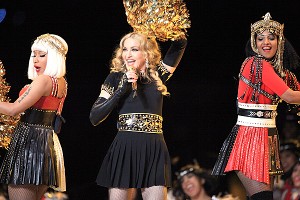 Christopher Polk/Getty ImagesMadonna's halftime show had that only-at-the-Super Bowl quality.
That massive, interactive spaceship/movie screen/disco helipad that Madonna performed on was put together in 4:48. I timed it. And the whole time I was thinking: We have the money, technology and willpower to do stuff like this, but we still can't figure out how to fix potholes?
You guys would be a better judge of the halftime show (and please, by all means, weigh in on Twitter -- either @DaveFlemingESPN or #FlemFile -- or on my Facebook page), but from where I was sitting I thought Madonna acquitted herself nicely. She moved better than the Patriots' defensive backs, I know that. And, no, it wasn't Prince or U2 but it wasn't Paul McCartney or The Who, either.
But critics, like the football gods, can be fickle. At the 11:20 mark of the third, just after Brady hit Aaron Hernandez for a 12-yard TD to make it 17-9, the stadium DJ played Pink's "Raise Your Glass" and New England fans in the southeast corner of the stadium were already celebrating and chanting M-V-P at Brady. Oops. As I wrote in my prediction before the game, under intense physical pressure Eli tends to shine and Brady tends to wilt. And after he got rolled up like a rug by Justin Tuck on New England's next drive that's exactly what happened. (Now the Pats story is Tuck Rules, not the Tuck Rule.) Brady, now 6-6 in his last 12 playoff games after starting 10-0, would go the final 26:20 without scoring a point, finishing 0-5 on throws downfield, including a misfire to Welker on that fateful incompletion. (Another common thread in the Super Bowl, other than music, is how often key drops -- Jackie Smith, Asante Samuel, Welker -- affect the game almost as much as key catches.)
Right around this time they aired a car commercial featuring "The Killing Moon," a classic song by the monumentally underrated Echo & The Bunnymen. In the pantheon of pop songs about heroin used to help sell consumer goods this probably ranks second behind the cruise line that tabbed Iggy Pop's "Lust for Life."
Anyway, when the Giants got the ball back with 3:46 left to go, a chorus of "here we go again" rang up across the press box from scribes, like me, who were in Phoenix the first time these two teams met in the Super Bowl. At the start of this fateful drive Manning threw to Mario Manningham four straight times, leaving the press box announcer sounding a bit like Jay-Z as he repeated in a sing-songy voice, "ManningtoManningham, ManningtoManningham" as the Empire State's team marched down the field for the win. When it was over, when the confetti dropped and the NFL wheeled out that odd silver football spaceship stage (pro football's answer to the Oscar Mayer Weinermobile, I guess) the last three songs of the night were a musical hat trick of triumph: Van Halen's "Standing on Top of the World," Queen's "We Are the Champions" and Tina Turner's "Simply the Best."
There was no music to speak of under the stadium and in the Giants locker room after the game, but the sounds of success were everywhere: the joy and relief in offensive coordinator Kevin Gilbride's voice as he described Eli reminding him, ever so calmly on the sidelines, that the Giants were actually out of tight ends; the sound of Ahmad Bradshaw's mom kissing players on the cheek and shouting "God bless you" as they passed by; the electric whir of a golf cart as it shuttled Giants feisty matriarch Ann Mara to the team bus, a stack of New York Giants World Champions hats in her lap; the sound of shoulder pads crunching together everywhere as Giants players embraced for the first time as champs; the thunderous roar of Brandon Jacobs declaring that Eli was "a beast, an animal"; Giants fans nearby swing-dancing to Ray Charles' "Hit the Road, Jack."
In the end, though, after a full season and a full day of high-volume, nonstop intensity it was the softest, most subtle sound I heard that left the greatest impression.
After exiting the Giants locker room and postgame interviews under the stadium, I cut across the Lucas Oil field to get back to the press box elevator. As I walked past midfield, where players and their families were still posing with the Lombardi Trophy almost two hours after the game had ended, I noticed a group of people actually lying down on the turf over near the Patriots bench.
As I got closer I could see that it was several members of Victor Cruz's family -- and they were doing snow angels in the red, white and blue confetti that had piled up almost a half foot deep in some spots. What a sight this was. Giggling like kids, on their backs, staring up at the ceiling, submerged in relief and joy and colored paper and without a care in the world, they were, somehow, completely alone in a spot that just minutes earlier had been the focus of 111 million people.
And as they flapped their arms to form their angel wings the championship confetti rustled, ever so slightly, like a pile of crisp, fresh leaves.
It was the last sound of the season. Music to the ears of Giants fans everywhere.
David Fleming is a senior writer for ESPN The Magazine and a columnist for ESPN.com. While covering the NFL for the past 16 years at Sports Illustrated and ESPN, he has written more than 30 cover stories and two books ("Noah's Rainbow" and "Breaker Boys"), and his work has been anthologized in "The Best American Sports Writing."