Commentary
In NBA, who's getting double-snubbed?
Snub.
Be it for the NBA All-Star Game or Employee of the Month honorable mention, it's never fun to be considered one -- just ask Brandon Jennings, Pau Gasol and Rajon Rondo, none of whom found their names on the plaque in the break room on the list of All-Star reserves released Thursday night.
But what's worse than getting dubbed a snub? Not even earning that title.
And that's why we're here -- to honor the truly overlooked, the ones snubbed from the snubbed lists, players who are stars in their own way … yet don't even get the respect of being considered disrespected.
Call them the Double Snubs.
Here they are:
EASTERN CONFERENCE
Jeremy Lin, Knicks, G: It was all the rage Thursday night on Twitter to call Lin a snub. Ha ha, very funny. But here, this is no joke. Have you seen what he's doing? After just three games with major minutes, he's first -- first! -- among qualified point guards in PER. Imagine where he'd rank if he played more!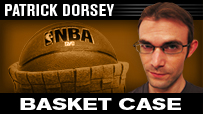 Kris Humphries, Nets, F: This is not a joke either! Really! The Most Hated has a better EWA (estimated wins added) than All-Star Dirk Nowitzki and noted snub Anderson Varejao, and helped New Jersey to a surprisingly not horrible start for a while. Just for that, we won't even make a single mention of Kim Kardashian. Nope. Not one. Not mentioning Kim Kardashian. No Kim Kardashian here. You'll have to look elsewhere. A Kim Kardashian mention is simply not going to happen.
JaVale McGee, Wizards, C: Say what you will about this fun (for us), frustrating (for Washington fans) player, but his offensive numbers (10.7 points, 8.7 rebounds, 2.9 blocks, 18.62 PER) are surprisingly close to All-Star level for an Eastern Conference center. Plus, by running to the other end of the floor even when his team has the ball, he shows a dedication to defense not often seen in an All-Star Game.
Thaddeus Young, 76ers, F: Andre Iguodala made the team. Lou Williams is a top snub. So where's Young? His PER is better than several All-Stars -- including A.I. 2.0 -- and his contributions have helped Philly stay atop the Atlantic. Young should be incensed. He should boycott games and watch the Sixers lose. Which would cement his All-Star case.
Ivan Johnson, Hawks, F: The numbers -- 5.7 points, 4.0 rebounds -- don't scream All-Star, but Johnson's circuitous journey to the NBA has provided so much: It's given every rec league star hope that maybe he, too, can make it. Wait. That's not a good thing. He's off the list.
WESTERN CONFERENCE
Vince Carter, Mavericks, G: Poor Vince. He's been the butt of jokes for years. Vin-sanity is now Lin-sanity. Blake Griffin's poster dunk is getting comparisons -- even "better-thans" -- to Carter's famed leap over Frederic Weis at the 2000 Olympics. And yet, the once-left-for-dead V.C. has resurrected his career with Dallas. And he wasn't even considered for an Orlando plank-off with Dwight Howard? Injustice.
Stephen Curry, Warriors, G: The guy has, like, half an ankle -- which is why he's played in only 14 games -- and still sports a better PER than All-Star guards Russell Westbrook, Tony Parker and Deron Williams, plus teammate/super-snub Monta Ellis. If Curry ever gets his injury situation remedied, his play might reach Lin levels.
DeMarcus Cousins, Kings, F: Like McGee, Cousins' reputation precedes him -- and likely strikes him from most snub talk outside of Sac-town. But those raw numbers! (15.3 points, 11.5 rebounds.) That PER! (20.56.) The possibility that he could demand a trade, like he (supposedly) did earlier this year, but this time to the East All-Stars! Howard might go for that.
Nikola Pekovic, Timberwolves, C: Phoenix's Marcin Gortat seems to be getting all the talk about being the Eastern European center who got snubbed; he deserves some, but let's not forget that Pekovic is putting up great stats on a surprising team -- all while performing important NBA community service (keeping Darko Milicic off the floor).
Daequan Cook, Thunder, G: Kevin Durant and Russell Westbrook made the team. James Harden is among the top snubs. But get this: The Thunder are an NBA-best 20-6 -- 20-5 with Cook playing, and 0-1 without him. All-Star? That's MVP stuff right there.
PREDICTION OF THE WEEK
"Good win giants Wow Payton manning has two rings One more than his brother Amazing !! NewYork stand up"
Ignore the Manning mix-up/misspelling. That's not what this is about (although it's probably why Metta World Peace deleted his tweet). This is about Metta being meta, about seeing things we're not seeing; he posted this to Twitter hours before the Giants downed the Patriots in the Super Bowl. No wonder Madonna gave World Peace a shoutout at halftime. He already knew how the rest of the game would transpire! (And didn't let us forget afterward.)
IN PICTURES. AND WORDS.
"All right. Let's practice saying goodbye to the Sacramento fans. Bye, Sacramento fans!"
"You know, 'Saturday Night Fever' -- where the guy does this! God, you kids are so young."
"I'm only like 7, O.J., and even I know you're high-fiving it wrong.
"It might be unorthodox … but this is how we fight at Duke!"
"Do the gun show line, Will Ferrell! You know, like in Ron Burgundy!"
"You call that a backhand? You'll never win the French Open that way."
"I once caught a fish -- actually, it was a lot bigger than this, but this is as far as my arms go."
" … and so the Jawas are these little creatures that live on Tatooine and look like this and -- hey, guys? Guys? Nobody wants to listen to me explain 'Star Wars.' :-("
"No, no, no. Do NOT tell Steph Curry that 'Star Trek' is better than 'Star Wars.'"
"Tim, please don't tweet about this if you make it."
JOKE OF THE WEEK
"Galileo: Great mind. Einstein: Genius mind. Newton: Extraordinary mind. Bill Gates: Brilliant mind. Me: Never mind. Hahahahaha!!"
--DeJuan Blair, on Twitter, proving that bad jokes can be good. So good, in fact, we've got another one …
"Q: What are the building blocks of NBA life? A: Al-Farouq Aminu Acids!"
That one comes from me, on Twitter! OK, OK, sorry. This hectic NBA schedule can make you loopy.
CRYSTAL (BASKET)BALL
Investing in NBA futures.
Lakers at Knicks, Friday: New York wins. Lin keeps scorching. And somewhere in Indy, Larry Bird debates replacing Kobe Bryant with Lin as the guy he'd most like to play with.
Bulls at Bobcats, Friday: Convinced he was snubbed by the All-Star selections, Michael Jordan gives Luol Deng his traditional icy stare. Deng has no idea what's going on. Neither does coach Tom Thibodeau when Jordan corners him and asks, "Did you vote for me?" Bulls win.
Bulls at Celtics, Sunday: Inspired by Will Ferrell's stint as New Orleans Hornets' PA announcer earlier this week, Boston decides to grab "The Other Guys" co-star Mark Wahlberg to rattle off Celtics names. Predictably, it looks a little like this. "Hey, Paul Pierce, say hi to your mother for me, OK?"
Spurs at Raptors, Wednesday: Spurs guard Tony Parker and coach Gregg Popovich -- the league's leading sommeliers; side note: is the San Antonio road trip actually the setting for "Sideways 2"? -- get busted at the border for trying to bring wine into Canada. But it's a fruity, full-bodied red that goes great with steak, so the agents let them go after an early dinner.
AT&T Center, same night: Rodeo!
Patrick Dorsey is a Page 2 editor. He averaged 12 points per game as a second-grader in YMCA hoops; all other basketball court records have been sealed. He can be reached at bypatrickdorsey@gmail.com and is also on Twitter (@DorseyPatrick).