Commentary
Did Coughlin's list include Flavor Flav?
Updated:
February 12, 2012, 9:35 AM ET
By
Jerry Greene
| Page 2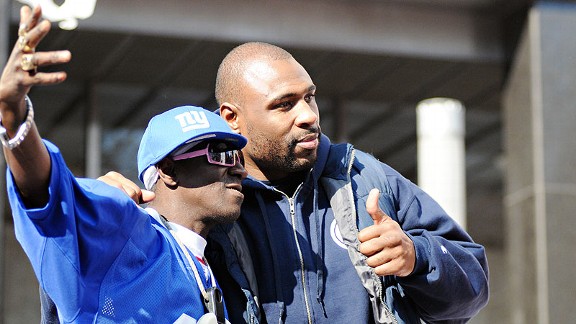 AP Photo/Tomasso DerosaFlavor Flav is everywhere: This time with Giants running back Brandon Jacobs at the victory parade.
It's time to let the last Super Bowl go, as anyone in Boston will tell you. But before we move on, we should salute New York Giants coach Tom Coughlin for checking off a major accomplishment on his personal bucket list.
No, we are not talking about beating Bill Belichick for a second time in the biggest game of all. We're talking about something much rarer than that: getting a hug from Flavor Flav.
Check.
What's better than that? Which makes you wonder about what might still be left unchecked on other B.L.s of famous people. These might be a few:
• Barry Bonds: To walk into the Baseball Hall of Fame without buying a ticket. (Pete Rose had this one first.)
• John Elway: To hold just one conversation without being asked about the future of You Know Who.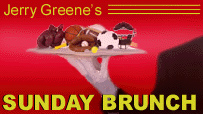 • Michael Vick: To be the chief judge at the Westminster Dog Show.
There must be many more and you are welcome to contribute some in our comments section. Meanwhile, here are a few more appetizers while our sportswriting chefs are pulling their delights out of their literary ovens.
• Free tip to the New York Knicks dancers: Back in the Roaring '20s we had a dance that's begging for revival -- the Lindy Hop, along with two other versions, the Double Lindy and the Triple Lindy. Don't thank me, just send me an autographed calendar.
• The New York Yankees are introducing their own fragrances for men and women. They probably will smell like old money. If the Mets put something on the market, wonder what that will smell like.
• Jay Leno's parting tribute to Patriots receivers: "A lot of good commercials. See that Coca-Cola ad with the polar bear trying to catch the bottle and he kept bobbling it and juggling it and then he finally caught it? If only Tom Brady had him on the team."
• And from Dave Letterman: "Mitt Romney is now saying he connects with poor people: 'I am Mitt Romney, I connect with poor people.' Yeah, the same way Tom Brady connects with Wes Welker. That's the same kind of a connection."
• The Professional Bull Riders organization has named Blue Tax Inc. as its "Official Tax Solution Liaison." Never knew you could file a tax deduction for getting gored.
• OK, Eli won again, but nobody rides a victory parade float better than Tom Brady.
Ding ding. There's the Brunch Bell that tells us the table is set. Let's dig in and don't worry about using your fingers. We're family.
• It's so hard to break away from the Super Bowl. But Frank Fitzpatrick of the Philadelphia Inquirer chooses to look at those post-victory "thank you" speeches and notes how everyone loves to thank the fans first. He's just a little bit skeptical and uses the word "pandering" a lot. See for yourself here.
• From one New York victory to another -- the JLP (Jeremy Lin Phenomenon) as described by Brian Mahoney of The Associated Press at Huffingtonpost.com. If you have been living under a rock (or are a star for the Los Angeles Lakers), Mahoney tells you everything you need to know. Check it out here.
• It must be "AP Week" at the Brunch as our next contributor is AP sports columnist Jim Litke appearing on Boston.com to reference the latest "Most Disliked" list from Forbes.com. LeBron James is No. 6 and Litke doesn't understand why he isn't higher. Read and see if you agree here.
• We can't go through the Brunch without wondering about Peyton Manning. Dave Hyde, columnist for the South Florida Sun-Sentinel, examines the Manning rumors and wonders whether all of them are true. Discover his reasoning here.
• And now for something entirely different: The naming of university restrooms. Josh Sandburn for Time Moneyland tells us about the (William) Falik Men's Room at Harvard Law School. Speaking of bucket lists, having your name on a restroom wall without benefit of graffiti must be something to consider, right? Look for your name here.
That's it for the Brunch. And good luck on your first Sunday of 2012 without any professional football in these United States. Anyone know how to play checkers?
Jerry Greene is a regular contributor to ESPN.com and can be reached at osogreene@aol.com.