Commentary
Frank Martin needs to keep swearing
Originally Published:
February 16, 2012
By
DJ Gallo
| Page 2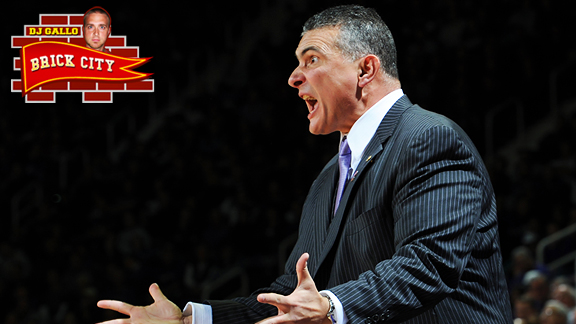 Getty ImagesKansas State coach Frank Martin implores you to watch your mouth -- like he does.
Kansas State is looking to eliminate the profanities coming from its crowd. Fans had replaced the traditional "K-S-U" chant with "@%&$ K-U" and school administrators want to return wholesomeness to Bramlage Coliseum.
One problem: Frank Martin, a noted practitioner of the profane arts, is on the sideline. So the K-State coach emailed Wildcats fans last week, urging them to do as he says he will:
"None of us are perfect. I continue to work at correcting the mistakes I have made. Moreover, I have done things I wish I could take back. However, in life you can't go backwards but you can always get better from the lessons. One thing that I have worked hard at improving is the language that I use at games and eliminating these moments. I cannot allow my competitiveness to blind me from the fact that I represent you, the great students of a university of higher education. As a father, and an educator, there is no place for this at any event in which I am representing K-State."
What the h? What a terrible idea.
See if you notice anything strange about these famous quotes from pop culture and history:
"This is a big deal." -- Vice President Joe Biden
"Yippe-ki-yay, fella." -- Bruce Willis in "Die Hard"
"Tha police!" -- N.W.A.
"Yeah, there are 400,000 words in the English language, and there are seven of them that you can't say on television. You know the seven don't you? OK. Then I don't need to mention them. Thank you and good night!" -- George Carlin
Without profanity, many quotes lose all of their weight. As evidence of that, Kansas State has lost two in a row since Martin vowed to curb his language. And the Wildcats will continue to lose until the cursing begins anew. Frank Martin is simply not Frank Martin without cursing. What is he even doing in the locker room at halftime of the Wildcats' recent games? Just shaking with rage in the corner for 10 minutes before yelling: "CHEESE AND CRACKERS!" so loud the walls crack?
Frank Martin must curse. He is basketball coaching Samson and his hair is long, flowing streams of expletives.
It is no doubt admirable that Martin is trying to lead KSU fans by example. Admirable, but stupid. His email to fans should have read a little more like this:
"Stop using profanity in the stands. 'But Coach, you curse!' you might be saying. Yes, yes I do. A lot. It's pretty much my favorite thing to do. But I am an adult, you are college kids. There are things adults can do that kids can't. This is not complicated. When you were 5, your dad probably didn't let you drink beer just because he did, right? So knock it the @%&$ off with the cursing or I'm going to come into the stands and beat the living @%&$ out of all of you."
That would have been more effective and Martin wouldn't have lost all of his powers. Gosh, it's a real shame it didn't go down that way.
---
Sweet 16

1. This week's coaching tip comes from Wisconsin's Bo Ryan, who had his players practice diving and falling off the raised court at Minnesota. Love it. Attention to detail is very important. However, let's make sure Wisconsin is never scheduled for a season-opening game on an aircraft carrier.

2. Binghamton narrowly extended its losing streak to 26 this week. Loss 25 came at Hartford by two points to the 6-19 Hawks. I predict the Bearcats will get a win on Saturday when they play 5-23 Radford of the Big South Conference. The game will be played at Radford's Dedmon Center, which sounds about right.

3. From a losing streak to a winning streak -- after starting its season 1-11 out of conference, Mississippi Valley State has won 13 in a row. This proves that the Delta Devils have put it all together, or that the SWAC is ... [fights urge to say "wack"] ... not good. Either way, thanks to reader Ryan from Brighton, Mass., for alerting me to the Delta Devils' emergence. No one is going to want to face them in an NCAA tournament play-in game.

4. This is the greatest fan ever.

5. I wonder if his father also went to Alabama.

6. In order to motivate his team to play North Carolina on Wednesday night, Miami coach Jim Larranaga paraphrased Deepak Chopra: "Birds don't try to fly, they just fly. Fish don't try to swim, they just swim. Shooters don't try to shoot, they just shoot." As you may have seen, Miami lost that game. This is why Deepak Chopra has never coached a college basketball game.

7. The failed Zen-spiration of the Hurricanes goes to my greater point about Frank Martin: Clean language and pop spiritualism don't motivate college athletes. But lighting a Deepak Chopra book on fire and chucking it at someone who fails to block out might.

8. UAB beat SMU 47-28 on Wednesday night, giving the Mustangs the record for fewest points in a Conference USA game. SMU was done in by the 3-point line -- shooting just 3-of-29 from beyond the arc. The Mustangs were also 9-of-14 from the free throw line. Really, all lines were bad for them. Pretty much when they stepped over the out of bounds lines to start the game, things went south.

9. How important is basketball at Kentucky? They watch Wildcats games during night classes.

10. How important are academics at Kentucky? (See previous item.)

11. A few weeks ago, Brick City provided a guide for writing a good college basketball rap anthem. This week, a Bowling Green song was brought to my attention. It turns out the song is five months old. However, it's the rare rap video that features numerous shots of elderly men, which I really hope catches on throughout the genre. Enjoy.

12. St. John's fired its senior associate athletic director for external affairs this week for scalping tickets to Red Storm games. This is timely warning shot for Knicks staffers: Although you may be able to purchase a Manhattan penthouse apartment right now with the money you'd make from selling a single ticket to see Jeremy Lin play, it's not allowed.


13. The game of the weekend is No. 6 Ohio State visiting No. 19 Michigan on Saturday night (9 p.m. ET on ESPN). In their previous meeting three weeks ago, the Wolverines held Jared Sullinger to just 13 points and five boards! They also lost 64-49, but still -- 13 and five! If Michigan can hold Sullinger scoreless, it might have a chance to win or tie on the last possession.

14. This week's Brick City Name of the Week honor goes to Jawanza Poland, a junior guard for South Florida who is averaging 9.5 ppg this season for the Bulls. In case you are wondering, there is no city in Poland called Jawanza. I checked. The closest I could find is Joworzno, Poland, which is host to Poland's annual water-skiing championships. For more uninteresting facts about Joworzno, Poland, feel free to email me.

15. To close this week, an email from reader Mike, from Hamilton, N.J.
"Stop feeling bad for Towson.
"Towson may be 1-25 [editor's note: Now 1-27], but it did beat UNC-Wilmington, which beat Campbell, which beat Iowa, which beat Wisconsin, which beat Indiana, which beat No. 1 Kentucky (and No. 3 Ohio State!).
"UNC-Wilmington also knocked off Illinois State, which beat Rutgers, which beat Notre Dame, which beat then-No. 1 Syracuse.
"UNC-Wilmington beat Liberty as well, which beat Charleston Southern, which beat Stetson, which beat Jacksonville, which beat Samford, which beat Davidson, which beat Kansas.
"Lastly, Towson (as you know by now) beat UNC-Wilmington, which beat Furman, which beat Charleston, which beat Elon, which beat Princeton, which beat Florida State, which beat North Carolina AND Duke.
"(In case you were wondering, No. 1 Kentucky lost to Indiana, which lost to Nebraska, which lost to Oregon, which lost to BYU, which lost to Loyola Marymount, which lost to Morgan State, which lost to Norfolk State, which lost to Division II Elizabeth City.)"

16. Mike's point is obvious: If the NCAA would expand the NCAA tournament a bit, Towson and Elizabeth City would likely meet for the NCAA championship. Disagree? Fine, you transitive property-doubting troglodyte. Fine.
DJ Gallo is the founder of SportsPickle.com. He has written a book and written for Comedy Central, The Onion and ESPN The Magazine. He co-hosts the Page 2 Podcast and has appeared on ESPNews. You can follow him on Twitter at @DJGalloESPN.