Commentary
Fan access marks the future of the NFL
Originally Published:
February 21, 2012
By
DJ Gallo
| Page 2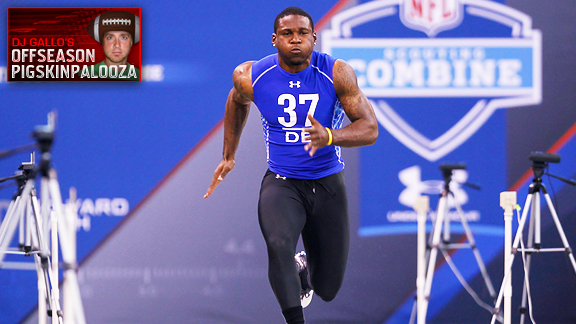 Getty ImagesAccess to the NFL combine signals the beginning of a tremendous new era for the league's fans.
It's NFL combine time: seven days of pro football prospects dashing, jumping, bench pressing and shuttle running for their football future.
The 2012 combine has one major new element. For the first time ever, fans will be allowed to attend. But only 250 fans. It's all part of a league beta test to see if opening the event up to paying spectators is a good idea.
Bold prediction: The league will decide it's a good idea. The NFL likes nothing more than providing greater access to its fans … in exchange for greater access to its fans' wallets.
The unending trend over the years is more coverage in more places. Fans didn't always attend the NFL draft. The draft wasn't always televised. NFL Sunday Ticket didn't always exist. It wasn't always possible to watch games on your computer or mobile device. Players weren't always miked up. "Hard Knocks" didn't always exist. Before this year, players were not encouraged to tweet during the Pro Bowl.
More access, more access, more access, more access. Nothing will stop it. The only question is: What's next?
Player surgeries
Think of all the elite players that go down with injuries each season. Last year alone, NFL fans could have been treated to watching Adrian Peterson's knee surgery and the multiple neck surgeries that Peyton Manning endured. They are two of the biggest stars in sports, and fans were completely cut out of the defining moments of their season! That is inexcusable.
Many operating rooms around the country already have stadium seating for educational purposes. Just push the med school nerds aside and fill those up with hard-core, ticket-buying NFL fans. Broadcasting the surgeries on the NFL Network and selling ad space to Tylenol, Excedrin, Advil, Icy Hot and deep-pocketed pharmaceutical companies would give the league a huge new revenue stream -- an ongoing revenue stream, because more players get hurt every week.

Fans already evaluate the toughness of players by how they play through injury and perform late in games. But we can't get the full measure of a man unless we see how he comes out of postsurgery anesthesia. ("Whoa. Did you see that Peyton Manning vomited and then while half asleep stumbled into the waiting room with his I.V. still sticking out of him? Not clutch.") We can't, that is, until the NFL debuts "NFL SurgeryDome, brought to you by Bayer Aspirin and Pfizer."



Roster cuts
Sports are the original reality shows. But reality TV has taken some viewers who might otherwise be glued to NFL coverage 24/7. It doesn't have to be that way.

Put cameras in every coach's office when training camp roster cuts are announced -- or have the coach cut players at midfield in a packed stadium. Yeah, that's it. What's more entertaining -- seeing some weak, pathetic, past-his-prime celebrity booted from a fake job on "The Apprentice," or watching a fit, muscled, 22-year-old learning his lifelong dreams are over while 50,000 bloodthirsty fans egg him on to accost the person who just cut him?

Forget airing this on a sports channel. "NFL DreamSmasher" would easily dominate August ratings on network television.



News conferences
Players and coaches often make headlines as much for what they say after games as for what happens on the field. Why prevent fans from attending -- and participating in -- the ultra-important postgame news conferences? After all, the rise of blogs has already blurred the lines between fans and "journalists."

Of course, media rooms have limited space. But all that means is that the NFL can charge premium prices for fan admittance. A sum of $1,000 gets you in the room, while $5,000 earns you the right to ask a question. For $10,000 you can run the entire news conference.

Step aside, New York Times! Chris Johnson is about to get interrogated about why he is destroying my fantasy team.



Disciplinary meetings with the commissioner
Perhaps the most defining part of Roger Goodell's tenure as NFL commissioner has been his fining and suspending of players. There's no reason to keep this process secret from NFL fans.

Build a Roman Colosseum replica, have actors portray the offending, violent and bloody play to the delight of the crowd and then pan the camera over to Goodell for a thumbs-up or thumbs-down on the player's fate. The UFC would be out of business in weeks.



Draft room access
Fans are already admitted to the draft. It's inevitable that they'll soon be allowed into teams' draft strategy rooms, too. Think of how different the Jets and Eagles would be today if their draft selections were pre-booed, forcing management to take a different player -- lest they be brutally savaged by the angry horde. Would the Jets and Eagles have more than one Super Bowl title between them today? Probably not. Almost definitely not. But their rosters would be stocked with big-name college players who their fans have heard of. Which is something.



Drug testing
Are NFL players really clean? How do they get so big and fast without performance-enhancing drugs? Sure, they pass frequent drug tests, but how can fans know for sure that those tests are on the up and up? The league must, and one day will, allow us to see their players undergo testing. Nudity is the only true transparency.
Players-only meetings
It's fine if a struggling team wants to keep its coaches out of closed-door, players-only meetings. But fans should not be barred entry. Coaches don't pay player salaries. We, the fans, pay player salaries. As such, nothing they do should be kept from us. After all, what are they hiding? We've already seen them provide a urine sample.
Huddles
The last bastion of player exclusivity. Only 11 players are allowed. Put even one more player in there -- let alone a fan -- and an official throws a flag.
What kind of message does this send to fans? You can gawk at our prospects at the NFL combine during the biggest job interview of their lives. You can watch the drama of a team's training camp play out on "Hard Knocks." You can hear our players miked up during games. You can follow player tweets during the Pro Bowl. But the huddle? Where it all really happens? No, you're not welcome there, fans. We don't care about you that much. Our respect for you has limits.
Unacceptable. We demand to be in the huddle. And soon the NFL will give in and let us, provided we promise to jog back off the field before the snap, of course.
Also, I would like to play quarterback.
DJ Gallo is the founder of SportsPickle.com. He has written a book and written for Comedy Central, The Onion and ESPN The Magazine. He co-hosts the Page 2 Podcast and has appeared on ESPNews. You can follow him on Twitter at @DJGalloESPN.