Commentary
Party of Five goes spring breaking!
Updated:
February 28, 2012, 2:17 PM ET
By
Page 2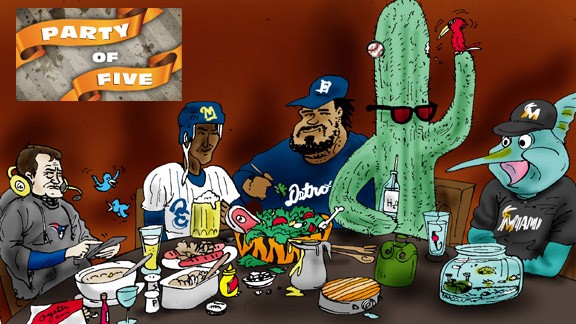 Kurt Snibbe for ESPN.comTony Plush, Prince Fielder and the Marlins are ready for spring. But why is Bill Belichick tweeting?
It's that time again. Time for a bunch of eager upstarts to don those shiny new outfits, hit the ground running, and fight for success in Arizona and Florida -- all for the sake of seeing their name in the lineup later this year.
But enough about the Republican nomination race. We're talking spring training! And naturally, our correspondents have more on their minds than balls and strikes.
So read up! And don't forget: Each week Party of Five becomes a Party of Six! Just leave your best (read: funniest and/or most entertaining) answer to Question No. 5 in the comments section, and the winner will get to answer a question in next week's Party of Five. The winner will be picked by Wednesday evening; please check your ESPN Messages Inbox to see if you're the one.
1. What's the top spring training storyline as games get set to start?
Sarah Phillips (@sarahphilli): The Houston Astros have been mathematically eliminated from playoff contention.
Bill Speros (on Facebook): How will Josh Beckett cope with the ban on beer in the Red Sox clubhouse and the fact that his drinking buddy John Lackey is gone due to Tommy John surgery? Even tougher for Beckett and the Red Sox is the fact that the closest Popeye's to the new Fenway South (JetBlue Park) is about 9.5 miles away.
Vincent Thomas (@vincecathomas): What Will Tony Plush Do? Media will be prowling Brewers camp in Phoenix, but for something far too serious. Nyjer Morgan can't let the Ryan Braun controversy dampen the Brewers' quirkiness. Enter Plush.
Jim Caple (@jimcaple): Will the Brewers add a FedEx deliveryman to the Sausage Race, and if so, will he compete on weekends?
Steve Etheridge (@stetheridge): Will Yu Darvish be able to live up to the buzz? Will his skills translate in the MLB? And more importantly, will the media have the decency to resist exploiting him as baseball's Jeremy Lin? Oh, no … IT'S TOO LATE!!!
[+] Enlarge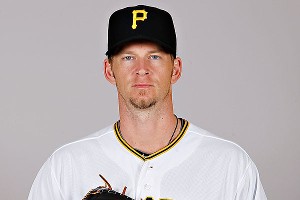 J. Meric/Getty ImagesHey, A.J. Burnett, lookin' good...
2. Who looks best in his new uniform this year?
Phillips: Manny Ramirez, because "Manny being Manny" is the best built-in excuse phrase since "I was drunk."
Speros: For Yankees fans, and batters in the NL Central, that would be A.J. Burnett in his Pirates uniform.
Thomas: Well, 16 years after Cecil Fielder left Detroit and 18 years after he retired, he's back in a Tigers uniform. He looks shorter and wider, but his pants are baggier. Yeah, he might look 21 years younger, which is cool and all, but the baggier pants is key. So, I'd say Cec' looks best -- unless he has a son who plays baseball, or something.
Caple: Jamie Moyer, an inspiration to us all at age 49, though he probably has his pants pulled up to the letters.
Etheridge: I'm gonna go with the Marlins' entire 40-man roster, whose new Maroon 5-inspired unis will definitely make huge fans of 13-year-old girls nationwide. And the vibrant blue and orange of the new logo should make Carlos Zambrano's hissy fits seem all the more electrifying.
3. Cactus or Grapefruit? Explain.
Phillips: Grapefruit, only because it was a superior diet fad. The Cactus Diet didn't fool nearly as many people.
Speros: Grapefruit. Humidity, the original Hooters just a few miles down the road from the Phillies' park in Clearwater, Fla., the possibility of a Casey Anthony sighting … the advantages are endless. Where else can you hop in the Atlantic Ocean or Gulf of Mexico for an a.m. swim, catch a game in the afternoon and then visit the Happiest Place on Earth for nighttime fireworks?
Thomas: Cactus. I think Florida is the corniest, wackest state in the union (South Florida is its own state). I spent three years in Central Florida (Orlando and Tampa/St. Pete) plotting my way out. It's humid, has no character, and is sprawling, suntanned and silly … sorta like Arizona. But Kool G Rap lived in Zona and Khalid Reeves played ball there, so there's that.
Caple: Cactus. More dependable weather, no humidity and all the teams are close enough to see in one day. The latter means you'll save money driving around. At current gas prices, that's enough to pay for a fitted cap, replica jersey or almost a stadium beer, but not quite enough to compensate for exorbitant rental car taxes (almost 50 percent).
Etheridge: You're supposed to eat grapefruit with a spoon, whereas I wouldn't spoon a cactus for all the Benjamins in Derek Jeter's European carry-all. Then again, this is sort of like comparing apples and oranges. Or is it? Idioms are tough. Leave me alone. Next question.
4. Which sport has the best preseason?
Phillips: MLB. To be fair, I count the first 100 games of the regular season as part of the preseason.
Speros: The NBA. This year the Association, with the help of a lockout (did anyone notice?) did a great job in not starting its "exhibition" season until Christmas and then breaking it up with the All-Star Game this past weekend. The 66-game limit was also a welcomed break for many fans who can't wait for the real season to begin in earnest sometime in April.
Thomas: Boxing -- because it includes Floyd Mayweather's "24/7" on HBO.
Caple: Hello? Baseball. Because the only time the players vomit in spring training is after having too many drinks the night before.
Etheridge: Baseball. There's something distinctly fraternal about the whole team living together in an unfamiliar place, getting collectively sunburnt, taking time out of the day to get to know some of the more behind-the-scenes individuals in the organization. And since Arizona and Florida are pretty much the old people capitals of the world, players actually try hard, knowing that if they don't the ever-looming vultures will swoop down and claim them as prey.
5. What would make sports preseasons better?
Phillips: Create a reality show called "The Decision" and have players/GMs announce the most prominent, stunning transactions live on TV.
Speros: Let fans call plays/pitches via Twitter. "@BillBelichickHoodie @TB12: Avoid a safety on the first snap from scrimmage." Since neither Belichick nor Brady have legit Twitter accounts, you might have to relay that one to @WesWelker or @RobGronkowski.
[+] Enlarge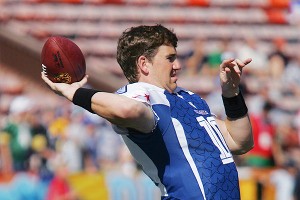 Paul Jasienski/Getty ImagesYou can't spell "The Island of Maui" without "Eli."
Thomas: Or you can show fan tweets on the JumboTron instead of the meaningless games. This would only be interesting, however, if there was no gatekeeper to filter the inappropriate tweets and the audience could be entertained by player character assassinations, fans propositioning other fans and every other debased thing that would result from the anarchy.
Caple: Other than not charging the same price for an exhibition game as a regular-season game and requiring fans purchase tickets to those exhibition games even after they've been played, football could take a lesson from baseball and hold camp in Maui in February instead of Mankato in August.
Etheridge: (1) Coaches get 10 paintballs per game to shoot at anything or anyone they want; (2) Players who come into camp overweight must eat all preseason meals on a live webcam stream; (3) The Kiss Cam never stops until everyone in the stadium has found true love; (4) Make PED tests also detect caffeine so that everyone starts panicking; (5) 1800s rules, uniforms and hygiene standards.
And our special guest …
Mike Boriotti Jr., North Bellmore, N.Y.: For baseball, it's easy: Divide every team into two squads. The first has players trying to make the team; they play real games. The second features all the guys that already have jobs sewn up; they play beer league games. Tell me you don't want to see Albert Pujols try to hit Tim Lincecum's curveball drunk, or watch Justin Upton go full-bore and dive for what he thinks is the ball. Plus, it'll be just like a regular-season game for the Red Sox.
Page 2's Party of Five is a rotating cast of characters answering all of sports' most important questions. Check back next week to see who has joined the Party. No RSVP required.