Commentary
Page 2's Party of Five gets traded
Updated:
March 6, 2012, 2:30 PM ET
By
Page 2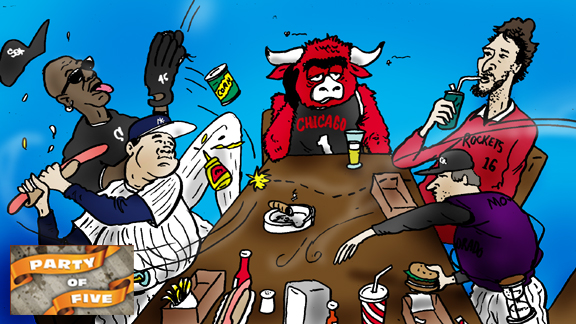 Kurt Snibbe/ESPN.comWhat's a worse trade: Boston dumping the Bambino, or the one Michael Jordan made in 1994?
We've all been there:
In the lunchroom, ready to bite into our homemade chocolate-chip, when the cool kid from homeroom offers us a delicious-looking wrapped snack in exchange for our precious cookie. And it seems like a solid trade … until we taste it and realize it's some store-brand nonsense, far inferior to the homemade goodness our mom packed for us.
Oh, trades. They can be confounding. Confusing. But also epic and advantageous. And with the NHL's trade deadline recently passed and the NBA's fast-approaching, our Party moves into the trade realm to discuss the best and worst transactions, ones that need to happen, and much more.
Don't forget: Each week Party of Five becomes a Party of Six! Just leave your best (read: funniest and/or most entertaining) answer to Question No. 5 in the comments section, and the winner will get to answer a question in next week's Party of Five. The winner will be picked by Wednesday evening; please check your ESPN Messages Inbox to see if you're the one.
1. What's the best trade of all time?
Zach McCann (@Zach McCann): The league-owned New Orleans Hornets received great value for Chris Paul in December, when the Los Angeles Lakers and Houston Rockets agreed to send Luis Scola, Kevin Martin, Lamar Odom and -- oh, wait. Nevermind.
[+] Enlarge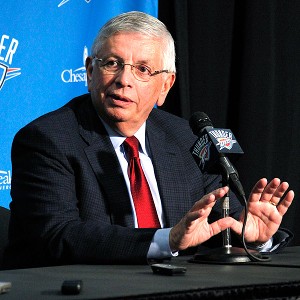 Layne Murdoch/NBAE/Getty Images"Whoa, whoa, whoa. The Hornets are giving up what?"
Vincent Thomas (@VinceCAThomas): It's probably some fantasy league trade we don't even know about. Somebody probably fleeced the league idiot and got double-double machine Greg Monroe for sweater-vested Amare Stoudemire and his knees.
Sarah Phillips (@SarahPhilli): In 1981, an NBA player traded his first name, Lloyd, for the name "World." Lloyd Bernard Free forever became World B. Free.
Zach Harper (@talkhoops): It was Marko Jaric to the Wolves for Sam Cassell and a future No. 1 pick. Yes, the Wolves ended up losing their first-round pick in this year's assumed loaded draft class. But Marko Jaric eventually was in a deal for Mike Miller and Mike Miller was traded for the pick that was used on Ricky Rubio. It warms my heart nightly.
Steve Etheridge (@stetheridge): If we're talking the best trade ever for all parties involved, I'd say Wayne Gretzky to the Kings from the Oilers. America got to claim hockey's greatest hero as our own, while Canada got to feel like a cool country for doing business with a world power.
2. What's the worst trade of all time?
McCann: In a classic episode of "Seinfeld," George Steinbrenner visits Frank and Estelle Costanza to inform them that their son, George, has died. While Estelle is distraught upon hearing the news, the first words out of Frank's mouth are, "What the hell did you trade Jay Buhner for?!" That about sums up how bad the Yankees' 1988 trade of Jay Buhner for Ken Phelps was.
Thomas: Dec. 18, 2010. Washington Wizards trade Gilbert Arenas to the Orlando Magic for Rashard Lewis. These were the two worst contracts in the history of the NBA.
Phillips: Michael Jordan trading playing basketball with the Chicago Bulls, for playing baseball with the Birmingham Barons.
Harper: It would definitely have to be trading four first-round picks for Joe Smith. When Kevin McHale did that for the former No. 1 pick, I just thought it was too much to give up. WHAT DO YOU MEAN HE LOST THOSE DRAFT PICKS BECAUSE OF AN ILLEGAL UNDER-THE-TABLE SIGNING FOR A ROLE PLAYER?!
Etheridge: When Boston shipped Babe Ruth to the Yankees for six jugs of moonshine, a stack of Liberty Bonds, and Jamie Moyer.
[+] Enlarge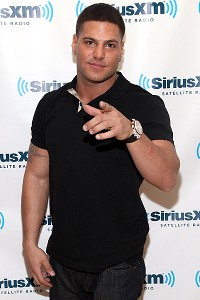 Taylor Hill/Getty ImagesSingle Ronnie has some advice for YOU, professional sports GM.
3. What rule about sports trades would you change?
Thomas: Why are players the only principals allowed in trades? There should be "sweeteners." Assistant coaches, cheerleaders … Clipper Darrell.
Etheridge: I'll second Vincent on this one. After watching the critically acclaimed sports documentary "Angels in the Outfield," I'm convinced that a lot of down-and-out franchises could be resuscitated if only divine favor was transferrable.
McCann: Third. Teams should be able to trade coaches. With both futures uncertain, imagine the Colts trading Peyton Manning for Sean Payton and letting Drew Brees walk. Win-win-win. Rajon Rondo and Doc Rivers not seeing eye to eye? Doc'll get the Celtics a nice racket (and Rondo sells more tickets). And who wouldn't love to see the Chargers dangle Norv Turner for a seventh-round pick?
Harper: Let's allow owners to trade entire organizations and include portions of their other businesses. What if Dan Gilbert could get out of Cleveland and return home to Detroit by dealing the Cavs organization for the Pistons and throwing in 10 percent of Quicken? Would the newly owned Cavs throw in a future first-rounder to get this done?
Phillips: Require all trade conversations become on the record and provide transcripts. I'm tired of these GMs getting all Single Ronnie, "deny, deny, deny" on us.
4. What's a trade that just needs to happen?
McCann: Orlando needs something to happen with Dwight Howard for the city's own sanity. The past three months have been like running the bath in front of a dog.
[+] Enlarge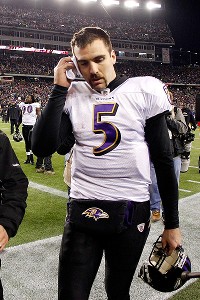 Rob Carr/Getty Images"Wait, what? James Harden wants to swap facial hair?"
Thomas: James Harden's beard for Joe Flacco's mustache. Harden is known as one of the more stylish pro athletes. But could he pull off the quintessentially blue-collar handle bar?
Phillips: The Jacksonville Jaguars to Los Angeles. Let's stop delaying the inevitable.
Harper: Gregg Popovich for Scotty Brooks. Let's pretend we can trade coaches like as been suggested in other answers. Can you imagine how beautiful the playoff basketball would be with Popovich running the Durant-Westbrook-Harden scoring hydra? I just got chills.
Etheridge: A four-way deal where Chris Paul goes to the Lakers, the Rockets take Pau Gasol, Kevin Martin and a few others move down to New Orleans, and David Stern is sent to Cracker Barrel, where he's not allowed to do any commissioning until he finishes one of those impossible golf tee games.
5. READER QUESTION: What's the best and/or worst thing about trade deadlines?
McCann: The best thing is every player saying he doesn't pay attention to the trade rumors and only focuses on his team getting better. Those are always insightful quotes. The worst thing about the trade deadline: It's one giant tease. It's like the Joan Harris of sports events.
Thomas: Disappointment is the worst product of the rumors and unrealistic expectations of the days leading up to trade deadlines. And I'm a man of empathy. It pains me to think about Derrick Rose waking up on March 16, the deadline having passed, knowing his best teammate would be the fourth best player on Miami.
Phillips: The best thing about trade deadlines is the amount of publicity "sources" receive.
Harper: The worst thing about the trade deadline is waiting for finding out who is going to wear what number for the new squad. You can't ever really picture a guy with a new team, until you know which number they'll be sporting.
Etheridge: The commentary in the weeks preceding a trade deadline is excruciating. Playing M*A*S*H during recess in second grade, I learned that there's no point in speculating about the future, as you'll ultimately end up incapacitated with anxiety, panicking about the economy and fearing the death of loved ones. But with that said … my secret inside source tells me Monta Ellis is a LOCK for Orlando.
And our special guest …
Drew D, Oklahoma City: Best: You see the alert on the ESPN ticker, and your team is receiving an All-Star. Worst: You see the alert on the ESPN ticker, and your team is receiving "cash considerations."
Page 2's Party of Five is a rotating cast of characters answering all of sports' most important questions. Check back next week to see who has joined the Party. No RSVP required.