Commentary
Most exciting sports day ever?
Updated:
March 15, 2012, 11:33 AM ET
By
DJ Gallo
| Page 2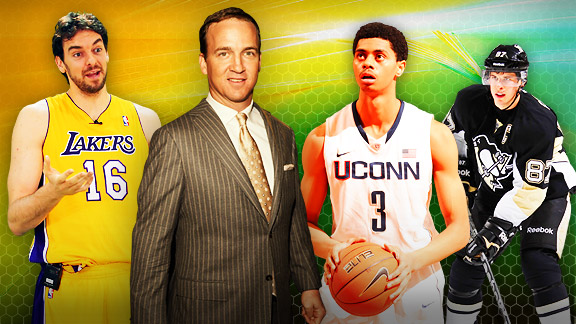 ESPN.com IllustrationNBA trades! NFL signings! March Madness! And Sid! Could sports fans ask for anything more?
Thursday is the first full day of the NCAA tournament. But it's so much more than that.
March 15, 2012, might go down as the most exciting day in sports history.
Get ready.
12:15 p.m. ET -- The first NCAA tournament game (or fifth if you don't call the Tuesday/Wednesday matchups "play-in games") begins: Colorado State vs. Murray State. If you haven't put in for a vacation day or laid the groundwork for a sick day by now, you're in serious trouble. You will need something major to suddenly leave work at 12:15. We're talking blood. Maybe some exposed bone. Does your office have one of those big paper cutters? One of those can take the tip of your finger off if need be.
12:40 p.m. ET -- The second game of the tournament tips off: Southern Miss vs. Kansas State from Pittsburgh. Holy crap. Pittsburgh. Sidney Crosby is playing hockey again in less than seven hours!
1:40 p.m. ET -- The Davidson and Louisville game begins from Portland. Have the Trail Blazers made any trades? They're looking to dump some players. Better check. You can't risk being the last to know that Raymond Felton and Kurt Thomas have been traded if you want to consider yourself a true sports fan.
2:10 p.m. ET -- Montana vs. Wisconsin gets under way. Meanwhile, the opening Colorado State-Murray State game is close to wrapping up. Is it a close game? This could be the craziest NCAA tournament ever! Is it a blowout? This year's NCAA tournament is a big letdown!
[+] Enlarge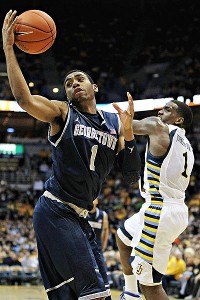 Jonathan Daniel/Getty ImagesNice grab, Darius Johnson-Odom. How about $40 mil from the Skins?
2:45 p.m ET -- Now it's time for the start of BYU vs. Marquette. The Golden Eagles are led by 6-foot-2, 215-pound Darius Johnson-Odom. 6-2, 215 is a perfect size for a wide receiver. Better check in on NFL free agency to see what receivers the Redskins have signed today. Ooh! Look at that! A four-year, $45 million deal for a fourth receiver. Good job, Mr. Snyder.
3:00 p.m. ET -- Opening-round coverage of the Transitions Championship on the Golf Channel begins. What's that? No Tiger, no Rory, no Phil -- and no one would care today even if they were all playing? OK. Perhaps there's something else going on at 3 p.m. on Thursday.
3:00 p.m. ET -- Ah, yes. 3 p.m. is also the NBA trade deadline. Are Carmelo Anthony, Pau Gasol and Rajon Rondo now on different teams? Has Peyton Manning made a decision yet? Sports news overload! This is awesome.
3:10 p.m. ET -- Syracuse opens its tournament against UNC-Asheville in Pittsburgh. With Fab Melo out, is this the year a 16-seed upsets a 1-seed? Is it?! No. Not even close. But you will get to hear a college basketball crowd chant for a hockey player for the first time in sports history. "Cros-by! Cros-by! Cros-by!" Less than four hours to go!
4:10 p.m. ET -- Long Beach State-New Mexico begins. Not exactly a headliner of a game. No matter. The details of all the NBA deadline deals are rolling in. Gasol for Lamar Odom. Interesting.
4:40 p.m. ET -- Harvard vs. Vanderbilt. Nerds! But nerds are good. Doctors are nerds. And a doctor reattached the tip of your finger earlier today and got you home in time to see the second half of Colorado State-Murray State. Yay for nerds!
6:50 p.m. ET -- Heavy tournament favorite Kentucky opens play against Western Kentucky in Louisville, Ky. There are a lot of sports highlights today, but this is probably the peak for the state of Kentucky.
[+] Enlarge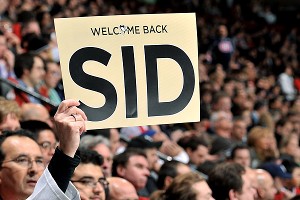 Francois Lacasse/NHLI/Getty Images"Basketball? What's basketball? Sid the Kid is back!"
7:00 p.m. ET -- Sidney Crosby takes the ice at Madison Square Garden! With just nine wins in a row, the Penguins can really use a shot in the arm. (By the way, the game is on NBC Sports Network. If you don't normally watch hockey, it might be hard for you to find. Chances are it's near truTV on your dial. Good luck.)
7:15 p.m. ET -- VCU and Wichita State open play. By now, the sports bar is filling up with people getting off of work who weren't smart enough to sever a finger. Idiots.
7:20 p.m. ET -- West Virginia and Gonzaga tip off in Pittsburgh before a crowd of zero.
7:27 p.m. ET -- South Dakota State-Baylor begins. Baylor, home of Robert Griffin III. Time to check the NFL free agency news again. If anyone is going to bid on Mike Wallace, now's the time to do it. All of Pittsburgh is distracted.
8:00 p.m. ET - The day's NBA action kicks off with … Wizards-Hornets. Hmm. Bit of a letdown. Good thing there are countless college basketball games on, as well as a hockey game between the two best teams in the Eastern Conference featuring the return of the best player in the sport. Oh, and what's this? David Stern is announcing that he is voiding the Anthony, Gasol and Rondo trades for "basketball reasons and/or because I'm bored," and Peyton Manning is about to announce his decision? Tonight might not be your night, Wizards and Hornets. Same as every night.
9:20 p.m. ET -- UConn and Iowa State get under way as Peyton Manning pulls on his Broncos jersey. Yes, Tebow speculation is now exploding on the same day as the opening of the NCAA tournament. ESPN's backup generators kick on.
9:45 p.m. ET -- The New Mexico State-Indiana game starts, and is Tebow an option for the Jaguars? What about the Cardinals? And ohmygod that's a game winner at the buzzer and Crosby just scored to win the shootout and Carmelo Anthony has David Stern in a headlock and John Elway is now openly mocking Tebow at Manning's news conference and the Redskins have signed Art Monk. Aaaaah. AAAAAHHHHH! My head hurts so good!
9:50 p.m. ET -- Ohio State begins tournament play against Loyola (Md.). You might need to relax a little bit, though. Check some golf scores.
[+] Enlarge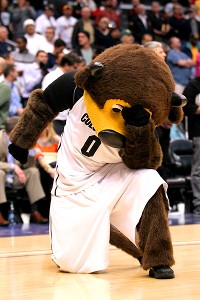 Stephen Dunn/Getty ImagesThe Colorado mascot isn't Tebowing. He's asking why Denver got Manning.
9:57 p.m. ET -- Colorado-UNLV is scheduled to tip off. But will it? What if the Colorado locker room splits along Manning/Tebow lines and the players refuse to take the court together? Not a problem. Three other NCAA tournament games are on. And Blake Griffin and the Clippers play at 10:30. He dunks!
1:00 a.m. ET -- The day's action is over. One hockey superstar returned. Three NBA stars traded and then untraded. An NFL legend picked a new team and put a football folk hero out of work. Blake Griffin dunked off of Steve Nash's face. And there were 16 NCAA tournament buzzer-beaters. To top it all off, the Wizards or Hornets won a game. An amazing day.
Tomorrow will be more relaxing. No NBA trade deadline, no Crosby, no Manning and the Redskins have no more roster space for receivers. Just 16 more NCAA tournament games. Also, Jeremy Lin and the Knicks have a game, but that stopped being exciting a few weeks ago.
DJ Gallo is the founder of SportsPickle.com. He has written a book and written for Comedy Central, The Onion and ESPN The Magazine. You can follow him on Twitter at @DJGalloESPN.