Commentary
Party of Five tackles NFL offseason
Updated:
March 27, 2012, 2:39 PM ET
By
Page 2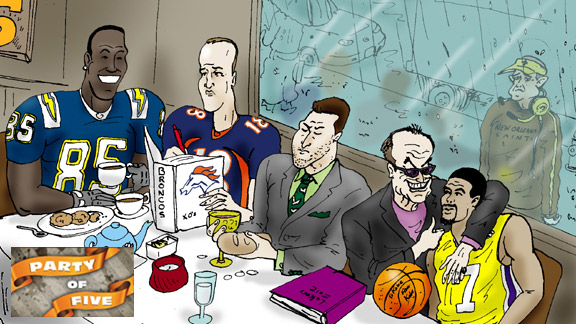 Kurt Snibbe/ESPN.comGates, Manning, Tebow and even Jack are invited to this NFL party! (Sorry, Sean Payton.)
The draft is still a month away, but most of the NFL offseason is behind us.
Or is it? After ManningGate, BountyGate and -- with rumors swirling around the New Orleans Saints coaching position -- perhaps even BillGate, who knows what's next?
Wait! Here's a group of five who do: Page 2 writers DJ Gallo, Sarah Phillips and Steve Etheridge, ESPN/Longhorn Network reporter Samantha Steele and ESPNLA reporter Arash Markazi. Join them for a discussion of all things football. (Warning: An Oscar-winning actor might crash the party, as well.)
And don't forget: You can work alongside our Party of Five! Just leave your best (read: funniest and/or most entertaining) answer to Question No. 5 in the comments section, and the winner will get to answer a question in next week's edition. The winner will be picked by the end of Wednesday; please check your ESPN Messages Inbox on Thursday morning to see if you're the one.
Now let's kick off this football discussion.
1. When it's all over, what will come of Peyton Manning to the Broncos?
DJ Gallo (@DJGalloESPN): A new, long-term contract for Norv Turner. Now the Chargers have a great excuse for not winning the division.
Arash Markazi (@ArashMarkazi): A nauseating amount of "Pain in the neck" headlines in local papers after Manning and the Broncos win this season. At least it will be a departure from the normal "He's the Manning" ones we've seen for the past 14 years.
Samantha Steele (@Samantha_Steele): Pat Robertson said it could end in injury and I'm sure the Westboro Baptists believe it will end in hell. Therefore, most likely, a Super Bowl.
Steve Etheridge (@stetheridge): Moving from Indiana to the Rockies is the topographical equivalent of eating only rice cakes for years and suddenly switching to chili peppers soaked in whiskey. It'll be too much to handle. I give it a month before he's in a 12-step program with The Situation.
[+] Enlarge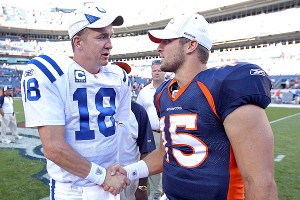 AP Photo/Greg Trott"'700 Club' party tonight." "My place or your place?"
Sarah Phillips (@SarahPhilli): "The 700 Club" televangelist Pat Robertson believes Peyton Manning's time with Denver could end with an injury, since the Broncos treated Tim Tebow "shabbily." Fans were shocked. Not by the comment itself, but by the fact that "The 700 Club" hasn't been canceled yet.
2. Tebow. Discuss.
Gallo: Everything that can be said has already been said. But much, much more is still going to be said anyway.
Markazi: How long before the "Tebowing" shot in Times Square becomes as cliché as the regular tourist shot in Times Square? It already has? Cool.
Steele: I'm sorry, but I can't do that. My bosses at ESPN told me very explicitly that I am never to speak of Tim Tebow. Unless it's a weekday. Or a weekend.
Etheridge: I wonder what the Jets are gonna do with all those unsold sixth-round pick jerseys.
Phillips: Even Tebow is tired of discussing Tebow.
[+] Enlarge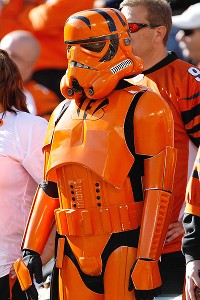 Scott Boehm/Getty ImagesWho knew the Cincinnati Bengals were actually the Evil Empire?
3. With Saints and bounties behind us, what will be the next big scandal to hit the NFL?
Gallo: SpyGate, BountyGate. I have to assume that Antonio Gates is up to no good. Goodell should suspend him now before the shield gets re-tarnished.
Markazi: There has to be a TebowGate, right? There has to be someway, somehow to work Tebow into the headlines if he's not playing.
Steele: Are you suggesting that men in their 20s -- with millions of dollars, an abundance of women, and unlimited access to drugs and alcohol in a job revolving around (controlled) violence -- could end up in a scandal? How dare you!
Etheridge: "Dey" will finally be identified … AS THE BENGALS' OWN FATHER. Skywalker/Vader storylines will emerge, appearances on "Maury" will be booked. It will divide us as a nation.
Phillips: NFL commissioner Roger Goodell will implement extensive safety rules which will reduce the NFL to a flag football league.
[+] Enlarge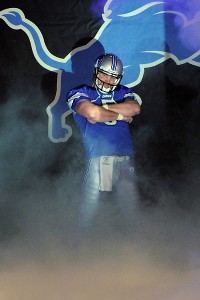 Mark Cunningham/Detroit Lions/Getty ImagesDrew Stanton has been practicing his angry pose since Detroit.
4. Best move this offseason?
Gallo: Jeff Saturday to the Packers. Everyone assumed he would follow Manning to Denver, but he decided Aaron Rodgers' hands are the hands he wants nestled underneath his butt at this time in his life. We can only wish him happiness.
Markazi: Drew Stanton demanding a trade and then getting traded from the Jets to the Colts mere seconds after the Tebow trade was finalized. Surprised he wasn't more down with being New York's Brady Quinn. There could have been an interview with GQ in it for him.
Etheridge: The Marios (Williams and Manningham), only because it's fun to imagine them teleporting through pipes and stomping on Goombas to get to their new cities.
Phillips: The 49ers signing free agent wide receiver Randy Moss is straight cash, homey.
5. Besides Manning, Tebow and bounties, what has been the biggest story so far this offseason?
Gallo: Probably Miami's failure to do anything. Parents, if you are worried your child may one day grow up to be incompetent, be careful what you name him or her. For example, jefFIREland makes it far too easy for those seeking his dismissal.
Markazi: This isn't NFL-related, but it happened this offseason: Jack Nicholson hugged Ramon Sessions after his debut as a Lakers starter this week and told him he was "the missing piece." The Lakers were just happy to get any piece for Luke Walton, who wasn't allowed near Mr. Nicholson during his nine seasons with the team.
Steele: When you say "Tebow," are you including Tebow's thoughts on global warming and Obamacare? Because if not, that should be at the top of the list. Other than that, I got nothin'.
[+] Enlarge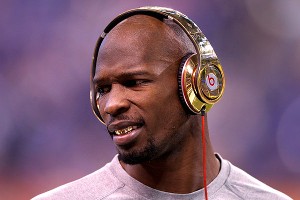 Elsa/Getty Images"Would these Beats look good in the Big Easy?"
Etheridge: Rob Gronkowski and his regression into "El Chupacabro," the young party monster getting his first taste of life without adult supervision. BROMG, dude, you're gonna be hung over 'til training camp.
Phillips: Rumors have dominated the headlines, and perhaps the biggest story is that none of them involve Brett Favre returning from retirement.
And now, our special guest …
Nick Vamvas; Albany, N.Y.: Chad Ochocinco reworking his contract to return to the Pats. By bringing back that kind of firepower, the Pats are a lock, Tebow willing, to play in the Super Bowl in New Orleans.
Page 2's Party of Five is a rotating cast of characters answering all of sports' most important questions. Check back next week to see who has joined the Party. No RSVP required.