Commentary
The NBA takes Broadway!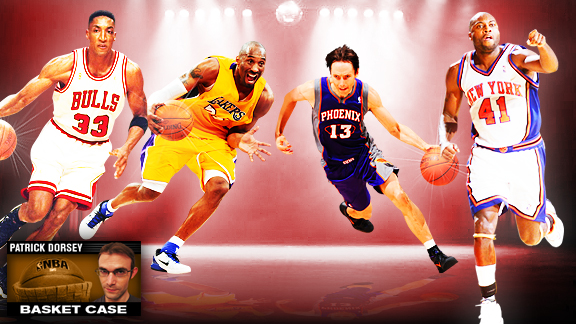 ESPN.com IllustrationPippen, Mamba, Steve Nash and Glen Rice are just some of the many NBAers destined for Broadway.
"Magic/Bird," the Broadway play, is here! Well, kind of. The official show opens April 11. Right now it's in previews, which are basically glorified dress rehearsals -- or, as they call it in the NBA, "playing the Bobcats."
That didn't stop the Indiana Pacers -- whose general manager is the titular Larry Bird -- from seeing the show Tuesday night during the team's road trip to New York. It also didn't keep them from liking the thing, as told to The Indianapolis Star.
And it can't keep us from imagining some more NBA-themed Broadway plays we'd like to see. So, inspired by many theatrical works already in existence, here's a lineup of shows sure to win numerous Tony (Allen) Awards:
"Mamba Mia": An NBA star (Kobe Bryant) puts three talented frontcourt players (Shaquille O'Neal, Pau Gasol, Andrew Bynum) through their paces to determine which one is his true basketball soulmate. Turns out it's none; the player decides he can do everything himself.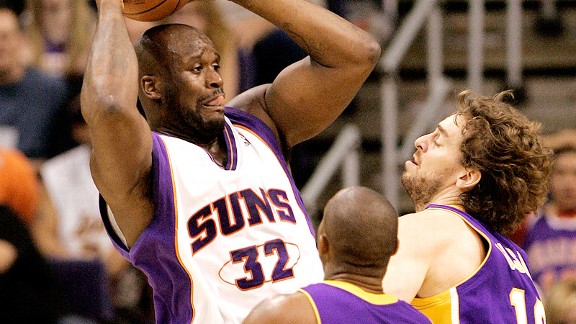 AP Photo/Matt YorkWho will win Kobe Bryant's heart: Shaquille O'Neal? Pau Gasol? Someone else? No one?
"The Book of Mormon": Glued to the bench, Jimmer Fredette reads "Twilight" while the Kings play a basketball game.
"Pippen": Forever in the shadows of a much greater force despite winning countless trophies, a Chicago Bulls forward searches for the real meaning and purpose of his life.
"The History Boys": Ray Allen, Paul Pierce and Kevin Garnett tell the Boston Celtics' young whippersnappers about their rookie seasons.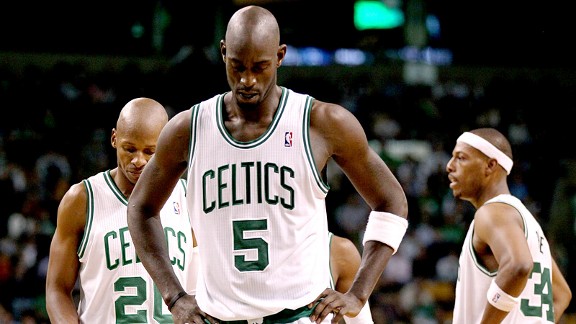 Elsa/Getty ImagesBoston: Where waiting for the shuffleboard court can get pretty exhausting.
"EddiePlusRex": Ed Pinckney and Rex Walters combine to create a decent inside-outside combo for the 1995-96 Philadelphia 76ers. Not one of the characters' mothers is mentioned at all, so don't even go there.
"Chicago": Lots of dancing. None from Derrick Rose.
"Les Miserables": Bobcats and Wizards fans meet to watch a game. In Seattle.
"Glengarry Glen Rice": A former NBA forward starts his second career as a low-level real-estate agent, selling plots of land over the phone while bosses Mitch (Richmond) and (Lamond) Murray threaten his job at every turn. With Alec Baldwin as Tim Donaghy.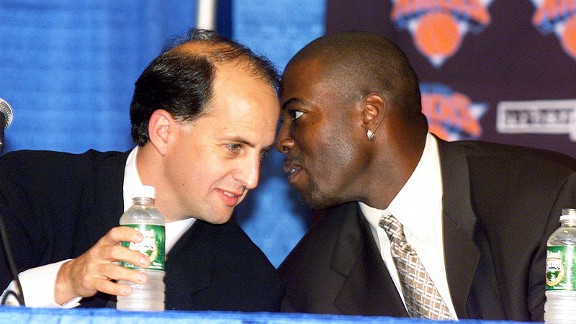 Keith Torrie/Getty Images"Hey, Jeff, can I get some joe?" "Not unless you're Chris Paul. Coffee is for closers only."
"Joseph and the Amazing Technicolor Dreamcoat": Joe Wolf puts on his first 1990s Denver Nuggets jersey.
"The Lyin' King": The story of Carlos Boozer's 2004 offseason (to be staged only in Cleveland).
"Who's Afraid of Joe Wolf?": Everyone, when they see his Technicolor Dreamcoat.
"The Odd Couple": A funny, fresh take on the friendship of 5-foot-3 Muggsy Bogues and 7-foot-7 Manute Bol during their 1987-88 season with the Washington Bullets.
"The Odd Couple" (Off-Broadway): With P.J. Carlesimo and Latrell Sprewell (warning: contains violence).
"I Never Sang For My Father": Stephen Silas refuses to join choir as a youngster. Years later, his dad, Paul, punishes him by making him coach the Bobcats.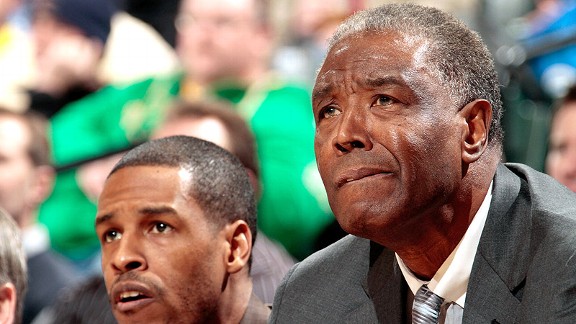 Ron Hoskins/NBAE/Getty ImagesA father's disappointment takes form in him forcing his son to coach the league's worst team.
"Phantom of the Opera": Starring Richard Hamilton. Duh.
"Little Shop of Horrors": Joe Dumars tries to re-sell his recent free-agent signings.
"A Few Good Men" (Or: "Just One Good Man, Please Just One)": Hornets GM Dell Demps sings his roster desires to overlordNBA commissioner David Stern, but gets the cold shoulder. Will he eventually win Stern over? (Spoiler: No.)
"Jersey Boys": After the Nets move to Brooklyn, some teenage kids from Clifton try to restart NBA basketball in the Garden State. But they're spurned by all free agents, so they must play themselves. And they still do better than this year's New Jersey team.
"La Cage Aux Folles (The Birdcage)": Boris Diaw visits a chicken farm to pick out his next cordon bleu.
"A Raisin in the Suns": Steve Nash tries to convince his Phoenix teammates to eat healthy foods, like dried fruit.
"Lost in Yonkers": Dwight Howard is baffled by public transportation during his first day as a Brooklyn Net.
"The Sunshine Boys": Ray Allen, Paul Pierce and Kevin Garnett tell the Boston Celtics' young whippersnappers about their sophomore seasons. Set in the Valley retirement community Sun City; a sequel to "The History Boys."
"Topdog/Underdog": The Chicago Bulls have a "dress rehearsal."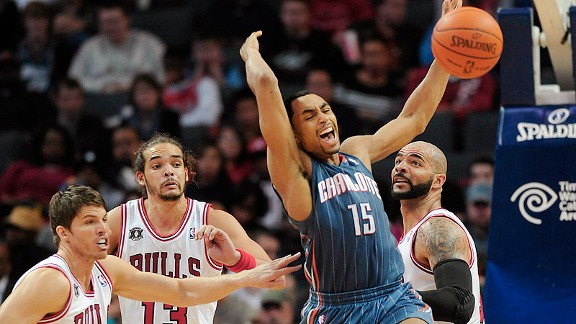 David T. Foster III/Getty ImagesAs evidenced by this play, the Charlotte Bobcats clearly are not yet off book.
CULTURALLY BEREFT TWEET OF THE WEEK
This came just an hour or so after the Pacers left "Magic/Bird." Did we not gain an appreciation for theatre?!
Full disclosure: The play did get at least one good notice from Pacers Nation.
IN PICTURES. AND WORDS.
And the Tony (Parker) Award nominees for Best Actor are …
And …
(h/t TrueHoop)
• Awarded in Absentia: Anderson Varejao.
• Lifetime Achievement Award: Vlade Divac.
[+] Enlarge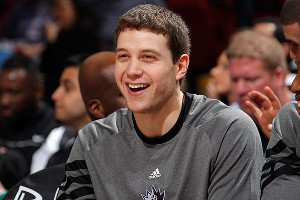 Rocky Widner/NBAE/Getty ImagesRousing! Gut-busting! A must-see Broadway show!
CRYSTAL (BASKET)BALL
Kings at Jazz, Friday: "The Book of Mormon" plays its second show in Utah.
Trail Blazers at Clippers, Friday: Vinny Del Negro hears heckling from the owner's box and worries it's for him, but turns out it's just Donald Sterling watching Baron Davis highlights on his iPad.
Hornets at Lakers, Sunday: Just before tipoff, the lights go down and on the JumboTron screen pops David Stern, laughing like some super-villain about to deliver a sinister message. Cut to: Highlights of Chris Paul in a Clippers jersey. Burn.
Hornets at Lakers, later Sunday: Andrew Bynum does his own version of the famous Michael Jordan/Larry Bird/H-O-R-S-E/McDonald's commercial. In the middle of the fourth quarter.
Warriors at Timberwolves, Wednesday: Golden State owner Joe Lacob wants his top-seven-protected first-round pick back. Mark Jackson says he's coaching "The Bad News Bears." You know what that means: Tatum O'Neal at point guard, and that kid who played Lupus at center.
Patrick Dorsey is a Page 2 editor. He averaged 12 points per game as a second-grader in YMCA hoops; all other basketball court records have been sealed. He can be reached at bypatrickdorsey(at)gmail(dot)com and is on Twitter (@DorseyPatrick).