Commentary
Party of Five is ready to play ball
Updated:
April 5, 2012, 10:38 AM ET
By
Page 2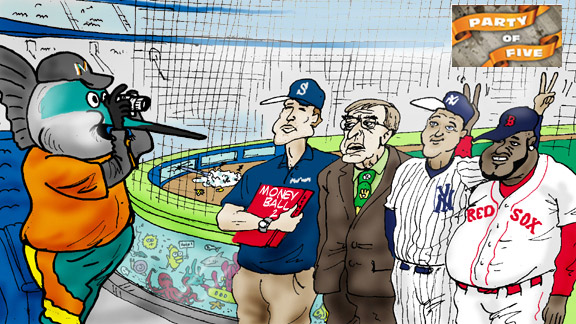 Kurt Snibbe/ESPN.comAnother day at the park, with the Yanks and Sox mixing it up, while Bud and Brad ponder the future.
Play ball!
(Again.)
Yes, the season might already have started for a couple of Major League Baseball teams, but this week marks the first action for the full slate of franchises. And oh what a season it should be. New looks. New faces. New rules. And who could forget those two certain teams in the American League East? (The Blue Jays and Orioles, of course.)
So let's get to it with our special panel, one featuring ESPN baseball writers Jim Caple and Christina Kahrl, ESPN Los Angeles' Arash Markazi, and regular Page 2 contributors Cam Martin and Art Garfamudis.
And don't forget: You can work alongside our Party of Five! Just leave your best (read: funniest and/or most entertaining) answer to Question No. 5 in the comments section, and the winner will get to answer a question in next week's edition. The winner will be picked by the end of Wednesday; please check your ESPN Messages Inbox on Thursday morning to see if you're the one.
Now like we said before: Play ball!
1. What most excites you about the 2012 baseball season?
Cam Martin (@CameronDMartin): As a Red Sox fan, the most exciting aspect of the 2012 season is that John Lackey won't be part of it.
Arash Markazi (@ArashMarkazi): Trying to cram as many Frank McCourt parking-lot jokes as I can within the first couple of months in the season before they get old. Dodgers fans won't agree, but the man was comedy gold in this city. At least we still have Donald Sterling.
Art Garfamudis (@ArtGarfamudis): That there is no strike. The stoppages in 1981 and 1994-95 made me so paranoid that I'm relieved whenever a day's baseball games proceed as scheduled instead of everyone joining a picket line. Even though there's no labor strife in the air, I still worry. See what those mustachioed, mulleted, scrawny, old-time players did to my head? They wrecked me.
[+] Enlarge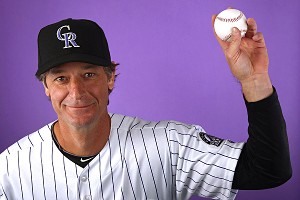 Christian Petersen/Getty Images"I caught this ball at the first baseball game! Ever."
Christina Kahrl (@ChristinaKahrl): The mayhem to come in the National League East should be a six-month brawl. The Phillies and Nationals rotations will prevent runs, the Braves' lineup will score runs, and Miami's Ozzie Guillen will run his mouth. It might even live up to the standards of Art's mustachioed mullet-heads of '78 -- but with a pre-programmed tiebreaker.
Jim Caple (@JimCaple): That at age 50, there is still one major leaguer who was born the same year I was. As long as Jamie Moyer is pitching, I think I can still put off that colonoscopy.
2. Red Sox & Yankees. Discuss.
Martin: The Red Sox suffered the worst September collapse in MLB history, and the Yankees didn't really capitalize, failing to reach the World Series. The Yankees of my youth would have piled on the Red Sox's misfortune by sweeping the World Series and driving Red Sox fans into jealous delirium. But these Yankees have gotten a little soft, and that is probably why they brought back this notorious clubhouse sheriff.
Markazi: This is like asking me to pick my favorite Kardashian. Which overpaid, overhyped, overexposed one should I choose? I'll go Yankees, but like Kim I reserve the right to change my mind and dump them in 72 days.
[+] Enlarge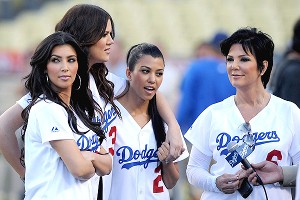 Kirby Lee/Getty ImagesDodgers? Shouldn't the Kardashian family be wearing Yankees and/or Red Sox jerseys?
Garfamudis: We are living in their universe. We are breathing their air and drinking their water. They maketh the sun riseth and setteth. All else is background noise.
Kahrl: When one of them once again doesn't make the postseason, they will have again provide satisfaction and schadenfreude in equal measures to the tens of millions of baseball fans who just see them as the two branch campuses of the same parochial Evil Empire.
Caple: With the rise of the Angels and Rangers, the resurgence of the Giants and Dodgers (for $2 billion, Magic and the new owners will have to charge L.A. fans to leave in the seventh inning) and the growth of the Cardinals-Brewers, the Yankees-Red Sox rivalry has become such a non-factor that I think only 18 of their 19 games will be nationally televised.
3. So about those Miami Marlins …
Martin: Miami's new home run sculpture will honor Marlins home runs with a production that includes spinning marlins, twirling seagulls, flapping flamingos and spouting water. Logan Morrison said of the 75-foot display: "It's very colorful, very innovative. I think there is no need to hold out your bat when you hit a home run and walk down the line anymore, because the stadium will pimp it for you." Unfortunately Morrison will have to continue to pimp for himself when he's on the road.
[+] Enlarge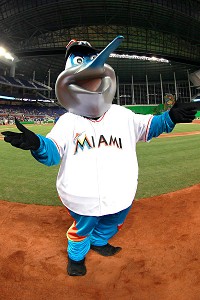 Joel Auerbach/Getty ImagesBilly the Marlin, we don't even know who you are anymore.
Markazi: The Marlins' new motto should be, "Come for the game, stay for the sculptures … or vice versa … just come to the darn games already!"
Garfamudis: Too much change at once is a bad thing. I say pick two things and go with those. New unis and new players? OK, that's fine. But throw in the new stadium and the new place designation on top of that and you're begging for disaster. Fans are going to be overwhelmed. Many will have breakdowns and hurl themselves into the ocean. Still others will question if they're living in a dream state. Chaos could very well ensue.
Karhl: The Lorians' methods might have been vile, but does the end justify the means? They didn't play the (now) cookie-cutter postmodern architecture game. They brought in the last great dugout personality, but Ozzie's more than that -- he's also one of the best tacticians around. Giancarlo Stanton could be for the franchise what Ken Griffey Jr. was for the Mariners. The Mets might have painted Sinatra on their home, but it's the Fish who are truly doing things their way.
Caple: I think they'll spend the whole summer wondering why the new stadium has a retractable roof if it's closed almost every game.
4. What will be the most compelling battle -- outside of Yankees/Red Sox -- in the 2012 season?
Martin: The most compelling battle will actually be two battles: the two one-game playoffs between the wild card teams, which we'll see for the first time this year with the expanded playoffs. With luck, an 85-win team will knock off an 100-win team in one of those matchups, allowing millions to complain about the unfairness of it all.
Kahrl: Ah, if they complain about the new playoffs rule, fickle observers will just be swapping one injustice du jour for another. After all, there's this one: Will the shenanigans of the new postseason setup finally let the Blue Jays break the "geography and schedule as destiny" mold of the last 20 years?
Markazi: Is it too soon to say the impending legal battle between Frank McCourt and the Magic Johnson ownership group? I mean, we're talking about a guy who has been to court more than Judge Joe Brown. L.A. loves Magic, but his group just got in bed with a man with more lawsuits to his name than theaters and gyms with Magic's.
Garfamudis: The eternal conflict between bat and ball. That's baseball's oldest rivalry when you think about it: bat trying to kill ball and ball trying to avoid bat. For a while there in the late '90s/early '00s bat got the upper hand, but ball has made a comeback lately (with a big tip of the cap to the Mariners). Sometimes when I'm watching a game -- depending on how many whiskey smoothies I've had -- I forget which teams are playing and concentrate entirely on this epic struggle and it enthralls me.
Caple: After pitching mostly in domed stadiums his entire career, the battle for Yu Darvish not to sweat away half his body weight pitching all summer in the 100-degree heat of Texas.
[+] Enlarge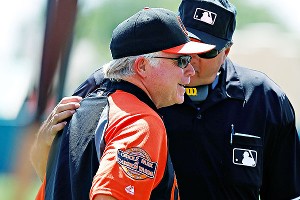 J. Meric/Getty Images"Wait, we're eliminated from the playoffs already?"
5. Finally, what is one more certified guarantee for Major League Baseball in 2012?
Martin: I guarantee a Philadelphia fan will do something that will cause a reporter to ask Jonathan Papelbon, "So, do you still think Phillies fans are smarter than Red Sox fans?"
Markazi: That the Baltimore Orioles' postseason hopes will end about 12 seconds after their Opening Day ceremonies on Friday.
Garfamudis: Getting a taste of play-in-game blood on his snout, Commissioner Selig will immediately begin pushing for the addition of more playoff teams for 2013.
Kahrl: Too much, too soon on the hype front disappoints the nattering nabobs of newness: Mike Trout, Bryce Harper and Yoenis Cespedes will all "disappoint" people who demand instant gratification and greatness. And like Jason Heyward will this year, those three will get over it and do just fine on their careers.
Caple: There will not be a movie starring Brad Pitt as Mariners general manager Jack Zduriencik.
And our special guest …
Ian McLarty -- Sault Ste. Marie, Ontario: After a road trip to Texas and sampling the Rangers' two-foot monster hot dog, Prince Fielder will declare that he has returned to a vegetarian diet.
Page 2's Party of Five is a rotating cast of characters answering all of sports' most important questions. Check back next week to see who has joined the Party. No RSVP required.