Commentary
Dwight Howard headlines Junk Mail!
Originally Published:
April 6, 2012
By
Sarah Phillips
| Page 2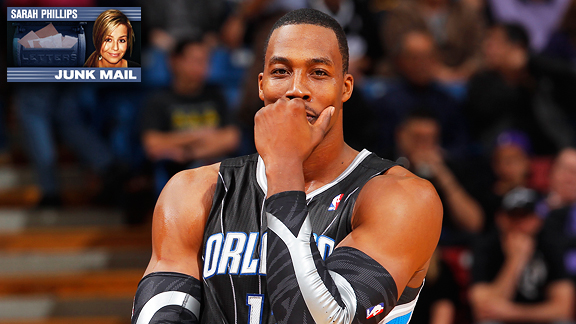 Getty ImagesShortly after recommitting to Orlando, Dwight Howard apparently is uncommitted to Stan Van Gundy.
Mary Beth from Norman, Okla., writes, "'Junk Mail' is a fascinating mix of sports, pop culture and humor. I love it!"
Richard from Albuquerque, N.M., writes, "Is your column called 'Junk Mail' because it's junk?"
That's the growing reaction to this column. You're either all in ... or you're not having any of it.
Almost no one seems to think the material is mediocre. That's my next target demographic.
Now let's get to the rest of this week's Junk Mail.
---
[Magic coach Stan] Van Gundy vs. [Magic center Dwight] Howard. You know the story. Van Gundy is in the wrong. During his pregame interview on Thursday, he totally set up [Dwight] Howard to fall on his face by airing the Magic's dirty laundry. Am I right?
--Susie, Orlando, Fla.
This is the best analysis I've read on the Magic situation. Van Gundy must've told Howard to tell management to fire him, so he could flip it back on Howard during an interview. What a manipulative genius!
In one of your columns, you said [former Knicks coach Mike] D'Antoni has a future as the Pringles mascot. If Stan Van Gundy leaves Orlando, are there any non-basketball jobs out there for him?
--Jose, Orlando, Fla.
With blue overalls and a red hat, Van Gundy could pass for Super Mario.
Is Van Gundy versus Howard the greatest boss-employee battle ever?
--Keenan, Orlando, Fla.
No. That distinction belongs to Stone Cold Steve Austin and Vince McMahon.
How do you think locals are responding to Howard's alleged move to get Van Gundy fired?
--Julio, Miami
Positively. If Howard gets Van Gundy fired, Miami fans will ask him to take out Dolphins general manager Jeff Ireland next.
Kanye West recently confessed his love for Kim Kardashian in his new song, "Theraflu." West says, "And I admit I fell in love with Kim, 'round the same time she fell in love with [Kris Humphries]. Well that's cool baby girl, do your thing, lucky I ain't had Jay drop him from the team." Stupid, right?
--Wanita, Cleveland
I can't figure out what's more ridiculous, 1) The song is named after cold medicine or 2) Kanye West insinuating that he could have had Jay-Z cut Kris Humphries from the Nets. Has he looked at New Jersey's depth chart?
Do you expect Kris Humphries to respond to Kanye West's rant?
--Justin, Tacoma, Wash.
I hope he does. For comedic effect, he should reply in a full-page NyQuil ad.
What's going to be the most awkward moment in the West/Kardashian romance?
--Alicia, Pittsburgh
Probably when Kim figures out Kanye isn't a professional athlete.
Will Kanye West and Kim Kardashian live happily ever after?
--Celeste, Los Angeles
No chance. Both are already in engulfing, loving, committed relationships ... with themselves.
When Blake Griffin dunked on Kendrick Perkins earlier this season, [teammate Kevin] Durant stood up for [Perkins]. When Griffin dunked on Pau Gasol this week (twice!), Kobe [Bryant] was more concerned with the win than with defending Gasol. Why do you think Kobe brushed off the poster dunks as no big deal?
--Roger, Pittsburgh
Feelings don't exist in Kobe's world. This is lesson No. 8 of the Kobe System, nestled somewhere between deflecting blame and developing a wicked underbite the Kobe Face.
People are gettin' on Kobe for not standing up for Pau after he got posterized by Blake Griffin. Media overblowing another story. How would you react if one of your teammates just got dunked on?
--Russ, Los Angeles
I would have reacted exactly how Lakers center Andrew Bynum did. I have no shame.
I want to buy my boyfriend tickets to a Lakers-Spurs game. He's a huge Spurs fan, but he has a really annoying habit of wanting to go to the games early so he can yell and ask the players for autographs. It's so embarrassing. He's 24 years old. Is this normal?
--Amy, San Antonio
No way. Once you become an adult, the only autograph you should care about is the one on your paychecks.
Baseball is back! Are you excited?
--Seth, Mesa, Ariz.
The start of MLB's regular season reminds me that football is only a couple of months away! So in a sense, yes, I'm thrilled.
TMZ recently caught up with Tim Tebow while he was getting a pedicure. God, what's next?
--Mark, New York
I don't think you're the only Mark from New York who will be complaining about Tebow's overexposure in the coming months.
How do you think quarterbacks around the league reacted to [Ravens quarterback Joe] Flacco calling himself the best QB in the NFL?
--Chuck, Baltimore
Except for Eli Manning, who reacted like this.
Submit questions to Sarah Phillips at JunkMailESPN@gmail.com. You can follow her on Twitter @SarahPhilli.