Commentary
Michigan tailgaters go blue (and maize)
Updated:
September 29, 2011, 8:51 PM ET
By
Amy Parlapiano
| Special to Page 2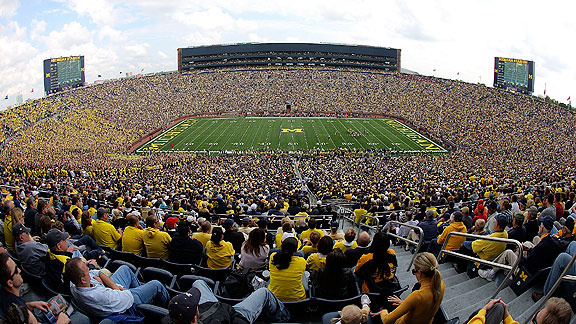 Leon Halip/Getty ImagesTailgating outside Michigan Stadium involves almost as much strategy as the game itself.
ANN ARBOR, Mich. -- If you're waking up in Ann Arbor on a Saturday in the fall, a few things are currently happening in your life: (A) You happen to be lucky enough to be in the ideal location for college football; (B) you will probably be cold at some point; (C) you were awakened by some kind of combination of a cowbell, a "Go Blue!" chant, honking cars, "The Victors," or blaring techno music that college kids are dancing to on top of ledges outside their houses; and (D) whatever time it was that said above circumstances woke you from your slumber, hundreds and hundreds of hard-core Michigan alumni have been setting up camp in their respective tailgate spots for hours already.
Ann Arbor tailgaters mean business. Yes, the team has floundered the past three years, but it's quite clear that the tailgates themselves never went through a similar rough patch. Through the good, the bad, and the Rich Rod, these die-hards have stayed stationed under their tents at their regular spot, grills by their sides.
So if you want to join the tailgating any coming Saturday as a newbie, no worries -- you'll definitely be accepted by the friendly regulars. But you will need to know what to expect before you try to assimilate with the Maize and Blue faithful, so let's take a hypothetical stroll south down to Stadium Drive on a Saturday morning -- say we're heading out around 9:45 a.m. for a noon game -- and observe the four key components of what makes a successful pregame festivity in Ann Arbor.
Michigan Tailgating Photo Gallery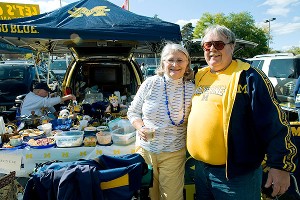 Click here to browse through Page 2's photo gallery of the atmosphere in and around a University of Michigan tailgate.
1. The spirited setup: The setup is the Bo Schembechler of a Michigan tailgate. It's the foundation of everything you're about to embark upon. You have to tailgate like a true Michigan Man or Michigan Woman. After all, the slogan of Michigan football this season is "This is Michigan" and these fans will make sure you're 100 percent sure of where you are.
As you approach the various parking lots, they'll be lined with nothing but rows and rows of collapsible maize and blue Michigan tents. Have a gray tent or a white tent or a beige tent? Sorry. Try again.
The napkins, the plates, the utensils and the tablecloths all have to fit into the maize and blue color scheme as well. Those are just the basics -- there are endless options of appropriate extra paraphernalia that you can display between the different dishes of food to make your setup exponentially more spirited. Spotted along the way: a Tom Brady figurine, a Michigan gnome, a mini statue of Bo Schembechler, and multiple inflatable bears dressed in Michigan jerseys. But even beyond all the decorative work, perhaps the moment that would make Schembechler most proud takes place around two hours before the game when three big University of Michigan buses carrying the football team drive by. Suddenly, the plates of hot dogs and cups of beer are set down onto the decorated tables and the entire lot breaks into applause as they pass. It's clear what defines a football Saturday in Ann Arbor is these die-hards love their team even more than they love their tailgates, grills and inflatable bears.
2. The spot: A simple parking spot can be easily overlooked, but this is absolutely key -- it's your punter. Field position means everything to a tailgater, and you must mark your territory.
Some have switched location through the years, such as Don DeMallie and his tailgate partner since 1984, Tim McCaughey, who have moved from one lot to another over the past 25 years. They're currently based in a lot on South Division, right across the street from where the band practices.
"It's like an ecological system over here," they say. "We have people that come and pick up the trash and take the empties and by the time we drive away at the end of the night, the lot is pretty clean. It's a good group."
But don't expect to get such a prime spot just by sauntering over at your own pace. In a different lot, Steve Rinke, who graduated in 1992 and started tailgating regularly in 1996, knows that securing his spot means getting there early -- and in some cases, a little bit too early. "We started at 10:30 in the morning the day of the Notre Dame night game," he says. "Then the cops paid us a little visit to tell us the lot didn't open for another two hours."
Don Kolis knows the feeling. Over at the main parking lot right outside the entrance into the Big House, Kolis has quite the corner reserved. His RV is draped with a giant banner that reads "The Kolis Family Kickoff Tailgate," one of those giant inflatable bears is by one of the doors, and a satellite dish is attached to the top as a big group gathers to watch pregame coverage.
"We're usually here by 6:30 a.m. every game day no matter what," Kolis says. "Well, except the Notre Dame game … the lots didn't open until a few hours later than usual that day, so that was kind of annoying." But otherwise, 6:30 a.m. is the time of arrival. "Kickoff time is irrelevant," he says.
And Kolis isn't one to mess around -- his streak of tailgating at Michigan's home and away games goes back so far he almost can't remember the last time he missed one -- he's certainly been at every game since at least 1977, he says. The RV Kolis has set up is reserved specifically for tailgating, and although the TV is clearly one of its most appealing aspects, he says that "music is our thing here. And beer."
At the end of each home game, a screen is brought over and set up right next to his RV, and everyone watches the rest of the college football games until late into the night. And the night of the epic Michigan-Notre Dame game early this season?
"You don't even want to know what time we left," he says, eventually revealing that it wasn't until 3:30 a.m. that he and his group finally parted ways with their precious lot spot. "We were celebrating!"
[+] Enlarge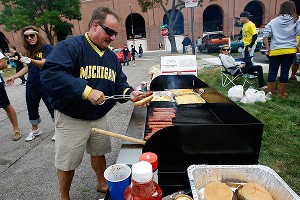 Scott Boehm/Getty ImagesAt Michigan you can meet the grill of your dreams.
3. The food: Arguably the most pivotal part of the tailgate, the selection of grub is your offensive line: If it has a rough game, your chances of making big offensive moves and surpassing the tailgate displays of those neighboring vehicles are severely limited. And the importance of this can't be downplayed because things can get a bit competitive. DeMallie and McCaughey say that although they're friends with their fellow tailgating comrades throughout the lot, the process can also become a bit of a friendly competition.
"It becomes kind of an arms race," they say. "We're always looking over at each car near us, thinking, 'All right, what are they bringing, what do they have?'" Over in another lot, Greg Viscomi, who graduated in 1984 and has been coming to Michigan games for 40 years now, and his wife, Christina Viscomi, along with their friends and former roommates from college, have a table set up that's heavy on sweets and creativity. Two treats in particular stand out -- the crispy rice treats that are M-shaped and colored maize and blue, and the plate of absurdly amazing-looking brownies that they insist I try because they're "Millie Schembechler's recipe!" See what the Viscomis & Co. have done here? They've combined two key components of the tailgate into one, meshing together spirit and tradition with delicious ingredients -- a play call that Bo Schembechler would surely be proud of.
Back in their lot, DeMallie and McCaughey have a bit more of a system going with their arrangements. "Listen," McCaughey tells me, gesturing toward his table of well-organized food items. "There are really two phases of tailgating: the pre-tailgate and the post-tailgate, and with that comes two phases of food -- the breakfast/brunch portion, and the dinner portion."
The two of them explain that they usually pick their food items based on the opponent for the week. This particular day, Michigan was playing San Diego State, so they explain their item selection in detail. "Well, San Diego's near Mexico, so we have some tequila. And we brought some salsa from Southern California, and for dinner we originally planned on making fish tacos and some halibut."
When Wisconsin comes to town, they prepare some cheese soup; for Notre Dame it was corned beef sandwiches and Guinness. And what's the specialty for Ohio State? "Drink heavily. There isn't really anything good in Ohio, anyway."
4. The friends: The backbone that holds it all together. A tailgate without good friends would be like this year's Wolverines with no Denard Robinson -- they'd instantly become unexciting and lose their main appeal. Everyone who was asked said the No. 1 component for a successful tailgate is the people who are with you. Don't come to a tailgate in Ann Arbor without your buds -- even if this means taking some non-Wolverines along for the ride.
Jeff Ducharme, who tailgates in a lot next to a giant Michigan-decorated school bus, has been coming every Saturday for the past six years with his fellow U of M alumni, including some who make the trip from out of state every weekend. "We've gotta keep the blue running through our veins," he says. Well, at least most of them do -- except their friend Clarence, who, in his conspicuous Western Michigan sweatshirt, blurts out "Go Broncos, the brown and gold always in our hearts!"
Similarly, DeMalley and McCaughey have served as hosts to opponents at their tailgates -- some friends from Lansing, Mich.; some from South Bend, Ind.; and, yes, even some from Columbus, Ohio. "We don't feed the Buckeye people, though." Ah, friends.
Sadly, at some point, it's going to be game time, and you're going to have to pull yourself away from the festivities. The walk over is its own event, as you'll be heading over with those same die-hards who've been at their spot with their coffee and their beer since 6:30 a.m., so you're going to have to prepare yourself for a few things as you walk toward the stadium.
First off, random Michigan fans, some who are clearly inebriated students and some who are clearly inebriated grandmothers, will jump into the street and start high-fiving you. Embrace this. You will also probably see a few people running through the streets dressed up as Gumby. No, this doesn't make sense, but yes, embrace it. Most importantly, there will be some interactive chants that will be pivotal to learn.
At any given moment, people will begin pointing at you and yelling "Go!" Your job is simple: Point back and respond with "Blue!" See what you've created here? Also, make sure you realize that at times, the "Go" and the "Blue" will start sounding strikingly similar and you'll have no idea which one you're actually supposed to be shouting. If this occurs, remain calm and think on your feet like Denard would do -- just yell out "Glue!" with a lot of gusto. Best of both worlds. With such quick thinking, you're already on your way to being the kind of champion Schembechler would want to stay around for another week of Michigan football -- and more importantly for you, another week of Michigan tailgating.
Amy Parlapiano is a freelance writer based in Ann Arbor, Mich. You can e-mail her at amy.parlapiano@gmail.com and follow her on Twitter at @amy_parlapiano.