Commentary
'A holiday that takes over the campus'
Originally Published:
October 20, 2011
By
Doug Ward
| Special to Page 2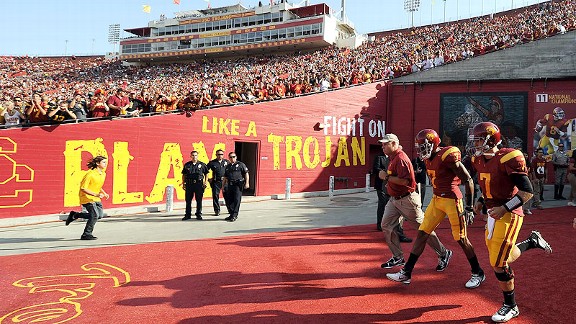 Harry How/Getty ImagesDespite being banned from all bowl games, USC and their fans' spirit haven't been dampened.
LOS ANGELES -- It's a cloudless fall morning and the tailgate party on the University of Southern California campus is so big it makes a city with a sprawl of 15 million people feel small. The University Park neighborhood that surrounds USC is awash in cardinal-and-gold-clad Trojan students, alums and fans, effectively creating an insular college town of 67,707.
With no NFL team to call their own, Angelenos have come together like small-town neighbors for today's USC-Arizona game. Here, on the former stamping grounds of alums as divergent as Neil Armstrong, Frank Gehry and Will Ferrell, the disparate denizens of Los Angeles grill burgers, fry tortillas and make craft beers disappear, transforming USC's urban campus into one big backyard barbecue.
"The greatest venue for tailgating anywhere," Celeste Wallace, a 1980 USC pharmacy graduate, says proudly.
Tailgating Gallery, Recipe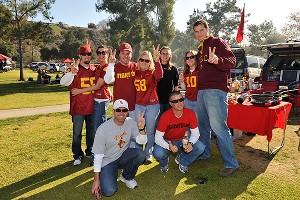 Click here to browse through Page 2's photo gallery of the atmosphere in and around a USC tailgate.
Check out Matty O'Neil, aka The Cooking Coach, serving up a tasty pumpkin shake just in time for Halloween tailgating.
And enter the ESPNLA (710 AM) Ultimate Tailgater contest here.
Inside Heritage Hall, six Heisman Trophies greet visitors and recruits. Outside the iconic building, pregame festivities near a crescendo two hours before the 12:30 p.m. kickoff as Dr. Arthur C. Bartner assembles the famed Spirit of Troy marching band for a pregame concert.
"It all starts with the band," says Bartner, clad in cardinal blazer, school tie and khaki slacks, before climbing atop a stepladder to put the band through its paces.
Bartner and his 300-member strong ensemble set the tempo for the day's fete. "We have great kids with great energy in our band," Bartner says. "They have already practiced for two-and-a-half hours this morning."
Music isn't the only thing being played in the late morning madness of the downtown-adjacent USC grounds. The Trojans are in the second year of NCAA sanctions that will preclude them from making any postseason appearances, but no such restrictions appear to have been placed on the student body's other game of choice: beer pong.
The impromptu competitions take place all over the school's grounds, with seemingly more games contested than there are sanctioned bowl games, and 35 of those are on this year's docket. Participation reaches across all four quadrants with men, women, young and old all getting in on the action.
"Beer pong is really big here," David Angstadt, a sophomore cinema major from New Jersey, says. "And not just on game day."
A lot of fans start with the beer and never quite make it to the pong.
"Game day here is completely overwhelming," Angstadt says. "But in a good way."
Angstadt used to watch USC football on TV amid the Northeast's fall chill, wondering what it would be like to be a part of it all. "It has," he says, "exceeded my expectations."
Aside from a few T-shirts ("Free USC," "You Can't Sanction the End Zone"), little outward evidence of USC's probation is exhibited. Still, the bowl ban is the elephant on the quad.
No one here is thrilled that the two-year postseason restriction the NCAA slapped on USC has rendered today's game a glorified exhibition. But a few suits in Indianapolis have zero chance of casting a shadow on a lot of overzealous fans in Los Angeles.
"We are all still huge football fans, and every game is now treated like a bowl game," Angstadt says. "People look forward to Saturday all week. It's like a holiday that takes over the campus."
Wallace, who has cardinal-and-gold, Jeff Spicoli-styled checkerboard Vans on her feet and a "Conquest" ringtone on her cellphone, has staked out a spot in front of the school's Doheny Library. She peers out on the revelry below the library's steps, like a tailback looking for a hole in the I-formation. An hour-and-a-half before kickoff, the crowd of partiers is so dense that Marcus Allen would have a hard time finding daylight.
Like most Trojans on hand today, Wallace is pragmatic about USC's plight. She went to school with Charles White, remembers the Matt Leinart era with particular fondness and isn't about to let 30 lost scholarships and two seasons without a trip to a bowl game ruin a perfectly good bash.
[+] Enlarge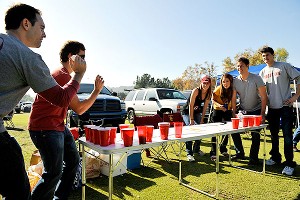 Mark Comon/Getty ImagesBeer pong competition among USC students has not been affected by NCAA sanctions.
"This is still my team," she says. "The band, the horse -- it's all still there. USC has a lot of tradition and that doesn't change."
Bill Elder, a 1969 business graduate from Orange County, went to school with O.J. Simpson and stuck with USC through the disastrous Larry Smith and Paul Hackett regimes. He believes this, too, shall pass. "It's hard when you know you can't go to a bowl game, but it's a challenge you have to overcome," he says. "Even with the sanctions, there is still strong support for the team."
USC's longtime fans seem to understand the cyclical nature of college football. Even here, where 11 national championships are celebrated on a banner that hangs from the Coliseum press box, there is bound to be a down cycle.
"In a way," Elder says, "after Pete Carroll left, there was no place to go but down."
Regardless of what is -- or isn't -- at stake today, Trojan fans are a loyal lot. In addition to downing all that beer, they occasionally imbibe in a little Kool-Aid.
"You can go to UCLA and be a Bruin for four years," Elder says, "or you can go to USC and be a Trojan for life."
While SEC tailgate parties tend to include TVs for monitoring the opposition, it's different here. Rare is the tailgate party that pipes in out-of-town games. Does anyone else even play football?
At 131 years of age, the USC campus has aged well, which makes it a little out of place in Los Angeles. The Romanesque architecture has been so meticulously maintained that it gives off the feel of one of those faux shopping districts that developer Rick Caruso has built around Southern California. Right down to the California Pizza Kitchen-anchored food court and the scores of people who jam bags full of merchandise and swipe credit cards in the apparel section of the bookstore.
As kickoff draws near, fans along Trousdale Parkway, the campus' main thoroughfare, and in bordering Alumni Park pose for photos in front of the Tommy Trojan statue.
Backyard grills send plumes of charcoal wafting across the blue skies, but at USC, the tailgating scene seems to be as much about fashion as food. The de rigueur couture among female students is an ensemble of cutoff denim shorts and flip-flops. The males seem to prefer Matt Barkley and Robert Woods jerseys. Reyn Spooner Hawaiian style shirts are popular here, too, and are sometimes paired with Top-Siders to create a look that is straight out of Newport Beach, which, not coincidentally, is a longtime USC stronghold.
One way or another, most everyone wears the school's official color, Pantone PMS 201C, which USC calls cardinal.
As kickoff draws nearer, Bartner and his troupe send echoes across the campus. At 11:30 a.m., the Spirit of Troy serenades the tailgaters along the campus' main intersection with the triumvirate of "Conquest," "Fight On" and "Tribute to Troy." This band's set list is as deep as a Pete Carroll backfield.
As "Conquest" plays, fans thrust two fingers in the air, V for victory. Who can blame them? It's still an hour before the Trojans and Wildcats will kick it off at the Coliseum, but USC has already won the party.
Doug Ward is a Southern California-based freelance writer.